Ahhh, soft-serve. The voluptuous tower of light, airy ripples that makes one sweaty part of your body sticking to another sweaty part of your body suddenly not so bad. Especially if it comes from one of these 11 best-in-NYC spots, which range from highbrow swirl joints to everyday go-tos.
THE EVERYDAY SPOTS
Union Square
If a super-national chain is gonna make this list, it's gonna be one where you can plunge your red spoon into vanilla soft-serve crowned with a signature curl that's bathed in hot fudge. Which is exactly what you can do at Manhattan's first Dairy Queen on 14th St. Right after you take down seven S'mores Blizzards.
Coney Island
Sadness ensued when Coney Island fixture Denny's Delight became a Hurricane Sandy casualty. But it turns out Coney's Cones isn't too shabby of an alternative. The bustling, contemporary Boardwalk shop turns out novelties like funnel cake sundaes, but after a few hours lazing on the beach, all you're gonna want in your mouth is the feather-light chocolate soft-serve (and also those funnel cake sundaes).
Multiple Locations
Master of all ice cream trucks, Mister Softee comes correct with peals of circus-like music and cake cones stuffed with a velvety twist of chocolate-meets-vanilla soft-serve. Although delicious when dipped in crackling chocolate shellac, there's something primal about walking away from the iconic truck window with a cone in its pure, naked, brown-and-white (and already liquefying) state.

Multiple Locations
Although J.F. McCullough and his son Alex -- the bigwigs behind Dairy Queen -- are often credited with starting this whole soft-serve craze back in the mid-1930s, some argue it was actually Tom Carvel. Apparently the ice cream salesman fell victim to a flat tire, and in order to save his wares from dissolving into delicious puddles, his quick thinking spawned soft-serve. Who came first doesn't matter now; what does, though, is a swirly cone of hazelnut-flavored Nutella soft-serve that's available through September. Make it a priority.
THE HIGHBROW SPOTS
Multiple Locations
Few desserts trump the goodness of Momofuku Milk Bar's salty/sweet Crack Pie or potato chip-/pretzel-packed Compost Cookie. One of the few that does, though? Milk Bar's cereal milk soft-serve, which melds with the former at their East Village location, and the latter in their Williamsburg location. Other locales offer up different flavors, too, like Candy Bar Pie, Blueberry & Cream, and Birthday Cake. We suggest eating them all.
Multiple Locations
This dense, gelato-like rendition is unfortunately not served up at Blue Marble's Brooklyn scoop locations. But you will find the Madagascar vanilla and Dominican Republic chocolate soft-serve appearing at Genuine Roadside in Gotham West Market, La Fruteria in Rockaway, and Fornino at Brooklyn Bridge Park. Go to the Barclays Center, and you can gorge on it in over-the-top concrete form, heightened by Junior's mix-ins. Let that sink in for a minute.
West Village
Soft-serve made with goat milk, it turns out, is a very good thing. At West Village spot Victory Garden, it gets the French Riviera treatment in flavors like rose petal and stone-ground dark chocolate, and toppings like halva crumbles and cacao nibs.
East Village
This one-time-truck-turned-brick-and-mortar operation has reinvented the art of soft-serve with kitschy-named creations that breed snaking lines around the block. Although ordering, say, the Bea Arthur (vanilla ice cream, dulce de leche & crushed Nilla wafers) elicits a certain kooky thrill, the a la carte method allows you to get in on far-out toppings like Sriracha and wasabi pea dust. DO it.

West Village
At this West Village ode to beef, your only chance to sate post-bone marrow & crawfish dumpling dessert cravings is with Madagascar soft-serve -- a fitting celebration of the bovine's milky side. Here, the confection gets plumped up with fancy, Asian-inspired toppings like rice flour dumplings, sweet beans, and green tea syrup. Basically, sprinkles are never gonna do it for you again.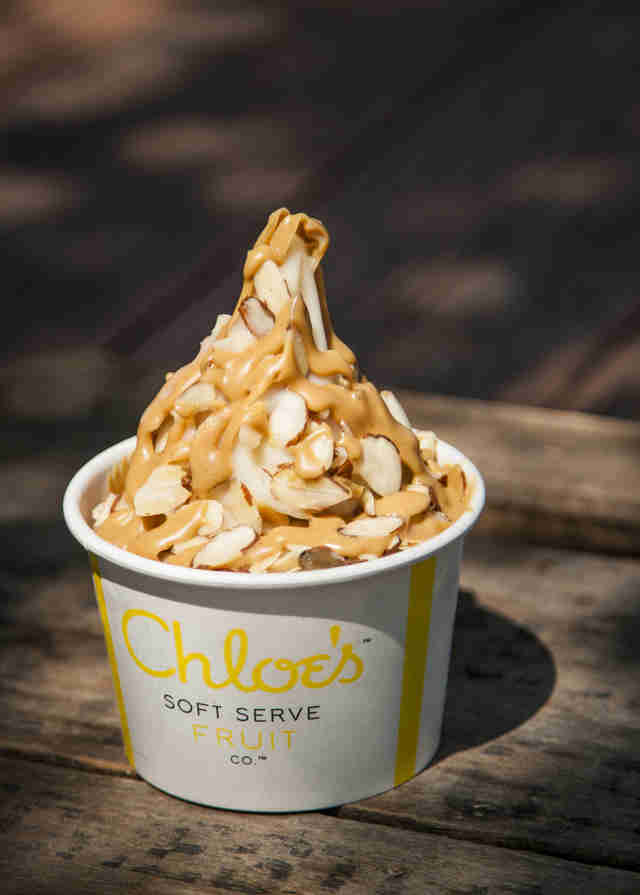 Flatiron
Just because you're a butterfat-shunning health fiend, that doesn't mean you have to sacrifice the joys of soft-serve. Just... everything else. At Chloe's Soft Serve Fruit Co., it's made from just water, a hint of organic cane sugar, and fresh fruits like banana, mango, or blueberry. Yes, it's light and zingy, but you'll still think it's soft-serve.

West Village
Along with one of NYC's best new burgers, Bar Sardine is also home to one of the best new cocktails in the West Village: the savory/sweet Black Pepper Grasshopper made with Kringle Cream liqueur, Wondermint Schnapps, Tempus Fugit Crème de Cacao & almond milk. Currently, bar guru Brian Bartels is tinkering with a boozy soft-serve version of the libation, which is rightfully served in a cocktail glass with a spoon. Ask nicely, and he may give you a taste if it isn't a permanent menu fixture already.
Sign up here for our daily NYC email and be the first to get all the food/drink/fun New York has to offer.
Alia Akkam is a food, drink, travel, and design writer for myriad outlets. A native Long Islander, she blames her frugal parents' affinity for "Buy One, Get One Free Wednesdays" at Carvel for her own addiction to soft-serve sundaes. Follow her on Twitter.