Sushi has come a long way in New York City over the course of the last few decades. The Japanese specialty can now be found in almost every neighborhood throughout all five boroughs, with thousands of sushi spots running the gamut from fast and cheap to the cost equivalent of one month's rent (in some other, more reasonably priced city). A couple of decades ago, that wasn't the case.
But along with the rise in availability comes a corresponding increase in mediocrity. Not all sushi-ya are created equally. Fresh fish is imperative. Sourcing, handling, slicing, and presenting properly is not as easy as it seems. These 14 spots take that all into consideration, and are doing sushi the absolute best -- from once-in-a-lifetime omakase (unless you're independently wealthy), to no-frills neighborhood haunts.
East Village
Hidden away in the basement of an East Village walk-up, Michelin-starred Kyo Ya specializes in kaiseki cuisine -- intricate, multi-course menus highlighting seasonal ingredients served in stunning, artistic presentations. Under the guidance of chef Chikara Sono, the restaurant offers numerous raw fish options on both tasting and a la carte menus, including a type of pressed sushi called bozushi. The options change regularly: one day, you might see Tasmania trout with oborokobu seaweed. Another day, it could be simmered sea eel or marinated seared mackerel. If you're looking to try the full kaiseki experience, reservations are required -- but you can easily walk in for the a la carte option.
Union Square
A newcomer on the NYC sushi scene, Shuko has a rather concise menu: sushi omakase and sushi kaiseki. But what it lacks in options it makes up for in meticulous presentation. The kaiseki, priced at $175, includes a multi-course menu with composed dishes (think pan-seared squab breast) and sushi tastings. The omakase, which is slightly more affordable at $135, is all seafood -- that is, an excellent selection of high-quality seafood intricately prepared by chefs Jimmy Lau and Nick Kim, both alumni of the overly lavish Masa. Look out for creative takes on classics, including a spicy tuna roll filled with toro and pickled red Thai chilies that are so spicy, even the most ardent hot-sauce enthusiast could be brought to tears.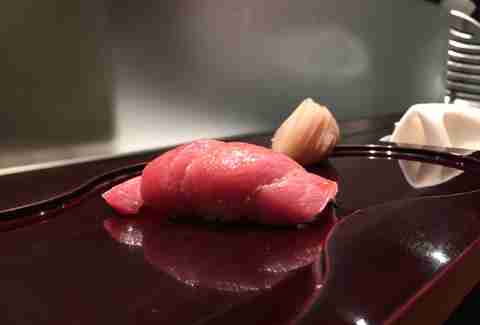 Harlem
Tokyo native and third-generation sushi chef Kunihide Nakajima has more than 25 years of Edomae experience under his belt, and in 2015, he was recognized as the "Best Sushi Chef in New York" by the Village Voice. There's a reason: Nakajima serves strictly fresh, traditional Tokyo-style nigiri in both sushi-only and kaiseki omakase at his eponymous eight-person counter tucked inside Harlem's Jado Sushi. While the speakeasy-style dining experience is somewhat overdone at this point, what really sets this sushi-ya apart from the others is that it only serves wild, in-season seafood. Nakajima talks to the buyers in Tokyo's Tsukiji fish market on a daily basis, which means he gets rare and sometimes esoteric selections, ranging from spotted halibut and Russian sea urchin to crab brain and fermented tuna belly. Plus, his vinegared rice recipe has been passed down through his family for the past seven decades (and you can taste the difference). If you can't fork over the cash for a full tasting, grab a seat at a nearby table for a la carte sushi and sashimi.
West Village
Unlike high-end sushi-ya with $100-plus tastings, Tomoe is the quintessential no-frills New York sushi joint packed with locals who have been going for decades. That means you can prepare for an exceptionally long wait (lines frequently snake out the door and down the block), but what you get is well worth it; it's consistently affordable, totally unpretentious, and the fish is always fresh. A filling sushi platter costs under $20 to just over $30, depending on the time of the day, and a la carte options range from toro and smoked white tuna, to uni and spicy cod fish roe.
West Village
When you want the omakase experience of a lifetime (and don't mind spending a good portion of your monthly rent), you reserve a bar-front seat at Sushi Nakazawa. Chef Daisuke Nakazawa trained under world-renowned Jiro Ono -- yes, that Jiro Ono, from Jiro Dreams of Sushi, and who often mans the bar at his namesake Michelin-rated restaurant, along with a handful of enthusiastic chefs handing out artfully prepared sushi that highlights the best fish found across the globe. The style here is traditional Edomae, which incorporates age-old techniques for maximizing the flavors of fresh-caught fish. The menu changes regularly according to availability, and items may range from live scallop with yuzu pepper paste to Maine uni, to even wagyu steak nigiri. Again, dinner here is not cheap. Nakazawa's 20-course dinners will set you back at least $150 per person at the bar ($120 in the dining room), and the sake pairing can really bring the bill over the top -- plus, getting a reservation to begin with is a challenge -- but he's a living legend, and his fish (and the experience) is certainly worth the price.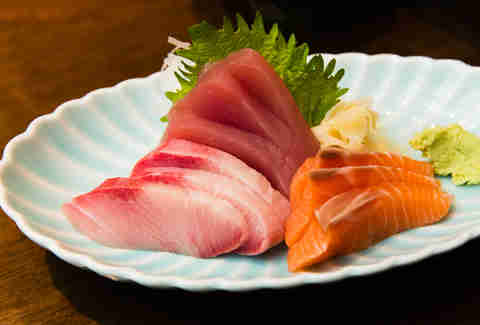 East Village, TriBeCa
East Village and TriBeCa sushi-philes should be counting their blessings for these neighborhood sushi joints, where the fish is fresh, the service is great, and most importantly, a dinner won't cost you half your paycheck. The menus differ slightly at each location, but both offer supremely fresh fish and creative rolls at reasonable prices. Most of the rolls hover just over $10 apiece, and sushi platters, with glistening hunks of well-prepared fish, run around $20.
TriBeCa
It takes at least three weeks of advance planning to book a weekend seat at master chef Eiji Ichimura's sushi bar nestled inside David Bouley's Brushstroke. But it's worth planning ahead: the food is superb, and the zen-like atmosphere makes eating here almost feel like being in a monastery -- where expensive fish is the deity. Only eight seats are available for this Edomae omakase menu, staggered in two seatings, 6pm and 9pm, Tuesday through Saturday. Honoring sushi's origin as a means of preserving fresh fish, some of the offerings are served aged, cured, or pickled, which only intensifies the flavors and textures. There's no telling what the menu may be on any particular night, but don't be surprised if you find yourself faced with fatty tuna, salmon roe, Hokkaido uni, and flights of aged fish.
Midtown
Having opened in Midtown in May, this upscale outpost of Ginza of Tokyo serves omakase sushi made exclusively from wild-caught fish. Executive chef Masaki Saito (recently of Sushi Ginza Onodera Hong Kong) leads the team at the 16-seat sushi bar, which serves intricately prepared seasonal nigiri like Japanese tiger prawn and golden eye snapper cured with kelp. The chainlet (which also has locations in London, Honolulu, Paris, Shanghai, and an upcoming branch in West Hollywood) maintains close relationships with fishermen based out of ports around Japan, which means the chefs get the best catch throughout the week. The rice is also specially grown for sushi and sourced from selected farmers, and even the pottery is hand-picked! At dinner, omakase menus will set you back at least $300. In comparison, the $70 lunch is kind of a steal.
Park Slope
This casual Park Slope spot offers exceptionally fresh fish, masterfully prepared by skilled sushi chef Yuji Sano. The quality is high, but the prices are low enough to garner a devoted following of regulars. Order the omakase at the bar; those prime seats get you up close and personal with Sano and let you taste his impeccable nigiri as soon as it's ready. Brace yourself for the likes of rich tuna, prime sea urchin, or earthy monkfish liver, gently laid atop warm, vinegary rice.
Lower East Side
This intimate (i.e. tiny) Clinton St omakase joint is, in some ways, an unorthodox fit for the Lower East Side. The light wood interior is serene in the vein of traditional Japanese sushi-ya, and the prices are steep. But personable, tattoo-covered, Jersey-bred itamae (chef) John Daley isn't a conventional guy. He spent time working under Masato Shimizu at Michelin-starred 15 East, then moved to Tokyo to learn from Shimizu's mentor, Rikio Kugo, at acclaimed Sukeroku. While in Japan, Daley dove deep into the Japanese fishing community, forging relationships that today help him source exceptional fish like goldeneye snapper sushi and mackerel caught off the coast of Kyushu.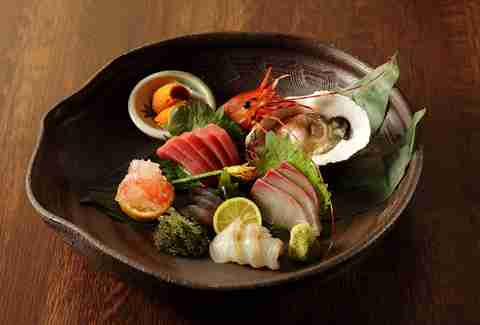 TriBeCa
This subterranean sushi den holds a Michelin star for its exemplary omakase dishes and spotless service. Fresh seafood is flown over straight from Japan, and prepared simply in the traditional Edomae style. Different multi-course menus are offered at several price points -- some relative values can be found during lunch -- with varying options. The higher the price, the more interesting the selections, with uni and toro tasting courses included in the mix. A la carte options are available, too.
West Village
Former Jewel Bako chef Yoshihiko Kousaka opened his namesake restaurant in late 2015, after more than 35 years of sushi-making experience. At a 10-seat L-shaped bar and handful of tables, the gregarious chef offers two fantastic omakase options: sushi-only ($145), and a chef's tasting with hot dishes, for $175. The fish, which is served in a straightforward, traditional style, is sourced from New York and Tokyo's Tsukiji market, and Kousaka prides himself on having rarer selections that change according to availability, such as giant clam, redeye snapper, and deepwater sea bass.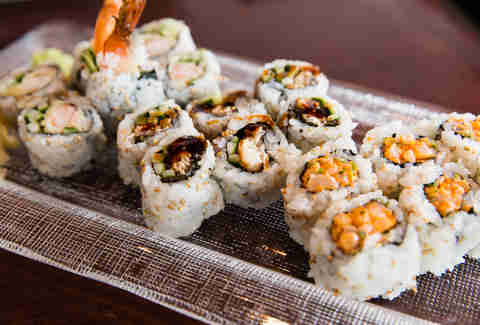 Chelsea, Upper West Side
With two West Side locations, this casual sushi spot is known for having staunch devotees, almost all of which know the go-to order is the spicy tuna crispy rice. Momoya serves hearty portions of magnificently fresh fish for around the same price as a high-end burger. It's not exactly cheap, but the cost is far below special-occasion-status sushi. Expect to see a little bit of everything, including several forms of tuna, golden big eye snapper, live scallop, and some cooked dishes (which makes it a good spot to fill a raw fish craving while appeasing that seafood-phobic friend everyone has).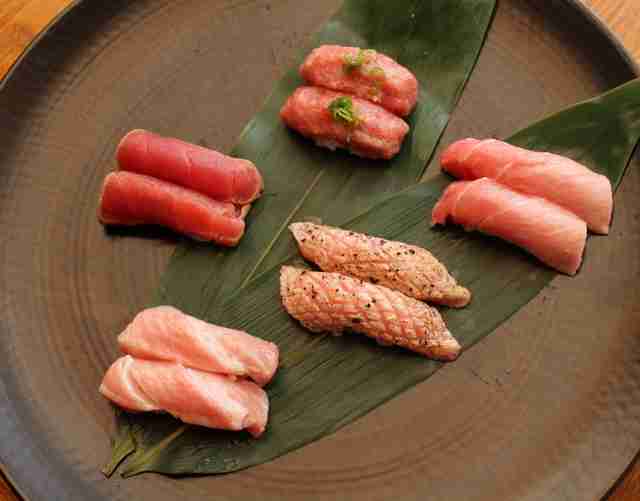 Union Square
Marco Moreira and Jo-Ann Makovitzky's upscale Japanese restaurant is one of the heavy hitters in the NYC sushi game. You'll need a sizable budget to play, but sushi chef Noriyuki Takahashi's faultless seafood tasting menu is worth it. While the multi-course is the ideal way to work through Takahashi's repertoire, less expensive omakase and a la carte choices are available as well. The menu offers dishes from the kitchen -- like fantastic handmade soba -- and a variety of species, including a handful of tuna selections, numerous varieties of whitefish, several types of yellowtail, and more mackerel than you knew existed.
Sign up here for our daily NYC email and be the first to get all the food/drink/fun New York has to offer.