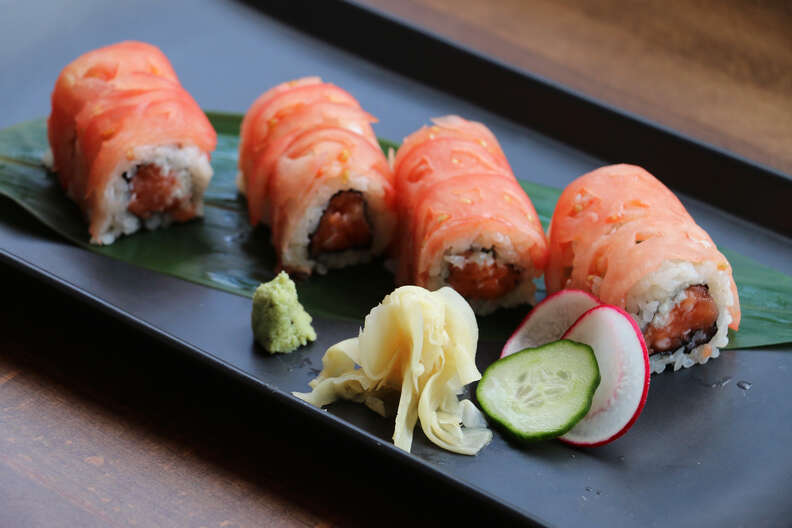 Courtesy of Sushi Seki
Courtesy of Sushi Seki
New Yorkers first seemed to catch an obsession for sushi around the late 1980s and '90s. Even all these years later, three-roll lunch specials abound in Japanese joints citywide, and a package of California rolls is easier to encounter in a bodega fridge than Four Loko (RIP).
But good sushi? That's a category onto itself. The wildly popular 2011 documentary Jiro Dreams of Sushi is owed some credit for foodies' newfound interest in omakase. Also known as, "chef's choice" omakase typically consists of fish flown in from Japan, curated by a highly trained chef, and served tasting-menu style at an intimate counter. Manhattan is flush with spendy omakase spots, and you can still find good sushi à la carte, too.
Without a wide knowledge of Japanese cuisine, undue trust in amateur online reviews, or money to burn on trial and error, discerning a good enough sushi restaurant from an excellent one can be a challenge. So Thrillist enlisted New York City sushi chefs to share their favorite great value, under-the-radar and splurge-worthy sushi spots across the city.
The Experts:
Kazushige Suzuki (aka Chef Kazu), Head Sushi Chef at Sushi Ginza Onodera, planned to become a sports instructor when he started university in Japan. The Yokohama native was lured to the chef's life while working part time at a sushi restaurant in Tokyo. Chef Kazu then began working at Sushi Ginza Onodera, where he stayed for three years before transferring to its Honolulu, Hawaii offshoot. After a year, he moved onto Sushi Ginza Onodera in New York City, where he has since risen through the ranks to the Head Chef position.

Mina Newman, Executive Chef at Sen Sakana, combined her Peruvian culinary background with Osaka native chef Taku Nagai's experience to create a unique rendition of Nikkei cuisine, a fusion developed following Japanese immigration to Peru in the 1970s. Newman has worked beside several big name chefs (Marc Murphy, Joey Fortunato, Laurent Tourondel), and as a culinary consultant. She won her episode of Chopped in 2009.
Chef Masanobu Ishikura (Chef Ishi) moved from his native Hokkaido to New York in 1978. He ran the East Village's Kura Sushi (no relation to the restaurant of the same name currently on St. Mark's Place) for two decades before opening Daigo Hand Roll Bar at Dekalb Market Hall, where he serves hand rolls made with warm, custom-seasoned sushi rice, a proprietary soy sauce blend, and high quality fish and nori.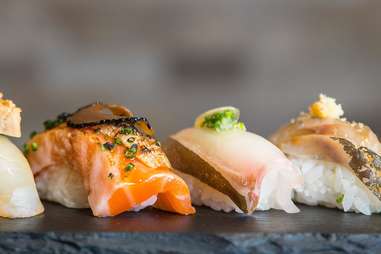 Astoria
"Gaijin is a great place for a lower priced date night that will still impress!" Newman says. "The food is always fresh, delicious and very affordable." She always orders the omakase (starting at $100) with extra toro and uni and, "the caviar piece is an explosion in your mouth!" Lower priced is pretty relative here, but Gaijin, which dubs itself as "Japanese inspired" also serves nigiri, sashimi and hand rolls à la carte, with pieces starting at $5. "The unique fish that chef [Mark Garcia] brings is impressive. He is extremely personable and knowledgeable. The quality is the best in Queens," Newman says.
Park Slope
This Brooklyn-based sushi restaurant is among Ishikura's favorites, "Because it has great value for high quality, fresh fish." He favors omakase at Katsuei's sushi bar, which starts at $52 for the rotating chef's choice. The $30 sushi deluxe -- including nine pieces of assorted seasonal sushi as well as a roll -- will slake a slightly lighter appetite. Sushi and sashimi are also served à la carte, along with a range of cooked options, so you can fill up on gyoza, squid leg tempura, and miso cod before your raw fish course.
Upper West Side
"Kaito has a comfy, homey atmosphere. They use Japanese and locally sourced fish, which has piqued my interest in local fish and seafood," Suzuki says, noting that currently, Sushi Ginza Onodera's fish is shipped from Japan. At Sushi Kaito, diners at one of the fifteen counter seats can enjoy a 12-piece omakase for $75 or 16-piece omakase for $100, which also includes a miso soup, a handroll, and slice of tamago.
Times Square, Chelsea, Upper East Side
"Sushi Seki is one of my favorite sushi spots in New York. Their offerings are all very unique and because they have three locations, it's easy to get to no matter where you are in the city," Newman says. "The restaurant is comfortable and intimate, so you feel right at home when you decide to go for their Omakase." (Even the 46th Street spot betrays its Times Square location, thanks to a locals in-the-know vibe and a wide range of Japanese whiskeys to soothe the pain of commuting home via 42nd Street. Plus, it's open late.) "Sushi Seki stands out because where else can you get top quality sushi at 1:30am," Newman says. "You go there and know what you're going to order every time. I usually go with my favorite individual pieces and sometimes the omakase. I still love [Chef Seki's] classic sautéed tomato on top of the salmon." A $55 "mini omakase" is an affordable-ish alternative to many tasting menus, sushi pieces start at $3.50, and regular rolls like tuna, salmon, and yellowtail and scallion, top out at $10.
East Village
"Hasaki is my number one, go-to choice of sushi in NYC, aside from [my restaurant] Daigo, because of the authentic and casual ambiance, as well as the great variety of fresh fish," says Ishikura. He usually orders omakase at the sushi bar, which starts at $60 for nine chef's choice pieces of sushi and a classic roll. Hasaki has been serving tastes of Japan via authentic sushi and sashimi since 1984. Neither are available à la carte, but a $30 eight piece sushi meal with a roll, and the $33 Tekka Don (tuna sashimi over rice) keep the place on the affordable side.
West Village
"Here you can really focus on sushi only. It's an underground, small space with just ten seats at the counter. And the simple décor let's you focus on the food," Suzuki says. "The price and quality make for a great value." $120 gets you 18 nigiri bites, followed by maki and a hand roll by third generation Japanese chef Tatsuya Sekiguchi.
Chelsea
"Ushiwakamaru has very authentic Japanese feel, and the quality of the fish is fresh and tasty," says Ishikura. The Chelsea iteration of the SoHo spot skews trendier than the original and offers an Ishikura favorite -- the fourteen-piece omakase starting at $135. Sushi, including several cuts of bluefin tuna, shellfish, eel, white fish, and silverfish are all served à la carte, with prices ranging from $5 per piece up to $16 for hagashi, premium extra fatty tuna.
Midtown East
"This intimate eight seat restaurant had a traditional Japanese sushi restaurant atmosphere," Suzuki says. He appreciates the consistency here and the traditional Edomae style sushi, similar to his service at Sushi Ginza Onodera. "The flow of omakase is traditional so it's very familiar and I know what's coming next. Chef Shion [at Amane] is very young and talented." The $250 omakase is on the high side, but its slow roll makes it feel like dinner and a show.
Flatiron
"Noda is a little different, it mixes traditional Edomae style, the base, with Chef Tsunoda's personal style," Suzuki says. "It's modern, young, funky and fun. The omakase flow is not as traditional, so it's more surprising and interesting. It's inspiring and very interesting to see a different approach to the same fish from different chefs - this is true of all the other restaurants above as well." $285 scores you the highly sought after omakase at this sexy space designed by interior designer Ken Fulk (you may recognize his style from Legacy Records).
East Village
"Shuko is my favorite more expensive sushi experience in the city. Jimmy Lau is incredible and does a great job with the menu every time," Newman says. "Since they only offer an omakase experience, diners can always expect fresh, unique dishes. Their Kaiseki is also a must-try! If Shuko was my last sushi meal, I would be content. The torched tuna cheeks are out of this world and I like that the chefs here are not pretentious at all." Omakase starts at $180 here, with an optional $100 beverage pairing, and a kaiseki upgrade at $225. Unlike most omakase spots, Shuko will also prepare gluten-free and kosher-style menus upon advance request.
Sign up here for our daily NYC email and be the first to get all the food/drink/fun New York has to offer.