New York basically invented the steakhouse -- you're welcome, everyone -- so it's no surprise that its roster of killer old-school steakhouses is unrivaled. And as a New Yorker, it's your required duty to sit down to experience the city's A-list offerings, since few things say decadent dining like this: a huge slab of dry-aged USDA prime beef, seared to perfection and presented with buttery, creamy sides. If you've chosen the right place, you'll likely also be served with a dash of white-glove theater by a career waiter who's as much an institution as the steakhouse itself. From the king (Peter Luger) to spots that spurred national chains (don't scoff, they're worthy), here's your definitive old-school NYC steakhouse dining guide. And we mean OLD-school -- there are lots of great modern steakhouses in the city, but these places are the classics.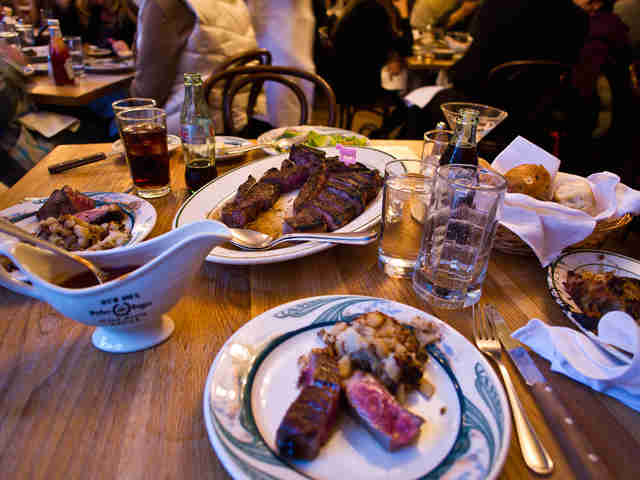 Williamsburg
Even people who know jack about NYC steakhouses know Peter Luger. OK, so it's not the oldest steakhouse in the city (though it's been around since 1887) and the service can be surly (though you're not really there for the service), but it's the most famous for a reason, namely the must-get specialty: a porterhouse steak, served crackling. It offers USDA prime dry-aged single steaks ($49), steaks for two ($99), three ($149) and four ($199), with a sides like extra-thick bacon (say no more). There's also a lunch-only burger. Ignore critics who say it's coasting on a halo effect and just add it to your bucket list. Remember to bring cash -- it only takes credit cards for online orders.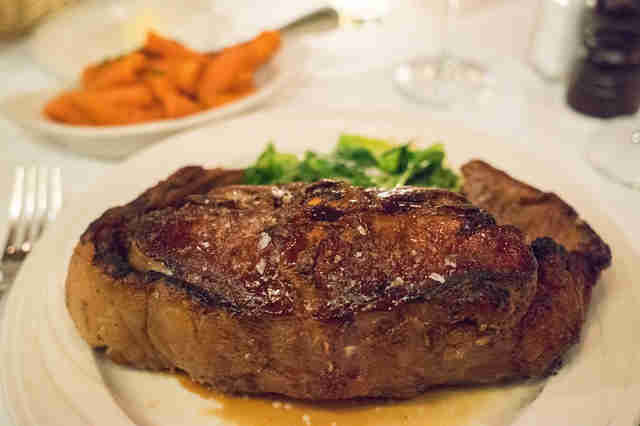 Fashion District
A classic NYC institution since 1885, Keens is consistently in the "best classic steakhouse" convo -- it was a recipient of the James Beard America's Classics award in 2013, and one of our Hall of Fame inductees in 2015. It's cozy inside with dark woods, fireplaces, period photographs, and paintings throughout the cavernous, two-story space. Upstairs there are private rooms with names like "Bull Moose Room" and "Lambs Room." What to know: at Keens it's all about the mutton chops. The menu is robust -- there are 10 meat options alone, plus plenty of other steakhouse classics. But, again, mutton chops. Go.
Chelsea
An NYC mainstay since 1868, Old Homestead beckons meat lovers with the protruding cow sculpture hanging above the front door. Kind of tacky? Yes. But inside it's more what you'd expect from a classic steakhouse, and the menu is legit. There are 14 different steak options, like seasoned New York sirloin, filet mignon wrapped in Applewood-smoked bacon, along with burgers, raw bar options, and a Japanese Kobe steak. It tends to be pricey (there's a theme coming!), and the clientele is almost all men, which is to say it's as old-school as it gets.
Financial District
Delmonico's is an icon that's been open in one form or another since 1837. It's billed as the first restaurant -- as we know it today -- to open in New York, and the inventor of dishes like baked Alaska, eggs Benedict, and lobster Newburg (again, you're welcome) as was the Delmonico's cut. Plus, its regulars over the years have included Mark Twain, Teddy Roosevelt, and J.P. Morgan. The experience today epitomizes old-school grandeur with the white tablecloths and the massive murals, and the menu's stalwarts include the Delmonico steak, filet mignon, and a 40-day dry-aged bone-in ribeye.
Midtown East
Sparks' decor is cut straight from the quintessential steakhouse playbook with the burgundy, dark wood, and white tablecloths. It first opened in 1966 and has been in its current location since 1977. The prime sirloin steak, filet mignon, and large live lobsters are the main menu stars, but it also offers other notable seafood and fish sections. Check out the enormous wine list when you go, and if you have a spare $3,800 lying around, the Chateau d'Yquem magnum (1967) may catch your eye. Obligatory fact: it's dubiously known as the spot where Gambino mob boss Paul Castellano was gunned down out front in 1985.
Midtown East
Before you disregard this one, relax; it's the original and not part of the chain. When it opened in 1977 at the site of a former steakhouse, it basically adopted the previous owner's green and white exterior, slapped on a new name, and instantly grabbed its now-signature look. Inside it's serious meat eating. USDA prime is dry-aged for up to 28 days, then hand-cut by in-house butchers. Look for the Colorado rib steak, the porterhouse, NY cut sirloin, as well as the the classic 26oz prime rib.
Midtown East
Yes, it's part of the national Palm chain, but it definitely has old-school chops. Palm Too was built as a spillover spot for the original Palm, which was located across the street and closed for good in August. Palm Too has been open for 42 years and has the same caricature sketches that adorned the walls at the original. It serves USDA prime, corn-fed beef and the menu offers classics like the New York strip, filet mignon, and a bone-in ribeye steak. Technically it's an Italian steakhouse, so you'll also find classic Italian dishes like veal marsala, chicken parmigiana, and linguine.
Theater District
Gallaghers started as a speakeasy in 1927 and expanded to a Theater District steakhouse in the '30s. Its dry-aging process is on full display when you walk in -- a windowed view into its famed meat locker is the first thing you see -- and you'll quickly notice the decor is heavy on nostalgia thanks to a bazillion black and white celeb and sports star photos hanging everywhere. The menu is as classic as it gets, so plan to get your kale fix somewhere else. It's a rock-solid pre-theater experience.
Sign up here for our daily NYC email and be the first to get all the food/drink/fun New York has to offer.
Chris M. Walsh is a freelance writer for Thrillist who believes that kale sucks. Follow him on Twitter and Instagram.