In the world of luxe dining, there's fancy, and then there's tailored-to-you fancy. At the forefront of the second category is Japanese omakase (literally translates to "I will leave it to you") which involves a chef-curated sushi meal that puts freshness at a premium. The multi-course dinner is usually prepared using the best catch of the day, at a bar small enough to give the chef a chance to engage with each customer.
New York has somewhat of an edge on the omakase meal; most NYC restaurants import fish from Tsukiji Fish Market in Tokyo (the world's largest fish market), and, as sushi legend Toshio Suzuki describes it, NYC's extra-organized delivery lines make it faster to import fish here than to locales surrounding Tokyo. Yes, omakase is usually pricey -- but for the hyper-seasonal and intimate dining experience that's basically on par with having a personal chef, it can also be well worth the cost. To help you get what you pay for, here's a guide to the best omakase meals around NYC.
*All menus may or may not include an appetizer and/or dessert.
Recommended Video
This Recipe Combines 2 of the Greatest Foods
$
Sushi Katsuei
Address and Info
Park Slope
Price: $47 for nine pieces
Though Manhattan plays host to many of the city's best places for omakase, this unsuspecting Park Slope sushi spot offers a meal that's completely on par (if not better) for much less. Each piece of fish is meticulously cared for, and though occasionally seasoned with a dab of lemon or ponzu sauce, is mostly left to do the work on its own. The restaurant's decor is sparse, but the tender cuts of uni and tuna will easily command your attention for the entire night. At Katsuei's new location in the West Village, the omakase is just slightly pricier, at $57 for nine pieces of nigiri and one toro scallion hand roll.
Sushi on Jones
Address and Info
East Village
Price: $50 for 12 pieces
You'll have to text the restaurant (located inside the open-air Bowery Market) to reserve your spot, and you're only allotted 30 minutes at a four-seat bar to eat your meal, but any hassle is worth it for a truly fantastic (and fairly affordable) omakase experience. The fish -- from the uni and hamachi to the salmon and scallops -- is cut uniformly and very generously. And if you're worried about the outdoor setting affecting the quality of the rice, fret not -- two cooks are present at all times to attend to the warmth and quality of the grains supporting his fish.
BondSt
Address and Info
NoHo
Price: $56 for eight pieces
The traditional omakase meal and the minimalist ethos of Japanese restaurants don't generally go hand-in-hand with the excessive trendiness of NoHo, but BondSt (pronounced Bond Street) presents an exception. Under dim lighting befitting a schmoozy second date, chef Shige Mikami offers a mixture of sashimi and nigiri garnished with cherry blossoms and other delicate touches. If you're looking for a feast to keep you satisfied well into the next morning, you can also try the full tasting menu, starting at $95 per person, which comes with an additional entree.
$$
Sushi Dojo
Address and Info
East Village
Price: $90 for 15 pieces
Save for the space's roomy dining room and underwhelming interior work, the two-hour-plus dinner at Sushi Dojo resembles omakase served at much higher price points. All diners are asked for their fish preferences and greeted with a custom-fit series of Hokkaido uni, red eye snapper, king salmon, and other cuts of the day, at a uniform pace. The chef instructs all patrons to pick up their fish with their hands (though chopsticks may also be used with omakase meals). Feel free to continue chatting with the chef throughout the meal, assuming you can hear yourself over the clubbier-than-usual music.
Iki
Address and Info
Flushing
Price: $99 for eight pieces
It's no secret that Flushing boasts some of the finest Asian food in all five boroughs. There's soup dumplings, crispy fish, hand-pulled noodles, and in a shaded arcade under the Hyatt Place Hotel, perhaps the best omakase menu in all of Queens. At the helm of this insider favorite is Andy Lin, previously of Masa and Nakazawa, who uses his formal training to offer a precisely curated procession of uni, lobster with caviar, and toro with an expert's insight and enthusiasm for each of his cuts. Sure, the Main St locale is like the Queens version of Times Square, but like the best Broadway shows, this one's worth the crowds and the price.
Gaijin
Address and Info
Astoria
Price: $125 for 12 pieces
While talking to the sushi chef might be a central part of the omakase experience, disrupting an artist in motion can feel intrusive. Not so at Gaijin, where chef Mark Garcia brings friendly and disarming Chicago vibes to Astoria's Japanese restaurant scene. The hour-and-a-half-long meal here combines imported fish with complementary ingredients like soy butter, banana peppers, and sesame seeds meant to accentuate each bite, but not take away from the tender flavor of the fish itself. As with most omakase joints, ingredients are ordered a week in advance from New Zealand, Japan, Korea, and Spain, and flavor combinations change on a daily basis.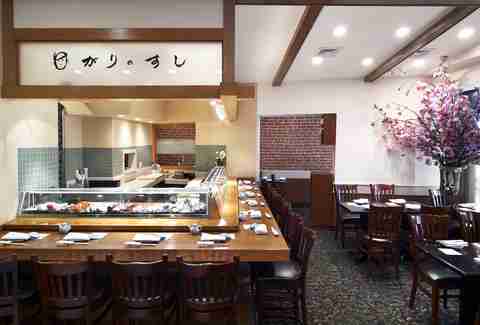 $$$
Sushi of Gari
Address and Info
Upper East Side
Price: No set price, depends on how many pieces you order
Slightly cramped and resembling a casual neighborhood Japanese spot more than a fine-dining restaurant, Sushi of Gari certainly does not look like a place that's been awarded a Michelin star. But if you manage your expectations for ambience, you're in for something great: On any given day, this beloved Upper East Side spot (the original location) prepares delicate bites of sushi like seared toro with ginger sauce, fluke with poached egg, and an unassuming cut of salmon that'll have you rethinking years of sushi takeout. Do note that a reservation here will need to be made weeks in advance.
Sushi Yasuda
Address and Info
Midtown East
Price: No set price, depends on how many pieces you order
The conditions for perfect omakase dining are all in place here: a calming, minimalist setting; attentive servers light on their feet; a chef who cares deeply for your satisfaction (like a thoughtful friend, he'll remind you not to dip the sushi in soy sauce more than a touch); and some of the best fish in the city.
Shuko
Address and Info
Greenwich Village
Price: $135 for 20 pieces
Headed up by two former mentees of Masa's Masa Takayama, Shuko serves up some of the city's most aesthetically pleasing sashimi -- think gold flake-topped uni, toro and caviar with Japanese milk toast, and tartare over caviar. The menu here leans more adventurous than other omakase meals -- less tuna and more manila clams and pickled persimmons -- and makes for the kind of dinner that even your non-sushi-loving friends would be impressed by.
Sushi Nakazawa
Address and Info
West Village
Price: $150 for 21 pieces
It's hard to believe that a restaurant with such a high price point would command a cultish following, but that's what happens when a wildly popular Netflix documentary helps market it (the head chef at Nakazawa is the featured apprentice in Jiro Dreams of Sushi). Expect "flights" of toro or sea urchin, sushi "pairings," and zero California rolls and other such sins against fish (as if you hadn't yet realized "spicy mayo" is a bad word in the world of omakase).
Suzuki
Address and Info
Midtown West
Price: $250 for 12 pieces
From the man who trained sushi heavyweight Chef Morimoto, newly opened Suzuki offers a 10-seat omakase menu that promises true intimacy (there's one chef for every five guests) and a purist's menu of nigiri. Here, the chef uses only the best parts of every fish (that usually amounts to just 10% of the entire thing), which is flown in every morning from Okinawa and seasoned with nothing but a dab of wasabi and soy sauce.
Ichimura
Address and Info
TriBeCa
Price: $300
Ever since Pete Wells "discovered" Eiji Ichimura at his old haunt (Ichimura at Brushstroke), Ichimura's name has been synonymous with great sushi. The chef's first solo project, which opened earlier this year, boasts a $300 price tag, but also grants you one of the most intimate dinners you'll ever experience. At a 10-seat counter, you'll get a taste of some of the city's finest bluefin tuna, plus Ichimura's signature aged fish.
Masa
Address and Info
Hell's Kitchen
Price: $595 for 18 pieces
Three-Michelin-starred Masa is the priciest restaurant in the whole country, with a prix fixe price of $595. But what exactly does that get you? For starters, a seat at a sushi counter made from a single piece of blonde Hinoki wood that's sanded daily. Beyond that, you're in for salty bites like smoked saba alongside richer pieces like caviar on tuna, ultimately designed to appease every diner's individual preferences.
Sign up here for our daily NYC email and be the first to get all the food/drink/fun New York has to offer.