Post Up on the Best Patios, Backyards, and Outdoor Dining Setups in NYC
Because seasonal outdoor dining in NYC is here to stay.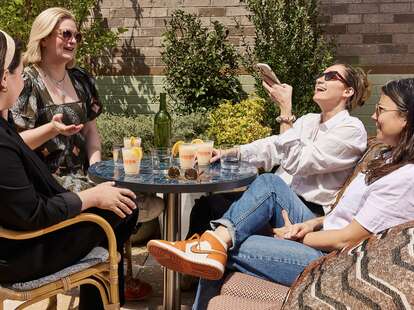 Jaffa Cocktail & Raw Bar

| Photo by Michael Persico
Jaffa Cocktail & Raw Bar

| Photo by Michael Persico
Peak summer might seem like the best time to clink frosty glasses and dine al fresco at the city's best restaurants, but real New Yorkers know that late summer and fall are actually where it's at, because the scent of hot garbage has largely subsided and interns no longer prowl the streets. This year, there's extra excitement because we finally have some assurance that seasonal outdoor dining in New York City is here to stay.
Whether you fancy a streetside table where people-watching is always on the menu or would rather snag a seat in a cozy backyard, there are more stellar outdoor dining options than ever. Along with streetside patios, rooftops, and secret gardens, here are the best places to eat outside in NYC right now.
Outdoor Dining in Manhattan
Ci Siamo
Hudson Yards
Since Ci Siamodebuted nearly two years ago, pre-theater crowds, midtown workers returning to the office, and New Yorkers from all over town have been duking it out to snag a table. The wood-fired Italian fare and homemade pasta by chef Hillary Sterling are worth waiting for, but now there are more ways than ever to get in the door because the Manhattan West restaurant debuted a new outdoor dining terrace over the summer that's strictly first come, first served.
I Sodi
West Village
Now open in a new location on Bleecker Street, this icon of the West Village is better than ever. I Sodi brought its classic Tuscan fare like the towering Lasagna a Sugo and Coniglio in Porchetta to its new home around the corner from the original, but an expanded dining room and idyllic garden seating area mean there's even more to love. A handful of white bistro tables can accommodate parties of two or four to sit in the green backyard space, offering a laid-back option for enjoying a spread of antipasti and pasta.
How to book: Via Resy
Le Dive
Lower East Side
Set foot on this particular corner of the Lower East Side—Dimes Square, if you will—and Le Dive is immediately commanding the conversation. Situated on prime corner real estate, the open-air bar spills out onto the sidewalk, where groups kick back with bottles of wine and classic cocktails. It doesn't hurt that the food portion of the menu is made up of oysters, tinned fish, and other snacks practically required to be eaten al fresco.
How to book: Via Resy
Tatiana
Upper West Side
Chef Kwame Onwuachi's Tatiana is another buzzy spot that's been a hard-fought reservation since its opening—but the outdoor patio just off Lincoln Center is dedicated to walk-ins, so you just might have a shot. Kick back in a quintessentially NYC setting and feast on the menu inspired by the city, with dishes like Shawarma Roasted Chicken and a dessert called the Bodega Special that's a homemade version of Little Debbie's Cosmic Brownie topped with powdered donut ice cream.
How to book: Via Resy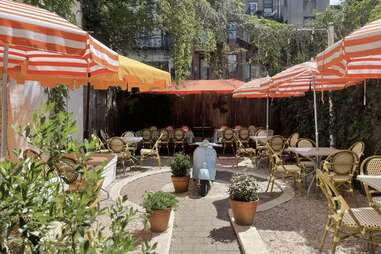 Outdoor Dining in Brooklyn
Aldama
Williamsburg
From restaurateur and veteran bartender Christopher Reyes and chef-partner Gerardo Alcaraz, Aldama offers tacos, tostada, and a standout Vegan Mole, plus a killer drink menu with sips like the Citrus Fizz (their take on a Paloma) and the frozen Sangre de Mezcal that are perfect for enjoying in the restaurant's backyard. The eatery's Mexico City-inspired outdoor space has earth-tones, clay pots, and gorgeous lamps overhead that make it feel like a continuation of the dining room.
How to book:Via Resy
Cafe Spaghetti
Carroll Gardens
After spending years at the helm of Bar Primi, chef Salvatore Lamboglia's first solo venture is a neighborhood Italian joint through and through with a relaxed backyard to match. Venture through the narrow interior past guests feasting on fresh pasta and arancini, and you'll find that most of Cafe Spaghetti's seating is in the picturesque outdoor area. About a dozen tables outfitted with yellow and red umbrellas sit on the pebble-covered patio, making the space feel like a neighbor's backyard in the best way.
How to book:Via Resy
Colonia Verde
Fort Greene
Taking up residence along one of Fort Greene's many tree-lined streets, this Latin American spot that doubles as a wine shop is a vibrant neighborhood go-to by the married duo Felipe Donnelly and Tamy Rofe. Inside, Colonia Verde is dimly lit and rustic with just a few dozen seating options and a bustling atmosphere. Behind the restaurant, you'll find an open-air backyard with twinkling lights, pebbles on the ground, and tables tucked into the space's nooks and crannies providing an intimate outdoor dining experience.
How to book:Via Resy
Eavesdrop
Greenpoint
Eavesdrop may be known as a vibey listening bar for the cool Greenpoint set, but don't overlook it as an outdoor dining destination. The stylish backyard has blonde wood and color-changing lights just like the interior, creating a space that feels like an ultra-designed garden terrace. The bar's cocktail program is solid with multiple variations on the martini and negroni, plus several signature cocktails. The food offerings have expanded a lot since its debut, now also with brunch service on the weekends, a slate of small plates like Hot (But Cold) Cucumbers, and bar snacks such as warmed olives and nuts ideal for al fresco visits just about any time of day.
How to book: Via Resy
Jaffa Cocktail & Raw Bar
Williamsburg
Michael Solomonov's hit rooftop restaurant Laser Wolf has been an outdoor dining destination since the day it opened its doors. But the restaurant's newer sister concept called Jaffa Cocktail & Raw Bar is another worthy al fresco option to add to your repertoire. Also located in The Hoxton Hotel, this outdoor space opened this summer and is the perfect place to order up a spread of Israeli-inspired raw bar favorites and summery cocktails (even if it is well into the fall).
How to book: Via Resy
KRU
Greenpoint
From husband-and-wife team chef Ohm Suansilphong and Kiki Supap (Fish Cheeks), KRU highlights historic recipes that were once reserved for dinners with Thai royalty. The industrial, minimalistic restaurant offers most of its seating indoors, but in the backyard, you'll find a brick-laden courtyard with a handful of tables under twinkling lights.
How to book:Via Resy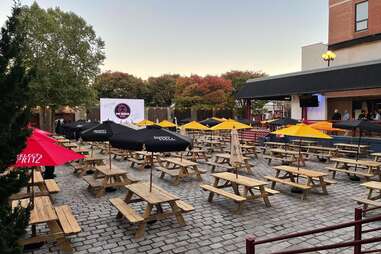 Outdoor Dining in Queens
Pig Beach
Long Island City
While the flagship Gowanus location recently closed the doors of its iconic backyard, Pig Beach's newer 28,000-square-foot Queens outpost offers plenty of real estate to get together with a group. Aside from the three bars, space for up to 800 people, and massive backyard beer garden, Matt Abdoo and Shane McBride's lauded barbecue fare is on offer so you can get a quick Pulled Pork Sandwich or feast on an entire spread of meats with all the fixings.
Zaab Zaab
Elmhurst
With a focus on fare from the Isaan region of northeast Thailand, Zaab Zaab has quickly become a staple. The restaurant now has two outposts—in Elmhurst and Williamsburg—with further expansion already in the works. Dishes like Hor Mok (pork belly steamed in a banana leaf with sticky rice flour, bai yanang juice, and lemongrass) and Koy Nuer, a dish described as Thai tartare, are on offer. At both locations, you'll find vibrant indoor seating cushions, murals on the walls and ceiling, and a colorful, covered outdoor seating area in front of the restaurant.