Through decades of constant change and upheaval, few constants have endured in New York. Luckily, one of those few is totally pastrami, that magical meat forged from beef navel, smoke, spice, brine, steam, and a squirt of mustard. Here are the 10 spots in NYC that do it best:

Lower East Side
A Lower East Side fixture since 1888, Katz's is the quintessential New York pastrami joint, and one of the few places where locals and tourists mix and mingle. The sandwiches are sweet, juicy, famously massive, and one of only two in the city with hand-carved meat (Mile End is the other). You'd be hard pressed to find a more classic New York meal than Katz's pastrami on rye with Dr. Brown's Black Cherry soda.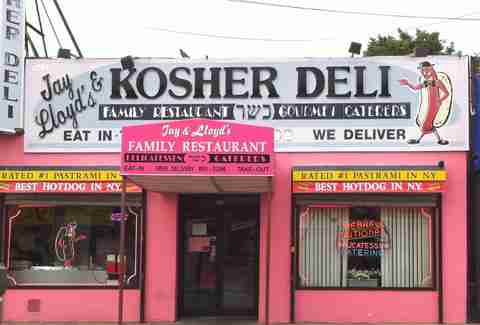 Sheepshead Bay
This joint is popular with Sheepshead Bay locals and Anthony Bourdain, who visited as part of his final episode of No Reservations. Despite the vintage atmosphere and experienced staff, the place has only been around since 1993. Either way this is top notch, no-nonsense pastrami.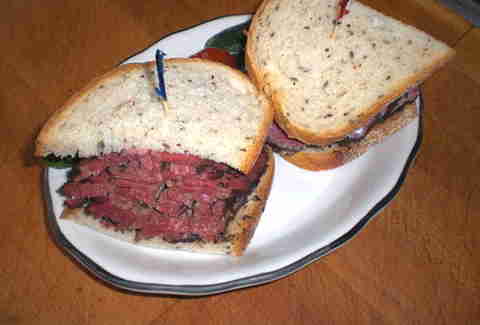 Upper East Side
One of the few quality Uptown pastrami joints, Pastrami Queen has been serving up thick sandwiches by the Whitney since the late '90s, after moving from its original home in Queens. Try the pastrami with Russian dressing, massive sides, or if you're feeling extra adventurous, try it as part of a massive triple-decker, along with some combination of corned beef, salami, tongue, turkey, or chopped liver.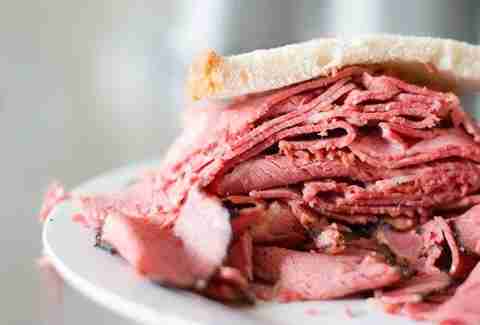 Bed-Stuy
David's in Bed-Stuy was founded by Jews, serves all the essential Jewish deli meats, and is now run by observant Muslims, who serve up delicious halal pastrami. David's is open every day (with a two-hour break for Friday prayers), and the pastrami has that signature mix of sweet and spice, and with a sizable "small" selling for only $8, it's a crazy-good deal. Be sure to try the killer Reuben, as well.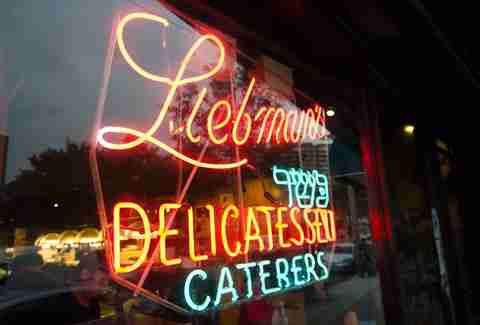 Spuyten Duyvil
A Bronx mainstay since 1953, Liebman's is one of the few remaining Kosher, family-owned Jewish delis in New York. For those of you willing to make the schlep up there, you'll be rewarded with pastrami as good as what you'll find at Katz's, but cheaper and with basically no tourists.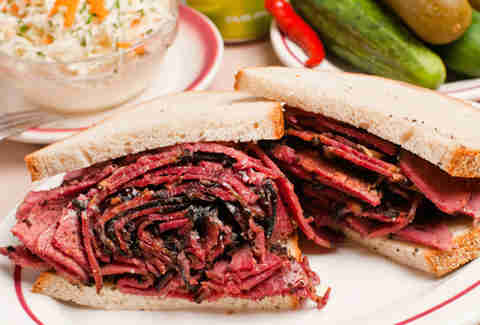 Rego Park
Not to be confused with the Ben's chain of delis, BB's serves a uniquely old-style, spicier, darker pastrami, that's been an unsung local favorite since 1945. Be sure to also try the tongue and the rolled beef.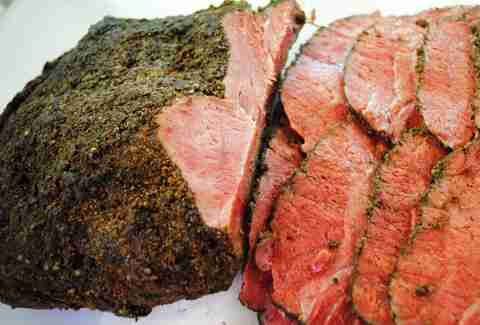 Murray Hill
After being destroyed in a grease fire in 2012, Sarge's in Murray Hill reopened in March, and it's back with a vengeance. Sarge's prepares all of its piled-high pastrami on site, right in Manhattan, and is also the only deli in the city open 24/7, making it a very worthy late-night destination.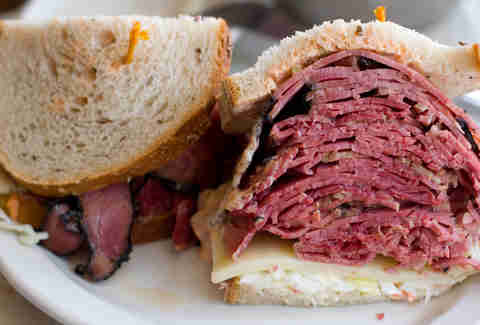 Upper West Side
The only quality deli currently serving the Upper West Side, Artie's does up a solid assortment of Jewish deli classics at 83rd and Broadway. In addition to the well-steamed pastrami, be sure to try the hot dogs (both at once?). Despite the heavy vintage atmosphere and menu, it's remarkably only been around since 1999.
Boerum Hill/Noho
If Katz's is the Sinatra (Happy 100th Frank!) of New York pastrami, Mile End is the Arcade Fire: modern, but familiar, geared towards millennials, and, um, Canadian. Opened in 2010 by Montreal expat Noah Bernamoff, End serves smoked meat (which fine, isn't technically pastrami, but it's awesome, so it's here), the dry-rubbed Canadian cousin of pastrami that's a little darker, a little more savory, and every bit as delicious, if not more so. Definitely get some poutine covered with it as well.
Sign up here for our daily NYC email and be the first to get all the food/drink/fun New York has to offer.
Ben Jay is a photographer, journalist, carnivore, beer and whisky drinker, and music nerd, and his hobbies include brisket and Liverpool FC. You can find his work at Gothamist, Serious Eats, Edible Brooklyn, Edible Manhattan, the Village Voice, or follow him on Twitter and Instagram.