Since you're an overachiever and want your noodle soup game to move beyond just ramen, you're gonna want to read this thoroughly: NYC's 10 best places to get the slurp-worthy noodle soup that is pho, from Manhattan, to Ridgewood, to the always-reliable Sunset Park.

Chinatown
This Baxter St stalwart is a favorite with the jury duty crowd and aficionados alike, but the steamy bowls of pho, which range from traditional beef to one infused with satay sauce, are worth a trip even after you're done trying your best to avoid your civic duty.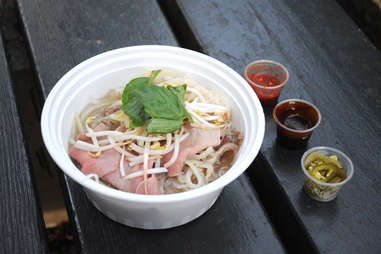 Morningside Heights
Don't let the Tupperware and plastic baggies fool you -- the pho at this pint-sized takeout joint is serious and its DIY assembly adds to the charm. Once combined, the noodles, sliced raw steak, onions, basil, and pickled jalapeños form a soul-soothing mix of flavor and crunch; add a dash of hoisin-Sriracha sauce to take it to the next level.

Kingsbridge Heights
The inner reaches of the Bronx may seem like an unlikely settling ground for Vietnamese immigrants, but that's exactly where a small community has popped up, building businesses like this four-year-old resto with -- count 'em -- 16 comforting varieties of pho to slurp up.
Bay Ridge and Sheepshead Bay
With two outposts in South Brooklyn, this OG pho joint has warmed stomachs for nearly 15 years with a dozen-plus varieties of its namesake dish. Simmered for at least six hours, the broth becomes a flavorful base for bowls full of thin rice noodles and add-ons like still-raw eye of round, beef balls, or a whole pork chop.
Lower East Side
You know the pho is hardcore when the chef keeps the broth cooking over the course of TWENTY-FOUR hours. Matt Le-Khac also packs the... meat!... in his house special beef noodle soup -- it's full of oxtail, fresh flank, tendon, and fatty brisket -- and it's one of the few in NYC that's crowned with Vietnamese culantro (or sawtooth herb), a more aromatic cousin of cilantro.
Carroll Gardens
This Vietnamese canteen, helmed by chef Rob Newton, slings two of the finest bowls in town. Both the beef and chicken arrive with minimal garnishes (pickled garlic, lime, and chilies for the first, scallions and cilantro for the second), so the fragrant broths -- Newton adds old stock to deepen the flavors of new ones -- can truly stand out.
East Village
Unlike its Chinatown counterparts (with menus that run pages long), this popular 1st Ave shop has trimmed its pho list down to seven superior options. Four feature its subtly spiced beef broth -- including a house special loaded with fatty brisket, rib eye, and spongy meatballs -- while the other three (seafood, chicken, and vegetable) pull their probably-less-substantial weight as non-beef alternatives.
Sunset Park
Located on the edge of Brooklyn's Chinatown, this hole-in-the-wall proves to be a reliable stop for piping hot pho. Not only is the staff super friendly, but the top-notch noodle soups are absolutely brimming with meat, onions, and fragrant basil leaves.

Ridgewood
If you spot a hungry crowd hanging around this industrial stretch of Queens, then you're in the right place. The wait in line is actually worth it because you're rewarded with elevated Vietnamese street eats turned out by Eleven Madison Park alum Jimmy Tu. The impressive chicken pho is light and clean, amped up with plenty of herbs and spices.
Chinatown
There's a reason why this Mott St dive is perpetually packed: it's cheap, the broth is packed (ha!) with meaty, herbaceous flavor, and, for an extra buck or two, you can (/definitely are going to) request a super-sized bowl.
Sign up here for our daily NYC email and be the first to get all the food/drink/fun New York has to offer.
Patty Lee is a reporter and editor who has written for the New York Daily News, Time Out New York, Cooking Channel, Zagat, West Side Spirit, and Family Travel Forum. At all other times: an eater of desserts, aspiring world traveler, and lover of all things Brooklyn.