Pizza addiction is a legit phenomenon, and objectively speaking, no city's been hit harder by the pizza epidemic than NYC. But, since we're already guilty of enabling said addiction, we figured we'd double down and bring you the 11 best pie-slinging spots in Spike Lee's favorite borough: Brooklyn. Time to broaden your horizons (along with your waistline).


Dumbo
The coal-fired pies at this Grimaldi's offshoot come covered with everything from fennel sausage and homemade meatballs to white truffle oil and buffalo mozzarella, but if you're intimidated by all the topping options (topptions?), keeping it simple with the Margherita is always a win.
Williamsburg
This isn't the place to order a plain cheese slice: pile the buttery and slightly charred crust sky high with toppings like the chef's signature fior di latte, spicy sausage, smoked pancetta, clams, and brussels. Maybe not all at once, though -- unless you feel like being the greatest.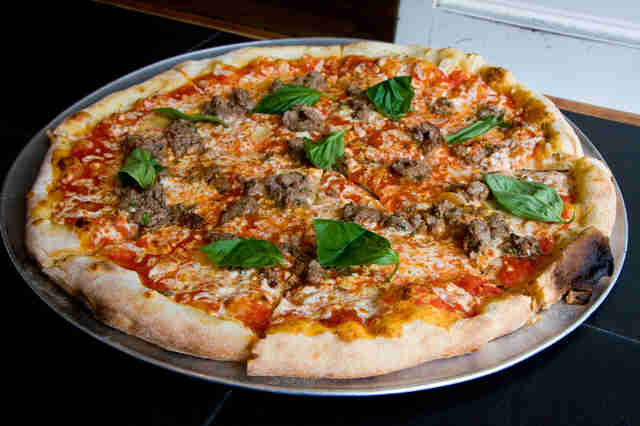 Williamsburg
Meanwhile, this is the place to order a plain cheese slice, especially if it's of the white pizza variety. Of course, if you're open to the idea of toppings (and you should be), you can adorn your cheesy slice (or pie) with anything from bacon and sausage to pickled veggies and Calabrian chili.
Crown Heights
One of the best things about this place is, since they're on the lighter, crispier side, you can eat an entire pizza and not feel too upset about it. And thanks to combos like artichoke and pancetta, cremini and fennel sausage, and sopressata picante with honey, you definitely will eat an entire pizza by yourself.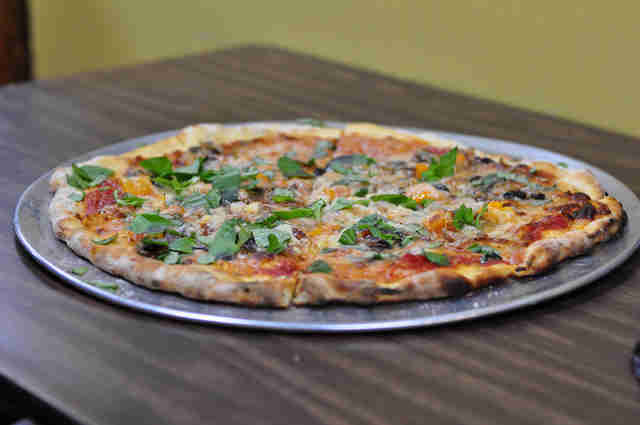 Midwood
Yes, you've been hearing about this no-frills place on Avenue J forever, and yes, the line to get inside is borderline outrageous, but Di Fara's been turning out insanely delicious pies and slices for more than half a century, both round and square, and the quality's remained unchanged. If you still need convincing, consider this: Anthony Bourdain, the anti-Fieri himself, proclaimed this Midwood spot to be "the best of the best."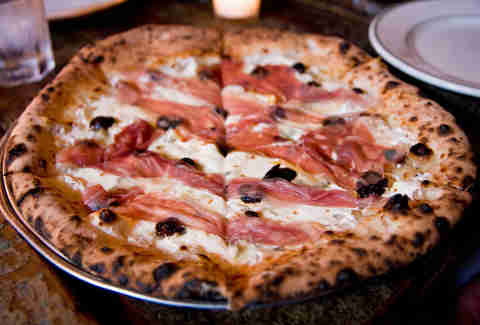 Greenpoint
Buddy the Elf can leave his maple syrup stash at home, because the Canadian-bacon and gouda-covered Monte Cristo pie here comes with a drizzle of the sweet & sticky stuff on top. If that's a little too out-there for you, there's always the Arugula Shmoogula, the Ricotta Be Kiddin' Me, or the Hellboy -- that last one's not a pun, it's just a really good classic pizza.
Williamsburg
The hardest decision you'll make here is whether to go with a Round or Grandma crust (we'll help you out: go Grandma). After that, the rest is gravy -- or Gorgonzola, soppressata, truffle oil, or any of the other specialty toppings on offer, all of which come with a drone delivery option, by the way. Welcome to the future.
Bensonhurst
It's a little out of the way -- like, "several stops and a subway transfer" out of the way -- but this Bensonhurst icon serves the epitome of what a Sicilian pizza should be. You can order by the slice or by the tray, and while it's definitely a "would you like some cheese with your sauce" situation, don't let that intimidate you: if you don't get it all over your face, you're doing it wrong.
Bushwick
Sure, it looks like a crack den from the outside, but the backyard charm and communal tables at this legendary spot almost make its punny-named pies (like the "Cheesus Chrust" and "Speckenwolf") taste better. Not that they have to, though, because said pies are covered in killer toppings like pork sausage, alpine cheese, and speck.
Carroll Gardens
This is the pizza equivalent of Painting with a Twist: you get a blank canvas (in this case, the pizza) and you "paint" it yourself by picking from a range of rotating toppings. Also, it's BYOB and you'll probably leave with a stained shirt. See? It's totally the same... except you end up with an edible masterpiece at the end, instead of a warped piece of outsider art.
Prospect Heights
When a restaurant abandons quaint digs for a bigger setup, it runs the risk of losing its charm. That's hardly the case with Franny's, which now serves its pies on Flatbush in between rows of firewood, which, as we all know, is the epitome of charm. According to just about everyone who's ever been here, your go-to move is the clam pie with chile and parsley -- and who are we to argue, especially when it's true?
Sign up here for our daily NYC email and be the first to get all the food/drink/fun New York has to offer.

Liz Newman is a freelance writer for Thrillist and will buy you a slice from one of these fine establishments if you don't tell anyone she did Painting with a Twist. Follow her on Twitter and Instagram at @lizn813.