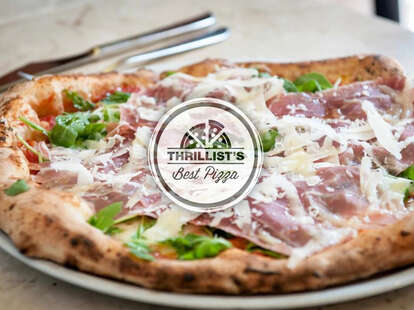 In its adopted hometown of NY alone, pizza has probably hundreds of variations, each delicious and likely deserving of all sorts of saucy praise. But, as the confused Highlander who lost and got his head chopped off said, "There can be only 10." So we narrowed it down and ranked our favorites, 10 to 1. Read on to get very hungry.
10. Vezzo Thin Crust Pizza
Midtown East
What you're ordering: Shroomtown
Part of a mini pizza empire (not a mini-pizza empire, although that would be pretty dope too) also comprising Gruppo, Posto, and Spunto, Vezzo gets the nod for flying under the radar and being a welcome surprise in a relatively barren neighborhood. They specialize in ultra-thin crust and somehow manage not to overwhelm it, even when loading up tons of toppings on pies like the excellent Shroomtown.
9. Paulie Gee's
Greenpoint
What you're ordering: Anise and Nephew
Started up by a guy who used to cook 'za in his backyard, this wood-burning Neapolitan spot brings in wild the things like the Monte Cristo with Gouda, Canadian bacon, and a "pure maple syrup drizzle", plus the Anise and Nephew topped with mozz, braised fennel, anisette-cream drizzle, Berkshire guanciale, and fennel fronds that're SO much better than Sbarro's fennel fronds.
8. Joe's Pizza
Greenwich Village
What you're ordering: Plain slice
Located in the heart of the Greenwich Village, to some this is the quintessential NY slice, and by "some" we mean the insanely famous people in the photos: Leonardo DiCaprio, Mickey Rourke, '60s pro wrestler Haystacks Calhoun, and noted pizza-dominator Anne Hathaway.
7. Keste
West Village
What you're getting: Margherita
A standard-bearer for stateside Neapolitan pies, Keste works with crazy-fresh ingredients and homemade mozzarella, and the pizzaiolo is a certified pizza master with the Associazione Pizzaiuoli Napoletani, which is way more impressive than that one time you put basil on Elio's.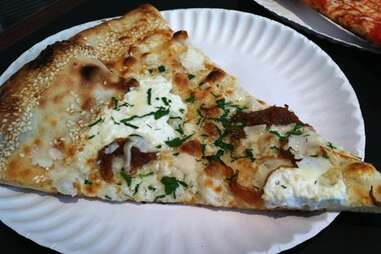 6. Best Pizza
Williamsburg
What you're ordering: White pie
This collab between Brooklyn Star and a Roberta's alum is the next evolution of the NY slice joint: everything is just a little bit better than you think it should be, from the occasional sesame seeds sprinkled on the white pie, to not-Ray's cuts of pepperoni, to the caramelized onions.
5. Prince St Pizza
Soho
What you're ordering: Vodka slice or Soho square
Our pick for the go-to slice joint right now, Prince St has the right doughy consistency, excellent cheese stretchiness, and a nice tally of step-up options like a killer vodka slice and square slices topped with spicy sopressata and fresh mozz.
4. Motorino
Williamsburg & East Village
What you're ordering: Prosciutto di Parma
Killer crust, a chewy slightly charred base, and a slew of inventive toppings like Brussels sprouts with smoked pancetta or cherry stone clams with oreganata butter put this two-location mainstay high on the list.
3. Juliana's
Dumbo
What you're ordering: Margherita Pizza
After changes went down at Grimaldi's and they ended up in a new space under a new owner, the original dude, Patsy Grimaldi, returned to the scene of the pizza crime we're happy he committed with Juliana's. It's simple, it's excellent, and it's not nearly as mobbed as it should be.
2. Roberta's
Bushwick
What you're ordering: The Family Jewels
With just the right mix of old-school and interesting, the Bushwick icon remains a favorite with everyone from its neighbors to Bill Clinton. We like to think he ordered the sausage and jalapeño-topped Beastmaster.
1. Di Fara Pizza
Midwood
What you're getting: Regular cheese pie
Beyond excellent since 1964 thanks to the slow-but-precise hands of the lone man who makes every pie, this is maybe the only place in the world where you can wait for pizza for two hours and not think you were insane when it was all said and eaten.