I think we can all agree that NY pizza is better than every other pizza in the US (go home Chicago), but what we can't all seem to agree on is the best pizza spot in our own city -- for some it's all about the neighborhood spot, for others it's about how "New York-y" it is, for others it's authenticity and faithfulness to traditions, and, for a whole other group it's whether or not you can shove it in your face at 4am.
So we gathered some of the city's top pizza enthusiasts (from chefs to esteemed food writers) and created an actual system by which to rank the best-of-the-best pizza spots in the city so we weren't beholden to any one tyrannical pizza lover's opinion. Here, now, is the definitive rank of best pizza spots in NYC.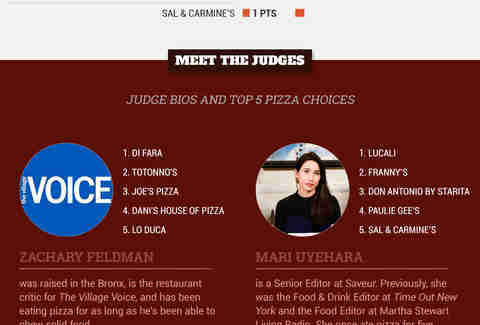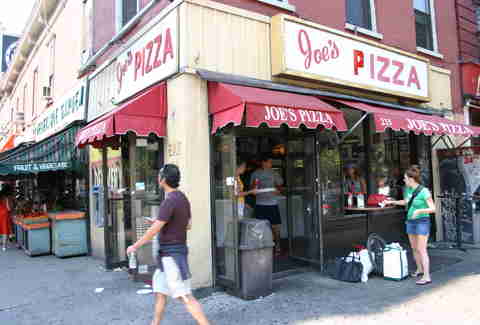 Greenwich Village
This spot on Carmine St is the definition of a classic NYC slice joint, and a standard for all others of its ilk.
The judges say:
-- "I wish I could just pop in a pizza emoji here, but those aren't available on desktops yet for some insane reason. This pizza is what people that have never been to New York dream of as being a New York slice, and they are correct." - Alison Roman
-- "Manhattan's quintessential cheese slice." - Zachary Feldman
Williamsburg
With no frills and walls covered in paper plates that are decorated with customers' crazy drawings, this BK joint slings spot-on slices that use amazing ingredients.
The judges say:
-- "From the sesame seeds on the white pies to the tender and tasty meatballs to the perfectly chewy crust, this place definitely lives up to its name." - Nell Casey
-- "Owner Frank Pinello and Bill the Delivery Guy make it hard to stay away from this place; it's like your own personal Cheers, minus Ted Danson. The classic cheese pizza tastes like NYC, but I'm a real sucker for adding the Pat La Frieda meatballs on my slice." - Helen Hollyman
-- "If skateboarding was a food, it would be a slice from Best Pizza. I don't know why that is, it just is. It's casual, it's fun, it's a little bro-y, it reminds me of the '80s." - Alison Roman
Prospect Heights
Even after moving to newer, roomier digs, this BK favorite is just as busy and just as awesome as ever.
The judges say:
-- "... the clam pie with a touch of cream, chili, and parsley is still one of NYC's all-time best orders." - Alex Vallis
-- "Getting a bubble in a pizza crust is like finding the one Cool Ranch Dorito in the bag that's completely coated in seasoning. Fresh-out-of-the-oven Franny's pizzas always have the biggest, airiest dough bubbles..." - Karen Palmer
-- "I also appreciate the fact that they don't slice your pizza for you, because then it makes it easier for someone (me) to just claim the whole thing because it's 'too hard to share'." - Alison Roman
-- "New York City's true clam pie king... each element is impeccable: the plump clams are ultra fresh
and the chewy crust is singed just right." - Mari Uyehara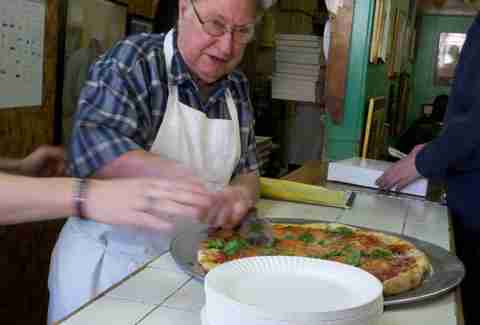 Midwood
With an almost constant line, this spot has been crushing the pizza scene since 1964 thanks to the precise hands of an owner who actually creates every pie.
The judges say:
-- "Pizzaiolo Dom DeMarco is a legend. He's been hand-making pies for five decades using double-zero flour, San Marzano tomatoes, a buffalo mozzarella-Parmesan-Gran Padano cheese blend, olive oil, and fresh basil. The $5 (gasp) slice is more than worth trekking to Midwood for." - Erin Mosbaugh
-- "It would be wrong to live in NYC and not put this on the list." - Helen Hollyman
-- "Domenico DeMarco is New York's Jiro Ono." - Alex Vallis
Greenpoint
This wood-burning spot (that has some occasionally crazy-sounding toppings) was started by a guy who used to cook pizza in his backyard, which we are incredibly jealous of on many levels.
The judges say:
-- "This place is really fun & quirky. The pies are excellent." - Harold Dieterle
-- "I'm particularly partial to the Anise and Anephew, an ode to fennel with sweet anisette-infused cream, braised fennel slices, and whisps of fresh fennel fronds. A molten blanket of fior di latte and crisped porky slips of Berkshire guanciale bolster that harmonious trio of anise." - Mari Uyehara
-- In a city overrun with Neapolitan pizza, Paulie Gee's creatively topped, blistered, and airy pies stand out from the pack. The spicy-sweet Hellboy is a must-order..." - Erin Mosbaugh
-- "...there is really strong culinary mind behind this pie. The brick oven is super dialed and the pies almost always come out perfectly." - Matt Rodbard
-- "The perfectly chewy crust is so charred, it's like you can taste every other pie that came before it." - Karen Palmer
-- "Besides the fact that the Neopolitan pizzas -- pulled from the pristine oven made by Stefano Ferrara, the Based God of pizza oven makers -- are delicious, my favorite best-kept secret about Paulie Gee's is Mike's Hot Honey, a devilishly sweet Brazilian pepper-infused spicy honey that is the answer to what is usually lonely pieces of lingering pizza crust at the end of every meal." - Helen Hollyman
Williamsburg/East Village
With two NYC locations (and one in Hong Kong), this spot from Mathieu Palombino has inventive pies based in traditional techniques and top-notch ingredients.
The judges say:
-- "Their Brussels sprouts pie is ridiculous." - Dale Talde
-- "Anyone who claims to hate Brussels sprouts just hasn't had them atop a wood-fired pie from one of Motorino's outposts." - Nell Casey
-- "Consistently fantastic, the pies are super flavorful thanks to the excellent mozzarella, a bright San Marzano sauce, and a chewy-charred crust." - Alex Vallis
-- "Hands-down best pie in the city... the crust to topping ratio is perfect and I love the egg pie and pancetta pie." - Harold Dieterle
-- "I like to think of this place as the original Neapolitan-style pizzeria, though my timeline is likely off." - Matt Rodbard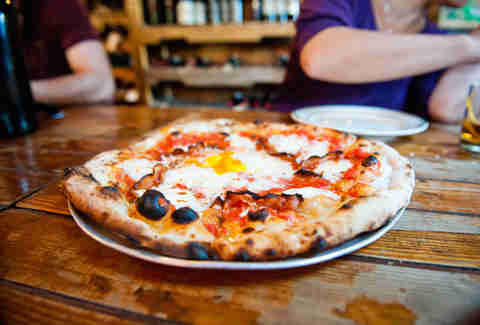 Bushwick
And here we have our winner, Roberta's is a scene with its outdoor Tiki army tent, wizards on their beer chalkboards, and seemingly interminable waits that don't matter because every time they deliver with solid pies.
What the judges say:
-- "... the pizza here is my favorite thing to eat in the world. The ideal ratio of crust to sauce to cheese, the lightly burned bits are always where I want them, and the crust has the right amount of salt, char, and chew. Also, maybe my favorite thing about this pizza is the structural integrity. It keeps its shape when you hold it, resisting the unfortunate soggy flop that plagues so many Neapolitan-style slices". - Alison Roman
-- "With a Neapolitan-style (backbone), Carlo and the chefs at Roberta's take pie-making to a chef-y art form. Most everything is house-made, cured, or grown in the garden/nearby in Brooklyn. And the flavor combos are just interesting." - Matt Rodbard
-- "'Hipster hype' be damned, no matter how many times the Clintons eat here, Roberta's still turns out some of the most interesting, flavorful pies in the city." - Nell Casey
-- "The pies have a flavorful, leopard-spotted crust that is damn close to perfection. The Speckenwolf -- topped with mozz, smoky speck, and mushrooms -- is hauntingly delicious..." - Erin Mosbaugh