Sure, you could make a pumpkin pie, but canned pumpkin is actually made from "Dickinson squash" and anyways, isn't it nicer to have someone else clean up all that mess? As radiators begin to rattle on, election day looms, and I buy my annual stupid-expensive Unflattering Hat, the warming spices of ginger and cloves (and just a nip of brandy) are starting to sound pretty delicious.
Luckily, you don't have to wait until you're forced to see your entire extended family to have a slice of the good stuff. We've got a ton of amazing bakeries right here in New York, serving up everything from the classic pinched-crust slice to modern twists with white chocolate, brown butter, and dulce de leche.
Flatiron
This Southern fried chicken joint has a secret -- they bake fresh pies from scratch every day. The pie menu is always changing, so be sure to call ahead. Get a 9-inch whole pumpkin pie with allspice and cloves baked to order, or do what I do and get a Pie Cup -- that's an individually sized serving that allows you to eat your autumnal feelings quickly, while walking, because you only have 15 minutes between meetings.
Williamsburg
This café and bakery offers a cozy sit-down space so you can enjoy your pie with a side of Wi-Fi. The pumpkin pie is just one of their autumn flavors, along with the Cheddar-crusted blackberry apple (just putting it out there). Order your pie by the slice with a dollop of homemade whipped cream, a scoop of Brooklyn Ice Cream Factory's vanilla, or a cup of grown-up warm milk steamed with lavender honey.
Multiple Locations
With layers of roasted pumpkin ganache and vanilla spice cake, the Pumpkin Pie Dulce de Leche Cake combines the best of pumpkin pie and Momofuku's signature sweets. Order it whole, topped with sliced pepitas; get a slice mixed with Cereal Milk ice cream like an unholy bourgeoisie McFlurry; or eat it in cake-truffle form with pumpkin puree and a cinnamon-sugar dusting.
Crown Heights
This bar-slash-bakery serves up a pumpkin sweet potato pie, joining the ingredients together to effectively end the pumpkin vs. sweet potato debate. The spot's a little gimmicky -- their motto is "Bitches Love Sprinkles," which this particular bitch finds condescending -- but you can't argue with a good pie, man. Turns out it's even harder to quibble with decor when you're washing that pie down with a frozen rum cider.
Lower East Side
Petee's is open until midnight so you can fulfill your late-night pumpkin pie cravings. Their version features an assortment of locally grown pumpkins and winter squash, plus a classic, rustic pinched crust. If sweet potato pie is more your thing, Petee's fills theirs with slow-roasted sweet potatoes from Phillips Farms in Milford, New Jersey. Bring a date, order a slice of both, and have one of those cute "fights" over which one is better.
Yorkville
Don't let all those rainbow sprinkles in the window fool you... Two Little Red Hens' special order menu features tons of seasonal favorites. Three days' advance notice is required for a whole pie, but the wait is totally worth it. Their pumpkin pie is made with brown sugar and brandy, and their pumpkin cheesecake features a rich molasses graham cracker crust. While you're there, you might as well try the Pumpkin Harvest, a pumpkin-spiced cake with apricot frosting.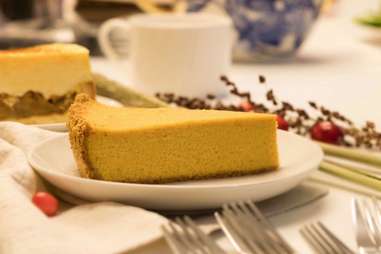 Multiple Locations
If living well is the best revenge, then Lady M's Pumpkin Nuage is designed to serve to your enemy. An elegant cross between pumpkin pie and cheesecake, the nuage -- French for cloud -- is lightly spiced and light as air. Does it cost $80? Well, yes. Would only a maniac pay $80 for a pie? I don't know, maybe! Buy this $80 pie and bring it to your ex's holiday party and watch them weep.
Midtown West
This pumpkin pie is as creamy and classic as it gets. Go for the whole 10-inch pie or order a Little Pie Fall Sampler -- that's four 5-inch pies, with one each of pumpkin, sour cream apple walnut, Southern pecan, and Mississippi Mud. Even a 5-inch pie is more than enough to share -- the filling is so thick, it's practically deep-dish. (To be clear, deep-dish pie is only acceptable when it's not pizza, don't @ me because you can't @ me.)
Multiple Locations
This early leader of the pie craze is a fan-favorite for a reason. Their Brown Butter Pumpkin Pie with an all-butter crust has a complex caramel note that pairs perfectly with a cold brew for breakfast (my favorite way to eat dessert). You could use your cookbook and make it yourself, but let me tell you, that recipe has 24 ingredients. I find that being confident I'll never bake a pie in a million years makes the price per slice suddenly seem a little more reasonable.
Chinatown
Is it pie? Well, not technically, but the Ice Cream Factory's pumpkin pie flavor has all of the holiday spices of the classic dessert in a delivery mechanism significantly more suited to the current realities of global warming. If you really want to simulate the pumpkin pie experience, order a custom ice cream cake with layers of pumpkin pie, vanilla, and almond cookie. Just think of it as a more efficient pie à la mode.
Delivery Only
Cutie Pies doesn't have a storefront, but that just means you can get a pie delivered straight to your couch. Their pumpkin pie, made with a dash of rum and black pepper, is totally customizable -- order it with a chocolate cookie or butter-flake crust, a chocolate or white chocolate ganache, and oak or holly leaf decorations. You can even get it gluten-free, dairy-free, or sugar-free, if that's your thing. If you want to go totally custom -- say, a crust that says NO POLITICS AT THE TABLE, UNCLE BILL -- just shoot over an email to see what she can do.
Lower East Side
If you're going to eat a vegan, gluten-free, low-sugar pumpkin pie, you might as well eat the best of them. Erin McKenna, the long-reigning queen of gluten-free desserts, uses garbanzo bean flour, rice milk, and arrowroot starch (among other smart substitutions) to create a crust that's nearly as flaky as the ones chock-full of butter and eggs. It's not exactly Whole 30-approved, but it's a sweet(ish) taste of the season for those with dietary restrictions.
Williamsburg
Half Japanese tea room and half French patisserie, Tomoko has, perhaps surprisingly, one of the best pumpkin pies in the city. Among green tea mochi, yuzu mousse, and black sesame dacquoise, the elegant simplicity of the classic American dessert takes on an earthier appeal. Order your pie to go and, if your blood sugar can take the hit, stay for the three-course, prix fixe pairing of wine and patisserie sweets.
Sign up here for our daily NYC email and be the first to get all the food/drink/fun New York has to offer.