The Definitive Sunnyside, Queens Dining Guide
Besides the giant Art Deco "Welcome to Sunnyside" arch (that also kind of looks like it's flipping you off), Sunnyside, Queens is also known for being one of the most diverse neighborhoods in New York City, which makes for a truly dynamic food scene, featuring everything from Peruvian split-roast chicken to Baja-style tacos. Best of all, it's only six stops from Manhattan on the 7 local and just about as close as Astoria, which has hogged the Queens spotlight long enough. We've rounded up the absolute best of what Sunnyside has to offer, so take your pick of Irish pub food, Italian home-cooking, Mexican brunch, and 3am Greek diner donuts. Just do the neighborhood a favor and don't all move here at once when the L train stops running, OK?
When this trendy Mexican sandwich spot, which started out as a Smorgasburg stand, popped up out of nowhere with craft beer and tacos directly across from a 24-hour laundromat and the bodega-of-all-trades (Fiesta Market!), the neighborhood was naturally incredulous. But with good sangria, local beers on tap, a super-friendly staff, and the most inventive tacos in the neighborhood, Cemitas El Tigre quickly won everyone over. The two most popular tacos on the menu were inspired by owner Danny Lyu's youth on the beach in Baja California -- a fish taco, made with Atlantic cod topped with just the right amount of chipotle mayo and slaw, and a Southern fried chicken taco, a nod to Lyu's time manning a chicken shack in Cali. If you want to stick to the classics, the barbacoa taco is great as well, stuffed with enough meat that you'll need both hands to hold it together. Best of all, if you come right before closing time, you might get offered a free shake (assuming whoever's at the bar is feeling generous).
Cole Saladino/Thrillist
Stop by Alpha Donuts at 3am if you ever want to feel like one of those NYC cabbies on the night shift in <em>Taxi Driver</em>. The 24-hour diner opened in 1976 and has hardly changed since, from the handwritten menu and the garishly red-and-yellow storefront to the antique cash register and the slightly grumpy but well-meaning older Greek gentlemen who dole out extra napkins unprompted. If there isn't any room on the wrap-around counter for you to sit down and order the $5.95 breakfast special -- eggs, home fries, coffee, juice, and toast -- then get yourself a donut or a dozen (the latter is just $10) to go. Alpha makes the airiest French cruller and the richest Boston cream, both of which are far better than any gold-flaked donut you've seen on Instagram.
Located on the edge of the historic Sunnyside Gardens, Dog & Duck is somewhere between a leather-upholstered gastropub and a cozy neighborhood watering hole. While it's got solid Irish-pub standards like bangers and mash, the move is the Beef Burger, which is totally undersold by its name. The extra-thick patty comes stuffed with overwhelming amounts of cheddar and jalapeño, along with a side of Cajun fries for an extra kick. Honorable mention goes to Pete's Grill, a 24-hour diner with the best, quick bacon cheeseburger you'll get in Sunnyside at 4am.
Someone here really likes Pinterest. Year-round at The Haab, you'll find a colorful display of Jarritos bottles in the window and fairy lights hanging from the ceiling, though the general aesthetic varies based on whatever holiday or season is upcoming. (Do peek in ahead of Día de los Muertos for some sugar skull action.) Come in on the weekend for the tiny cafe's extensive brunch menu featuring selections like eggs with grilled cactus and a side of home fries and rice & beans, classic huevos rancheros, and caramel pancakes. Whatever you do, don't leave without trying a giant piece of homemade flan drizzled in caramel and topped with a dollop of freshly whipped cream.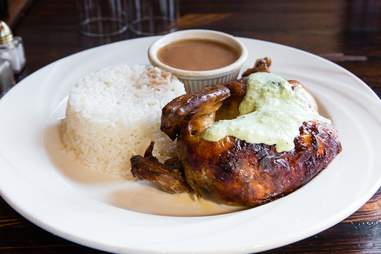 Cole Saladino/Thrillist
This small, family-run restaurant is famous for its mango mousse and live music every Saturday night, but most importantly, it boasts the best Peruvian green sauce (aji verde) in Sunnyside, which deserves to be bottled up and sold to the masses. If you couldn't tell by its name, Los Pollos serves up excellent spit-roasted chicken -- which you should generously apply that green sauce to -- but it's actually the seafood, like the mixed ceviche (shrimp, mussels, squid, fish) in spicy lemon juice, or the mixed seafood soup (a must-have on a cold day), that keeps people coming back.
Mangal is a super-casual Turkish spot, the type of place with a giant backlit menu over the counter. It may not look as inviting as its nearby competitor Turkish Grill, with its tablecloths and window seating (and very good manti -- lamb dumplings in yogurt sauce), but Mangal is a quick-stop neighborhood gem. Start with the red-lentil soup, blended with hints of red pepper and presented with a side of fluffy bread (which you can get a giant paper bag of if you order delivery). After that, opt for a combo of grilled classics like lamb adana or shish kebab, or go veggie and get a falafel in either a traditional pita pocket or the famous fluffy bread. And don't forget the "pide" -- more bread, but coated in gooey cheese.
You won't find NYC sushi-royalty Robin Kawada plating mayo-slathered, marinated pieces of tuna or mackerel. His goal is to have his guests understand the true flavor of the fish -- which is why he strives for top-quality ingredients that can stand on their own. Kawada wakes up every day at 3am to trek to Fulton Fish Market in the Bronx, loading up on rare finds to bring back to the restaurant -- including any special seasonal fish imported from Japan. (Be sure to ask if there's anything special in the kitchen -- it won't be on the menu). It's been argued that he was the first to open an exclusively sushi Japanese restaurant in New York City with his first iteration of Takesushi in 1975 (which closed in 1996 after he ventured into the fish distribution business). The Sunnyside iteration, which opened in 2012, boasts somewhat high prices for the neighborhood, but it's still more affordable than what you'd find in Manhattan, especially when you take into consideration the quality, freshness, and thickness of the cuts of fish on your plate. To experience the widest variety, order the colorful Kaisendon, an assortment of sashimi cuts like blue-fin tuna, scallops, salmon, and uni over rice.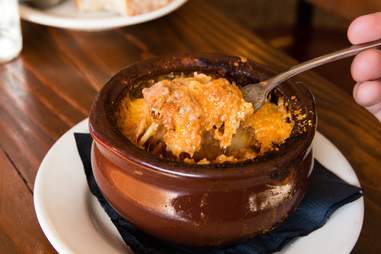 Cole Saladino/Thrillist
Family-run Soleluna opened up on a (relatively) quiet corner of Queens Blvd last year and has since left Sunnysiders lining up for the warm and gooey arancini (rice balls), which change daily. For something a bit more filling, a crowd favorite is the "Fagottini alla Valerio" -- a house-made "ravioli-style" pasta dish, stuffed with salty cheese and sweet pears in a rosemary butter sauce. The tiramisu is a must-have dessert, with light, creamy layers that offer just the right balance of sweetness and coffee flavor. As for the service, we'll leave you with an anecdote: a local once asked for the tiramisu to go, which they don't normally do, but they graciously packed the dessert as-is in the restaurant's own glass mugs and sent her home with it anyway.
If you're from Sunnyside, you'll always see someone you know at Bar 43 -- and for good reason. With sidewalk-side seating and a newly expanded interior, this part-restaurant, part-sports bar is the perfect after-work drinking den (as well as the perfect place for a hollandaise-drenched brunch). Most importantly, it's known for having bar food that's way better than it needs to be. Get a plate of wings coated in as much spicy Buffalo sauce as you can handle, paired with one of 32 different beers on tap. The potato skins and nachos really lean into the meaning of "loaded," so be prepared for that -- and if you can't choose, do yourself a favor and get the appetizer platter, a combo of any four apps on the menu.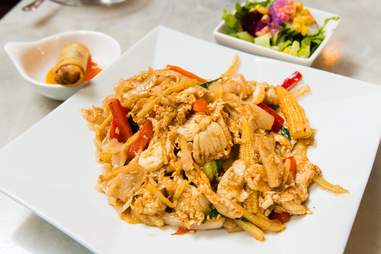 Cole Saladino/Thrillist
You know when restaurants warn you about how spicy their dishes are and then the food doesn't even live up to the threats? Blue Orchid doesn't bother warning you, but we mean that in the best way possible. If you get the medium spice-level drunken noodles (be sure top it off with flank steak) grab a Thai-iced tea on the side -- the condensed milk will help your flaming tongue calm down enough to take another bite. The teas here are also huge, and the ice is made up of even more frozen tea, so you'll be very well prepared.
Sign up here for our daily NYC email and be the first to get all the food/drink/fun New York has to offer.
Emma Diab is an editor at Thrillist and has lived in Sunnyside since she was four. If you disagree with this list, she'll be waiting at the White Castle parking lot on Queens Blvd for you to square up.