Asbury Park has many reputations -- some know it as the slightly grungy home of The Stone Pony, the music venue where Bruce Springsteen got his start, while others consider it the best damn beach town on the Jersey Shore (a hotly contested topic in the Garden State). A slightly newer reputation? One of the best dining destinations in the state.
While the food scene in Asbury Park used to consist of boardwalk staples like fried Oreos and sausage & pepper sandwiches, in recent years, the town has grown to offer restaurants that are a cut above those in neighboring beach towns. From a Neapolitan pizzeria to an Instagram-famous deli, these are the best restaurants in Asbury Park.
Recommended Video
Thrillist's Best (and the Rest): The Truth Behind the Saddest Cookbook Ever
There are two types of Italian restaurants in New Jersey: casual pizza joints with formica booths and pitchers of beer, and slightly fancy, white-tablecloth dining rooms fit for a The Real Housewives showdown. Brando's falls into the second category, and that's not a bad thing. This is the type of Italian restaurant you go to when you want a heavy, comforting meal of ricotta meatballs, gnocchi in Alfredo sauce, and veal Milanese. Also, a lot of wine.
Set in a Victorian house overlooking the lake that divides Asbury Park and Ocean Grove, Moonstruck is both upscale (white tablecloths and waiters in ties) and casual (this is the Jersey Shore, after all). The multi-story space is split into separate dining areas and lounges, so you can partake in the full Mediterranean menu of pasta, seafood, and grilled meats, or just stop in for wine and the live piano music often playing downstairs.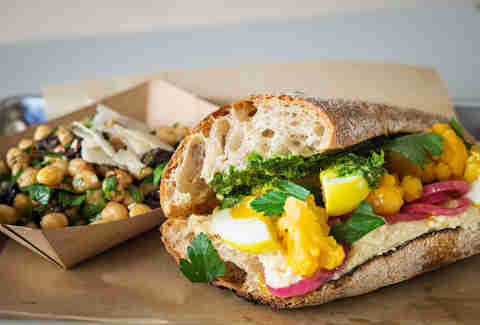 Some of the best pizza in the country is lurking in Asbury Park. Talula's isn't part of the old guard of Italian-American pizzerias in New Jersey (for that, go to Vic's in nearby Bradley Beach or Pete & Elda's in Neptune); instead, this modern, industrial space offers lightly charred sourdough pizzas topped with fresh mozzarella, house-made fennel pork sausage, and pickled cherry peppers. You can expect to wait for a table most nights, but if egg- and bacon-topped pizzas are your thing, you'll get a comparable pie experience with the weekend brunch menu.
You won't find a bevy of taco trucks along Asbury Park's beaches, but you will find Pop's Garage, which is as close to the Mexican beach lifestyle as you'll get down here. The boardwalk restaurant looks out onto the beach and is the perfect place to take a break from the sand and sun. The two-for-$6 tacos are a steal, but if you're really hungry, go for the overstuffed La Playa burrito. And if you happen to be visiting Monday-Thursday, be sure to stop in for $3 happy hour beers.
This self-described "gourmet deli" is known to the Instagram food world for its stacked (and highly filtered) creations. Aside from viral specialities like General Tso's chicken sandwiched between sticky bread buns and a smoked rib sandwich topped with five-cheese mac & cheese and whiskey BBQ sauce, The Speakeatery serves an In-N-Out inspired burger called the Down-N-Out and tamer deli sandwiches like BLTs and pastrami. That said, if there's one place to get a bacon hot dog cheeseburger hybrid served on onion ring donut buns, this is it.
Before going to this Neapolitan pizzeria-slash-beer garden on a summer night, know this: It doesn't take reservations and there will likely be a one -to two-hour wait for a space at one of the many communal tables. You can always hang at the bar or on the outdoor patio, and the restaurant's proximity to The Stone Pony (it's across the street from the bar's outdoor stage) means you'll likely experience an outdoor concert while waiting for your table. The wait is worth it -- the wood-fired pizzas emerge with crisp and blistery crusts, and are topped with house-made mozzarella, San Marzano tomatoes, and meaty add-ons like meatballs, hot soppressata, and sweet Italian sausage.
If you drive through downtown Asbury Park on a weekend morning, you'll likely see a hangry, slightly hungover, crowd of people waiting on the sidewalk outside of Toast, an upscale diner known for its breakfast, brunch, and lunch. The speciality here is pancakes, available in buttermilk, chocolate chip, strawberry, red velvet, and carrot cake varieties, though the challah French toast stuffed with Nutella is a wise choice if you have a sweet tooth. The rest of the menu skews towards typical Americana fare -- build-your-own burgers, three-cheese grilled cheese, and eggs Benedict.
Away from the main drag of Cookman Avenue, this cafe offers reliable, high-quality Mediterranean food. Consider the pita sandwiches -- the falafel, chicken shawarma, and sabich are top contenders -- and the kebab platters. Definitely order a few sides as well, like the Syrian potato salad or babaganoush, to share, and if you're up for it, head to the outdoor patio for hookah.
The main appeal to the Robinson Ale House is the ambience: The two-story space is on the boardwalk and includes both a balcony and patio with outdoor seating. The food and drink is standard American -- burgers and steaks are big players here, while raw bar options, fish & chips, and seafood risotto remind you that yes, you are dining beachside.
Another daytime staple in Asbury Park, Cardinal Provisions offers a variety of brunch strongholds, from chicken & waffles and breakfast burritos to cacio e pepe scrambled eggs and a burger with fried egg, avocado, and bacon. Breakfast is available all day here, and though the charming decor makes for a good ambience, take-out is available if you're heading to the beach.
This veggie-centric cafe is vegan, but not entirely -- so while you can get a grilled cheese or quesadilla with dairy-free cheese, you can also opt for the regular, extra-creamy dairy version. The plant-based menu is perfect for a quick sit-down lunch and is a welcome break from the fried food galore found along the boardwalk. Aside from sandwiches and salads, you'll also find house-made vegan baked goods and smoothies.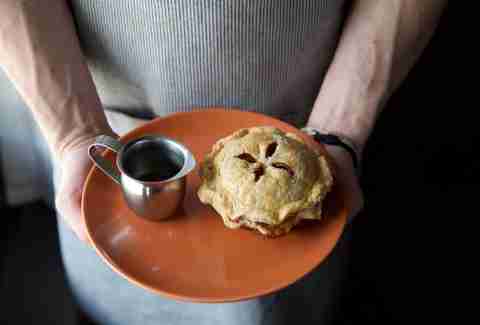 While you probably wouldn't associate the Jersey Shore with French food, some fine Parisian-style fare can be found at this Asbury brasserie. The sleek spot is a go-to for happy hour ($7 cocktails, $5 wines, $4 beers) and brunch, but also offers excellent dinner and late-night options. Expect typical French bistro dishes like moule frites and steak tartare, plus caviar options and a burger topped with raclette and caramelized onions.
Sign up here for our daily NYC email and be the first to get all the food/drink/fun New York has to offer.