Courtesy of Don Angie
Courtesy of Don Angie
Ah, Valentine's Day! The font of hundreds of humiliating childhood memories; the reason that thousands of pounds of teddy bears and half-empty heart-shaped boxes of chocolate end up in landfills; the day that forces the "But what are we?" conversation with the person you just met last month; the annual race for romantic dinner reservations in NYC. Whether you've been sort-of seeing somebody or you've been married for 30 years, February 14 can make the stakes seem extra high.

Here's the good news: It doesn't have to be so hard! Sure, the city's full of overprixed fixes and marketing ploys, but there are plenty of places in New York to celebrate romance in a way that reflects your relationship. Order a heart-shaped pizza (wrapped with a red bow, of course) for delivery, make a reservation that includes chocolate-covered strawberries and a bottle of champagne, or, if you're suddenly single, slurp ramen in a booth designed specifically for solo diners -- we've rounded up our favorite ways to spend Valentine's Day in NYC.
Flatiron
Does anything say "romance" like a big hunk of beef? This Michelin-starred Korean steakhouse is offering a meat-focused prix fixe with fancy cuts like A5 wagyu. Keep your eyes peeled for the "Cote Cart," which will roll around all night with meaty surprises. Just don't put an engagement ring on there, OK? We'd hate to see it rolled to the wrong side of the room. If you didn't BYOR, don't worry -- each table is equipped with a gold-ringed grill to cook your meat.
Cost: $150 per person; reserve online
Multiple locations
It's just like Rob Base and E-Z Rock said: It takes two to make a thing go right. In honor of it taking two to make it outta sight, Dos Caminos is offering a menu composed exclusively of pairs. Expect a duo of empanadas, a pairing of mole short ribs and salmon, and a dark chocolate tamal with calabaza cheesecake. (Head's up: If you're celebrating Valentine's Day with your throuple -- not that we're here to judge! -- one of you might feel left out.)
Cost: $55 per person; reserve online
Midtown West
The Haven Rooftop above The Sanctuary Hotel is all about the ambiance. It's lit with fairy lights, draped with throw blankets, and filled with Instagrammable moments designed to help you shout your love from the (literal and proverbial) rooftops. Entrees include filet mignon, gnocchi with parmesan and truffle, and lobster risotto; for dessert, there's cheesecake and, of course, a plate of chocolate-covered strawberries. The prix fixe comes with a glass of prosecco, but a "Shot Ski," which comes with four shots for $40, is way more fun.
Cost: $105 per person; reserve online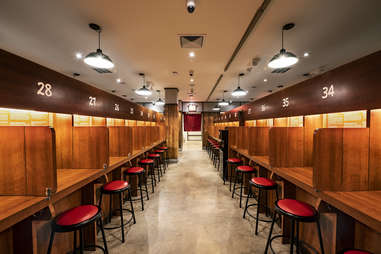 Multiple locations
If you just can't stand one more swipe on those godforsaken apps, head to a restaurant that celebrates solo diners. At Ichiran, a ramen spot that specializes in tonkotsu (pork bone) broth, you can proudly take a seat for one in a "Ramen Focus Booth." Designed to encourage concentration as you slurp down a bowl of noodles, you'll be free from prying eyes and other people's PDA. If you do happen to catch a last-minute date, the dividers of the focus booths can be pushed down -- but why not make this Valentine's Day all about you?
Cost: Prices à la carte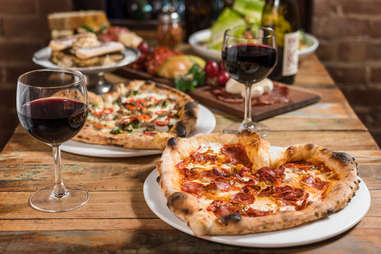 Greenpoint
This year, ditch the heart-shaped tchotchkes and get a heart-shaped pizza for your sweetie instead. Fornino's heart-shaped pizza dinner for two is available for dine-in, takeout, or -- if you're so in love you just can't tear yourselves out of bed -- delivery. Along with two kinds of pizza, you can replace all those lost electrolytes with a selection of Italian cheeses and fruits, your choice of salad, and a box wrapped up in a big red bow.
Cost: $55 for dinner for two; walk in or order for delivery (3-6pm) or takeout (after 3pm)
Williamsburg
Why wait until after dessert to eat your Valentine's chocolate? At De Mole, they're cooking with cocoa all night. The five-course menu highlights the resto's signature mole poblano with sopa de elote, ceviche, duck taquitos, salmon or rib eye, and rice with lobster tails, mussels, and shrimp. And for dessert, there's lemon meringue pie. Just kidding! It's a chocolate molten cake! For an extra $25, you can order a "chocolate bomb" which, when dropped on the table, will explode with ice cream and flowers, and is surely not a metaphor for your heart.
Cost: $90 per person
Sunset Park
If you're looking for something low-key, Brooklyn Kura, a sake brewery in Industry City, is the perfect spot for couples who aren't in the mood for white tablecloths and magnum bottles of champagne. Work your way through a few mugs of sake (let a sake sommelier help you, or simply choose drinks for each other to try) until you're nice and tipsy. Once you're ready to get a little more... high-key, order some oysters from their Fridays-only raw bar before you head back home.
Cost: Prices à la carte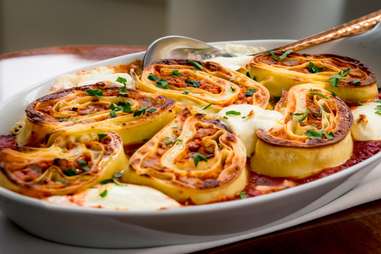 West Village
This Valentine's Day, the husband-and-wife chef duo behind pasta destination Don Angie, are celebrating love with a perfectly paired set of specials. Their very-Valentine's-Day lobster francese ($42) is made with lobster butter and tableside-shaved black truffles; their sacchetti pasta ($36) is stuffed with saffron-scented polenta, then served with Jonah crab and brown butter. Order a few glasses of Italian bubbly and toast to romance -- or at least to the idea of living and working with your spouse.
Cost: Prices à la carte; reserve online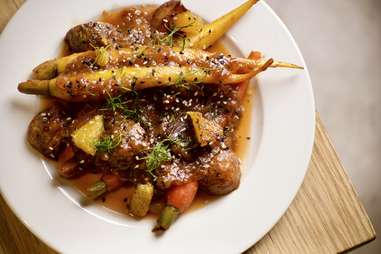 Harlem
At Archer & Goat, another husband-and-wife team have put romance on the menu. The prix fixe includes shrimp ceviche, carrots with tamarind chutney, roast duck with mango-onion curtido, and carne asada with plantain tostones. A glass of cava is included, as is a tres leches panna cotta with coconut milk, water, and candied pistachios. Sip an Archer -- with mezcal, hibiscus, ginger, and lime -- and hope that Cupid's arrow gets you -- or a Ram -- rye whiskey, tamarind, and lime -- and hope that, well, you know.
Cost: $50 per person; reserve online
Herald Square
Valentine's Day can feel a little like New Year's Eve, or going to Disney World -- you're expected to have the best day ever, and anything less can feel like a disappointment. To counteract the Forced Fun phenomenon, you could just order a pizza and shrug off the holiday. Or you could go so unironically full throttle at love that you can't help but get swept up in it! At Lot 15 cocktail lounge, they've planned the most extreme Valentine's Day ever: You'll get your own cozy loveseat, a rosé-infused snack, a bottle of Brut Grande Reserve Grand Cru Champagne, boozy chocolate covered strawberries, and a personal photographer with a Polaroid camera to capture all the fun you're having.
Cost: $120 per couple; email reservations@lot.nyc
Sign up here for our daily NYC email and be the first to get all the food/drink/fun New York has to offer.