Valentine's Day can be an affair to forget whether you're in a relationship or not. This is doubly true in NYC, where every trip to the drug store requires a walk of shame past garish novelty candy boxes and oversized teddy bears with hearts on their paws and glassy, shaming eyes. But the holiday has some upsides, too! It's a great occasion to saunter into a restaurant you may not have otherwise visited, whether it's an exclusively special occasion locale or a cuisine your partner/friend/League date loves that you've been hesitant to try.
In a sea of prix fixe specials, the hardest part of V-day planning can be pinning down a restaurant with food you'll actually like, at a price that still allows you to pay rent this month. That's why we've rounded up the places you'll want to reserve ASAP. Just please don't be that couple that spends the entire meal making out.
Recommended Video
Breakfast Tacos With BBQ Brisket Might Be the Most Austin Food Ever
Brooklyn Heights
This sweet, exposed brick-lined Brooklyn Heights spot feels simultaneously laid-back and romantic, with plenty of candles and dim lighting, plus an open kitchen that lets you see the chefs at work. For V-day, the restaurant will offer a four-course dinner for $85/person, with multiple choices for each course. Expect light but filling fare like Island Creek oysters, bay scallops with uni and lobster, and lamb loin with crispy polenta. The restaurant will also offer an à la carte menu and accept walk-ins for bar seating.
How to reserve: email info@colonienyc.com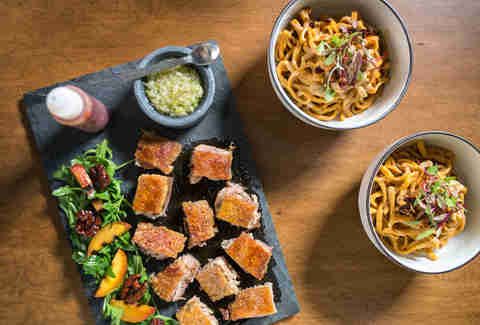 East Village
Tuome is an intimate Asian-inspired spot that's tailor-made for a date with someone you want to impress. Its menu is inventive yet approachable, and you can try at one of two V-day seatings (5pm for $115/person or 6:30pm for $130/person). The five-course dinner will feature foie gras with scallion pancakes, snow crab noodles, and beef with smoked potato, shishito, and bone marrow jus.
How to reserve: OpenTable
East Village
If you're looking for a place that's lively, but not so loud it drowns out your date, secure a res at this charming seasonal Eastern European-influenced American spot and indulge in a $120/person prix fixe (with an optional $60 wine pairing). You can expect dishes like shrimp pasta with chile and Parmesan broth, a choice of entrees including scallop and lobster and veal sirloin, a variety of cheeses, and your choice of dessert.
How to reserve: OpenTable or call 646-895-9884
Chelsea
David Chang's casual but trendy Chelsea spot recently reopened with a brand-new Italian-inspired menu, which you can try on V-day as a four-course prix fixe for $70 per person (with an optional $55/person beverage pairing). Dishes include shrimp à la plancha with nduja, spaghetti & meatballs, roasted monkfish, and a supplemental caviar service. You can also request an à la carte reservation.
How to reserve: OpenTable or email nishireservations@momofuku.com
Greenpoint
If you can't afford a flight for two to Paris, this sister restaurant to Maison Premiere is the next best thing. The hip bistro-y spot is fashioned with the requisite tiled floors, leather booths, and generally sexy atmosphere, and for V-day, it'll offer a four-course dinner for $65/person, featuring hearty dishes like acorn squash ravioli, boneless lamb ribs, and braised veal, with a choice of chocolate tart or coconut cream pie for dessert.
How to reserve: OpenTable
Greenwich Village
For a splurge, opt for the $175/person four-course dinner at this famed upscale restaurant from Alfred Portale (one of the founders of the New American cuisine movement). While the food is certainly excellent, what you're really paying for here is the go-all-out romantic ambiance: think white tablecloths, waiters in ties, and live music from The Gorman Quartet.
How to reserve: Gotham Bar and Grill
NoMad
If your ideal date spot is a casual space with not-so-casual food, make a res at this popular Korean small plates joint known for its minimalist interiors and exceptional fried chicken in spicy peanut butter. The restaurant will be offering a six-course tasting menu for $99/per person, including five savory dishes and a dessert.
How to reserve: Resy
Midtown West
Chef Manish Mehrotra's acclaimed upscale Indian restaurant is another spot to reserve if you're looking to go big this Valentine's Day. The place is full of lavish interiors and has a highly attentive staff that will be happy to walk you through a five-course menu for $125/person, featuring your choice of dishes like crab claws and pulled pork phulka, served with kulchas (flatbread) with butter chicken, black dairy dal, and mustard and caper raita.
How to reserve: OpenTable or call 212-842-8070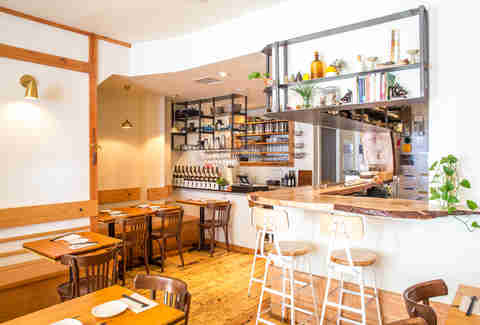 NoHo
Bessou is a cozy, wood-filled spot known for inventive twists on traditional Japanese comfort food. On V-day, the restaurant will offer two seperate seatings: 6:30pm and 8:30pm for a five-course tasting menu at $60/person. Dishes will include a "trio of sandwiches" (including beef katsu and salmon sashimi), scallops on the half shell, and your choice of entree: spicy cod roe pasta with seared black cod or Wagyu steak, followed by a chocolate soufflé cake.
How to reserve: Resy
Midtown East
For a laid-back and comforting Valentine's Day meal, hit Dale Talde's "Italian-ish" spot at the Arlo NoMad, for four courses at $75/person inside a sleek, ultra-modern space. Dishes include tater tots with creme fraiche and caviar, beet gnocchi with bay scallops, skirt steak, and your choice of dessert.
How to reserve: OpenTable or call 212-951-1141
West Village
Alex Stupak's OG Empellón location, known for its over-the-top tacos and hip, exposed-brick and mural-filled space, will do a special five-course Valentine's Day prix fixe for $60/person, including ceviche, melted cheese with shishitos and chorizo, a variety of tacos, and two dessert options. Plus, you'll get the added bonus of complimentary guac, salsa, and a glass of sparkling wine.
How to reserve: OpenTable or email reservations@empellon.com
Upper East Side
If you're willing to spend some serious $$$, this sprawling wine and small plates restaurant on the bottom floor of the Met Breuer (which we named one of 2017's best new restaurants) will offer a seafood-heavy five-course prix fixe for $175/person (with an optional $120/person wine pairing). The high ceilings and black leather booth seating make it an ideal spot for an intimate date night.
How to reserve: OpenTable
Williamsburg
Feeling particularly anti-Valentine's Day this year? Grab a group of friends and make a reservation at this much-Instagrammed Williamsburg bistro, known for its spacious interiors filled with white wood, and its low-waste menu. The restaurant will be offering its regular food and drink options for the holiday, including black cod pastrami, chicken drumsticks, and a variety of sharable veg plates and snacks.
How to reserve: Resy
Sign up here for our daily NYC email and be the first to get all the food/drink/fun New York has to offer.