There's more to Times Square dining than Red Lobster's Cheddar Bay Biscuits! Like the Ultimate Feast and signature salad combos. Oh, and the food at these other 10 options. Check 'em out:
Best grasshopper tacos: Toloache
251 W 50th St
The menu is highlighted by the smoky, earthy Oaxacan-style dried grasshopper taco, but nine notably insect-less versions are also offered. But remember: the whole point is telling your friends you ate a grasshopper taco.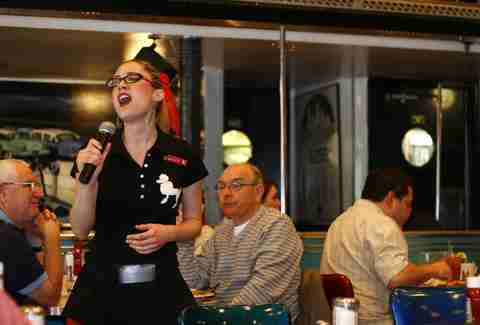 Best singing waitstaff if you're into that kind of thing: Ellen's Stardust Diner
1650 Broadway
The 1950s-themed singing waitstaff variety show is something like Jack Rabbit Slims from Pulp Fiction, but your trip to this super tourist destination won't end in an adrenaline shot to the chest. Probably.

Best for $25 bottles of wine: Becco
355 W 46th St
Come for the impressive $25 bottle list (seriously, there're at least 80 varieties), but stay for the daily table-side pasta because it's unlimited, and you could theoretically stay and continue to eat until the place closes/you hurt.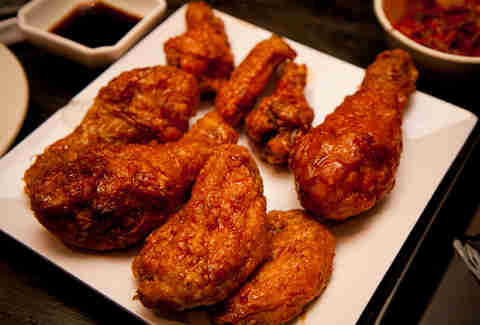 207 W 38th St
"Bonchon" is Korean for "my hometown", so head there for secret sauce-covered fried chicken wings, drumsticks, and strips that taste just like they're made at mom-and-pop places in Korea. But also like they're made at the 100 other global BonChon locations.

Olive Garden with the best view ever at an Olive Garden: Olive Garden
2 Times Square
Thrillist Editorial Director Ben Robinson has tried to come here on five separate occasions, but he never got a table once, presumably because it was crowded with view-seeking tourists and not because Olive Garden just doesn't like Ben. He's really not a bad guy. Anyway, he did manage to sneak a peek out of the huge dining room windows while staffers weren't looking, and that Times Square view was really terrific.
132 West 44th St
From the red leather banquettes to the functional 1920s limestone fireplace, everything at Iron Chef Geoffrey Zakarian's restaurant is Art Deco, old-school, and glamorous.

Best absolutely delicious Japanese bar food: Sake Bar Hagi
152 West 49th St
Tucked away down some windy stairs is a tiny, semi-secret sake den with tons of fried- and skewered-meat small plates that you won't be able to stop ordering and ordering.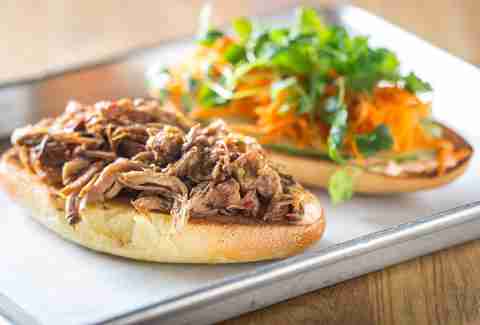 Best sandwiches: Num Pang
148 W 48th St
The elevated bánh mì here is simply the best. ​It might not be traditional, but with perfect fillings like peppercorn catfish, hoisin meatballs, or coconut shrimp on a perfect roll, with a perfect amount of too much mayo, it's truly better than all the rest.
235 W 46th St
Every aspect of this decadent, immersive theater experience is part of the show, including the effing delicious food. Lobster-filled bird cages, whole suckling pigs, and mammoth rib racks are brought out to each table by server-performers, and if you want to try it all you better barter. One of our writers, who is definitely not this writer, was prompted by the actors to make out with a stranger in a dark closet, and then was later given a blue Fla-Vor-Ice, which was definitely not part of the menu.

Sign up here for our daily NYC email and be the first to get all the food/drink/fun New York has to offer.

Carrie Dennis is an Associate Editor for Thrillist. She still doesn't know who she made out with. Follow her on Twitter @CarrrieDennnis.