The Best Restaurants Near Lincoln Center and Columbus Circle
For all your pre- and post-show dining needs.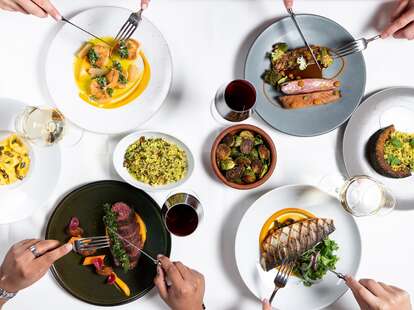 Photo courtesy of Boulud Sud
Photo courtesy of Boulud Sud
Whether you just went to the ballet at Lincoln Center, spent the afternoon strolling through Central Park, or checked out an event like the New York Film Festival, the southernmost tip of the Upper West Side has plentiful options for all occasions. It may be far from trendy openings downtown or in Brooklyn, but the area hosts some of the most lauded (and priciest) restaurants in the city like Masa and Per Se and is home to spots that continue to turn out reliably good food for brunch, lunch, and dinner today.
From diners to century-old bistros and fast-casual spots perfect for breakfast on the go, these are the best restaurants near Lincoln Center and Columbus Circle.
As the first of eight Blue Ribbon restaurants by Eric and Bruce Bromberg in NYC, Blue Ribbon Sushi Bar and Grill offers a menu that runs the gamut of what's offered at the pair's other restaurants. At this location—just off Columbus Circle at the 6 Columbus Hotel—guests can order sushi by the piece or opt for a platter that includes nigiri, rolls, and sashimi. Or go a different route altogether and try the restaurant's famous fried chicken, miso lobster, or a NY strip steak. Also notable is Blue Ribbon's sake selection, which spans the chain's signature sake made in-house as well as carefully selected options from other makers.
Inspired by iconic chef Daniel Boulud's childhood growing up in the French countryside,
Bar Boulud
is a more casual offshoot of the chef's empire located directly across the street from Lincoln Center. The bistro serves classic dishes like a slate of pates, trout amandine, steak frites, and a pan-roasted branzino by executive chef Vincent Cortese in a la carte options as well as a three-course fixed menu. If you're looking for something that strays from classic French fare, opt for nearby
Boulud Sud
.
The Mediterranean-influenced restaurant recently reopened for the first time since the start of the pandemic and is now under the direction of executive chef Christina D'Angelo, who started at the restaurant as a line cook back in 2012.
Whether you visit for coffee and a flaky croissant in the morning or a signature sandwich or quiche to hold you over for the afternoon, Breads Bakery's UWS location is the best spot for grab-and-go options near Lincoln Square. The bakery may be better known for babka, pies, pastries, and loaves of bread for bringing home, but the shop also offers sandwiches for breakfast and lunch, salads, and quiche to make a full meal out of a visit any time of day.
How to book: Walk in
For Italian fare where you'll feel like part of the family, Joanne Trattoria is the spot. The family behind the restaurant is Lady Gaga's as her father, Joseph Germanotta, owns the place, decking it out in family photos and naming dishes after family members. Try Joanne's spaghetti and meatballs, Big Joe's eggplant parmesan, or mom's lemon artichoke chicken, and check out the entertainment schedule to see which musical acts are performing during your visit.
How to book: Make a reservation via website
When lunch or dinner rolls around and it's time you introduce some vegetables back into your system, look no further than Le Botaniste. The local chainlet came to NYC by way of Belgium and now has four locations in the city where New Yorkers can order from a fully vegan menu that includes customizable grain bowls and salads, dips like green pea hummus, soups, and protein-packed desserts like chia pudding and an omega-3 brownie with cashew cream.
How to book: Walk in or order takeout and delivery via website
The Momofuku empire has expanded quite a bit in recent years. From new cities to fast casual concepts and grocery store items, there are more ways to sample David Chang's vision than ever before. But a visit to Momofuku Noodle Bar's uptown outpost at The Shops at Columbus Circle is still worth the trip. At the restaurant, ramen is the starring dish and is available in several options like miso mushroom and smoked pork, while cold noodle dishes and a slate of starters like their signature buns along with dry spice wings with spicy salt round out the menu.
Recently reopened after a pandemic-induced closure, this 70-year-old Upper West Side institution is back with a new name. The restaurant, formerly known as Old John's Luncheonette, retained the space's old school charm from an antique neon sign and '50s-style soda fountain, and now offers up a few new takes on classic diner fare by chef Grayson Schmitz. From buttermilk blueberry pancakes topped with lemon butter to a dry-aged beef burger, plus egg creams and ice cream sodas with ice cream made in-house by pastry chef Tanya Ngangan, Old John's Diner is a worthy pick any time of day.
How to book: Walk in
It doesn't get more classic than PJ Clarke's, making this NYC staple a great choice for any occasion. The saloon first opened back in 1884 and has hosted legends like Frank Sinatra, Buddy Holly, and so many more. Now, more than a century later, it's still a go-to for burgers, raw bar towers, and other pub fare.
For nearly 40 years, Rosa Mexicano has been a staple, with three locations in the city and a reach that has spread up and down the east coast. From tableside guacamole, flowing margaritas and other tequila cocktails, and mole made with 27 ingredients over three days, founder Josefina Howard developed a staple Mexican spot that blends tradition with new techniques and flavors.
With four locations in NYC, outposts in Chicago and DC, and a track record that dates back to 2007, The Smith is nothing short of a solid choice for uptown brunch or dinner. Sure, it may have already had its due when the spot's Edison bulbs and shiny tile floors were all over Instagram, but you can always count on this American brasserie for classics like a burger smothered in bacon shallot jam, mussels with truffle fries, the spot's signature mac 'n cheese, and a sprawling raw bar.