The area surrounding Madison Square Park and the Flatiron Building, commonly referred to as NoMad (NoMSP didn't have the same ring to it to abbreviate the area North of Madison Square Park) has seen a surge in destination restaurants in the past few years. Blame the flux of startups and tech companies or astronomically rising rents, but NoMad is indeed an "it" dining neighborhood in 2017. From power lunch spots to California-inspired cuisine, these are the best places to eat.
Best cheeseburger worth waiting in line for: Shake Shack
E 23rd Street (at Madison Avenue)
While Danny Meyer's beloved fast-food spot originally garnered fame for its hot dogs, the lines now gather for its perfectly greasy ShackBurgers (made with plenty of melty cheese and ShackSauce). The OG Madison Square Park location is home to plenty of outdoor seating, so you can post up for a while after your inevitable wait.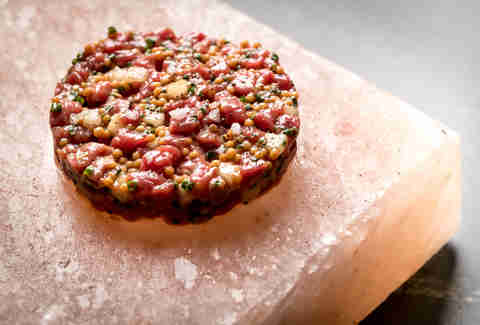 Best for an affordable steak smorgasbord: Cote
16 W 22nd Street (between Broadway & Fifth Avenue)
The best bet at this upscale Korean barbecue spot is the $45 per person Butcher's Feast, which includes four different cuts of dry-aged meat (to be grilled by your server at the table), plus salads, banchan, egg soufflé, two stews, and soft serve for dessert. Should you want more veggies and sauces to enhance the feast, add a Farmer's Basket for $18.
Best for fast-casual lunch by a Michelin-starred chef: Made Nice
8 W 28th Street (between Broadway & Fifth Avenue)
Emitting some serious Sweetgreen and Dig Inn vibes, Made Nice, i.e. "world's best restaurant" Eleven Madison Park's first foray into the fast-casual lunch scene, dabbles in the concept of counter service with chef-created grain bowls, salads, and hot entrees, all seasonal and plated in a sit-down restaurant-style, despite being served in cardboard bowls. The protein-focused bowls range from $13-$15 and include colorful, made-to-order options like the Pork N' Corn with confit pork shoulder, roasted corn, chorizo, cremini mushrooms, and watercress.
Best for fast-casual Indian: Inday
1133 Broadway (between 25th and 26th Street)
This fast-casual Indian spot uses the Chipotle model for its DIY grain-based bowls. Pick from a base of basmati, cauliflower rice, or quinoa to be topped with a range of cooked and raw vegetables, and antibiotic-free proteins ranging from golden curry chicken to grilled salmon to green falafel. Bowls start at $8, and while many pre-composed options are on the menu, it's always more fun to make it yourself.
Best for splurge-worthy omakase: O Ya
120 E 28th Street (between Park & Lexington Avenue)
You'll have to splurge for some of the city's most interesting omakase, but the 18-course meal (for $185 a person) at the New York location of popular Boston import O Ya is well worth it. The ever-changing roster of sushi pieces ranges from a glistening hot pink king salmon with unfiltered wheat soy moromi (a fancy fermented miso-like topping) to some of the sweetest sea urchin you've ever tasted served with a tangy aji amarillo. A la carte options are also available, though you're getting a better deal when you leave the menu in the chef's hands.
Best for California-style cuisine: Upland
345 Park Avenue S (between 25th and 26th Street)
Tables at Upland fill up pretty much nightly for chef Justin Smillie's California-fresh cuisine. The grass-fed burger topped with American cheese may be famous, but don't neglect the vegetable-focused dishes (like a little gem salad garnished in walnut vinaigrette) and hearty homemade pastas, like the estrella (a grooved, curved rigatoni-like noodle) coated with chicken liver, sherry, and fresh herbs.
Best for a rustic farm-to-table feast: Black Barn

19 E 26th Street (between Broadway and Fifth Avenue)
Vaulted ceilings, enormous rolling wooden doors, and black walls truly do make this dining room feel like a black barn, but cocktail menus presented on iPads and the Instagram-ready plating quickly remind you where you are. A wide range of shareable plates from the garden (cauliflower steak actually done right), ocean (seared scallops over morel risotto) and in between (wild mushroom toast, cheese fondue, and mangalitsa-topped pizza) can easily be passed around the table, though you may want to claim a personal stake to the wood-grilled and slow cooked options, like an IPA-braised pork shank served with salsa verde.
Best for a French-style roast chicken: Le Coq Rico
30 E 20th Street (between Broadway and Park Avenue)
Acclaimed French chef Antoine Westermann took a step back from uppity French cuisine in 2016 to open his cozy yet trendy "bistro of beautiful birds." Start with the giblets on an Offal Plate, then break into a whole roasted bird, raised specially for the restaurant. The meat is juicy and flavorful and unlike any other poultry served in New York City. Don't forget to take the bones and whatever meat is left home to make a chicken stock.
2 W 28th Street (between Broadway and Fifth Avenue)
This pick-your-own-dough pizzeria lets diners select what type of crust they'd like for their Neapolitan-style personal pies, to be topped with fresh ingredients like juicy tomato pulp, imported mozzarella di bufala, and Prosciutto Di Parma. An extensive spirits and beer list will keep you drinking until you're ready to order more.
Best for soul-warming Italian food: La Pecora Bianca
1133 Broadway (between 25th and 26th Street)
Translating to "white lamb" this brightly lit, mint green-accented restaurant is known for its nouveau-yet-traditional-enough Italian food like antipasti with beets in sheep's milk yogurt and thinly sliced Long Island fluke crudo and locally sourced pasta, like the tagliatelle tangled with meaty Bolognese.
30 W 26th Street
Cooking up Texas-style barbecue with all the fixin's, Hill Country is known for its slow-cooked beef, pork, sausage, and poultry by the pound, with its tender sliced brisket being a standout. Drench the meats of your choosing in homemade barbecue sauce and add a few carb-heavy sides, like mac & cheese and bourbon-laced mashed sweet potatoes. Visit on Mondays from 5-10pm, when all-you-can-eat meats and sides go for $32.
42 E 20th Street
Practically a New York City landmark, this iconic seasonal restaurant remains a power player both for meetings and celebratory meals. Visit for lunch (when those without an expense account can find solace in the a la carte menu) and treat yourself to upscale New American creations like homemade wagyu pastrami served with pickled vegetables and grilled bread, and sea bass over pickled green tomatoes and corn. Don't skip out on dessert, which is often focused around a single in-season fruit.
Best for a fancy meal without the price tag of Eleven Madison Park: The Nomad
1170 Broadway
Another spot run by Eleven Madison Park duo Will Guidara and chef Daniel Humm, the restaurant and bar at The NoMad Hotel offers the skill and taste of EMP, without the pricey prix fixe. Go for French-inspired dishes like carrot tartare served with a pickled quail egg and platters of charcuterie or raw seafood to pair with an excellently curated wine list. On the heavier side, there's a famed whole roasted chicken for two (or more), with black truffle and chanterelle. Super into sharing? Opt for a legendary punch bowl, like the Zombie ($35) stirred up with three types of rum, pineapple, grapefruit, and passion fruit.
Sign up here for our daily NYC email and be the first to get all the food/drink/fun New York has to offer.