A decade ago, Cobble Hill, Boerum Hill, and Carroll Gardens weren't exactly dining destinations unless you were looking for red sauce and table wine.
These days, they're packed with some of the city's best "neighborhood" restaurants: those places you can stroll in any night of the week and find a welcoming staff, a slew of regulars, and the comfort of a casual, unpretentious menu (even if the restaurant has a Michelin star; looking at you, La Vara). In the last five years, spots like the revamped Long Island Bar and bagel & lox emporium Shelsky's have slowly drawn in Manhattanites and other reluctant visitors, which has also brought wider appreciation to an older guard of beloved spots, like Ferdinando's Focacceria and Sahadi's, that keep the neighborhoods' history alive.
From one of Brooklyn's greatest burgers with a side of serious cocktails, to pancakes that can cure the world's worst hangover, here's a rundown on how to navigate your way through the destination-worthy trio of 'hoods sometimes collectively referred to as BoCoCa (but please don't ever do that).
Carroll Gardens
This postage-sized sandwich-and-provisions shop presents visitors with a challenge: pick one sandwich from a selection of standout staples and an ever-growing list of specials. Go for the soft scrambled eggs with sausage, Cheddar, and arugula on a crispy ciabatta, or the Uncle Chucky, which stacks roasted turnips, pickled fennel, red onion, and arugula on an Italian roll that's laced with pumpkin seed romesco.
Carroll Gardens
There's no shortage of ice cream in the area (Van Leeuwen and MilkMade both offer solid scoops), but the vintage-inspired Brooklyn Farmacy is the place where you'll want to settle in. Bring a friend to help you make it through a banana split or sundaes like the Affugazi Affogato, which combines espresso-soaked cake with vanilla ice cream, dark chocolate hard shell, and whipped cream.
Carroll Gardens
Lucali owner Mark Iacono grew up in the area and while his now-iconic pizzeria wasn't around back then, it easily looks and feels like it could have been with its pressed tin ceiling, well-worn wooden tables, and cash-only policy. His brick-oven pies are topped simply with a signature sauce, mozzarella, and Parmesan, and large sprigs of basil. Make sure to arrive early if you hope to snag a table, and BYOB.
Best for any occasion: Rucola
Boerum Hill
Rucola is precisely the type of restaurant every New York neighborhood needs: warm, charming, delicious, and open from early morning until late in the evening. Stop in for breakfast and you'll find sourdough toast and polenta di riso (a rice-based porridge) with seasonal fruit and pistachios, and for lunch, Italian-leaning sandwiches and salads. But dinner is what makes the restaurant a dining destination. No matter which house-made pastas are on offer when you go, make sure to order at least one.
Cobble Hill
Skip the packed brunch spots that dot Smith Street and head to this bagel and smoked fish emporium on a weekend morning. Glistening sides of smoked and cured salmon are sliced to order and layered on bagels and bialys for sandwiches like the Member of the Tribe (the classic bagel, schmear, and nova) and the Fancy Pants (sturgeon, gravlax, cream cheese, tomato, red onion). Grab one to go, plus some rugelach, and head to Brooklyn Bridge Park for a picnic.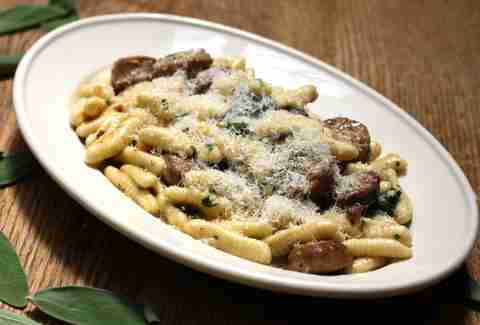 Carroll Gardens
Tucked behind a trellised walkway, the romantic backyard at the neighborhood's most beloved Italian spot will make you feel like you've been transported to a tiny trattoria in the hills of Italy. The menu keeps with the theme, focusing on crostini (try the Sicilian white sardine) and fresh house-made pastas like the summertime linguine with fava beans, tomato, chili, and breadcrumbs.
Brooklyn Heights
OK, this is technically across Atlantic Avenue (meaning it's in Brooklyn Heights), and it's not exactly a restaurant, but the Middle Eastern grocery store, which has been around since 1948, should be on any food-lover's list. Grab a number at the door and a team of friendly staff will help you to dried fruit, nuts, and sweets like dark chocolate-covered almonds from countless bins. Want to try something new? Simply ask.
Cobble Hill/Carroll Gardens
The area's Italian community has somewhat petered out in recent years, but several culinary strongholds remain, including Court Pastry Shop, which still offers shelves lined with brightly colored cookies and ricotta-filled cannoli, and an unmistakable scent of sugar and almonds that wafts through the bakery at all hours. Don't leave without a sfogliatelle, a cornucopia-shaped pastry stuffed with sweet ricotta and orange peel.
Cobble Hill
Nothing sops up the remnants of a long night out quite like the buttery pancakes at Cafe Luluc. The double stack (which is as wide as the plate) manages to somehow be both crispy around the edges and light and fluffy in the center. It's guaranteed to cure whatever ails you.
Best special occasion spot: La Vara
Cobble Hill
Alex Raij and Eder Montero, owners of El Quinto Pino and Txikito in Manhattan, helm this Michelin-starred charmer, which draws on Jewish and Moorish influences from Spain. Settle in for an evening of shared plates like garbanzos fritos (spiced fried chickpeas), berenjena con miel (crispy eggplant with melted cheese and honey), and cochinillo (suckling pig with rose petal quince sauce and chimichurri). On a nice night, ask for a seat in the tiny backyard.
Cobble Hill
At first glance, Hibino looks like most neighborhood sushi spots -- somewhat sparsely decorated and perennially busy. But what sets it apart is the quality of the fish and rice, as well as the daily obanzai specials (small Kyoto-style dishes), like chicken simmered in red miso served with shiitake mushrooms, and fried black tiger shrimp, which appear on a chalkboard that the waiters bring by your table.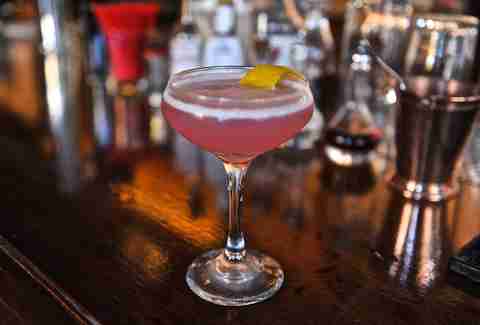 Cobble Hill
Toby Cecchini, the inventor of the Cosmopolitan cocktail, is the man behind this revived retro bar. While his classic-inspired drinks like a cognac French 75 and a very strong Boulevardier are the main draw, the L.I. Burger shouldn't be ignored. Its two dry-aged patties, pickles, cheese, and fancy sauce, are worthy of a visit even if you aren't drinking.
Carroll Gardens/Columbia Street Waterfront District
This traditional Sicilian spot has been around for over a century (it predates the nearby BQE), offering completely authentic dishes like enormous rice balls, potato croquettes with panelle (like a Sicilian chickpea fritter), some of the city's best cannoli, and the crown jewel: vastedda sandwiches, made with cow spleen and ricotta.
Sign up here for our daily NYC email and be the first to get all the food/drink/fun New York has to offer.