Where to Eat in Sunset Park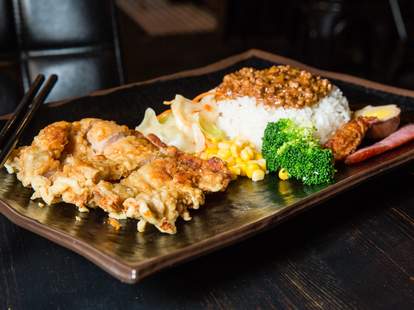 Sunset Park is that quintessential Brooklyn neighborhood that sounds further away than it really is. Just one express-train stop on the D or the N from the Atlantic Center gets you to a perpetually overlooked oasis of great hilltop vistas, family-friendly park space, and some of the best Chinese and Latin American food anywhere in the city.
This part of Brooklyn may not get as much foot traffic as, say, Greenwich Village, but that's very much part of its charm. You're going to find yourself in a deeply local scene when you venture out for these supersized tacos, a dim sum spectacle, and an old-world Italian bakery. Bring a blanket for lolling in the park (fantastic for, you guessed it, sunsets) and eat your way around the world.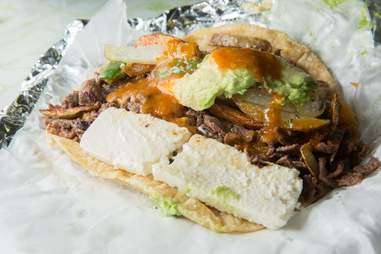 Cole Saladino/Thrillist
Best Mexican bodega: Puebla de Los Angeles
722 Fifth Avenue
Puebla de Los Angeles is essentially a Mexican grocery and bodega rolled up into one small, nondescript store on Sunset Park's Fifth Avenue. The cramped space is chock-full of canned goods and Mexican snacks, but what you're here for is the bodega component. Set to one side, the tiny kitchen is outfitted with a comal that warms enormous $5 tacos. Go for one of the tacos placeros -- soft corn tortillas, thicker and denser than average, layered with yellow rice, red-skinned potatoes, jalapeños, shredded queso fresco, and just-ripe strips of avocado. Dress it up with steak, spicy chorizo, or a whole boiled egg. 
 
Cole Saladino/Thrillist
4324 Fourth Avenue
Known best for its always-swarmed Fifth Avenue food truck, Tacos El Bronco also runs a couple of brick-and-mortar restaurants. The flagship is right at the 45th Street R stop on Fourth Avenue, a manic operation and neighborhood institution. The move here is tacos, and lots of 'em; there are almost 20 different varieties, some more daring -- buche (pork stomach), cabeza (veal head), lengua (tongue) -- and others more traditional: chorizo, carnitas, pollo. All are served on freshly rolled yellow corn tortillas, along with a heap of grilled green onions, cucumbers, radishes, and dainty slivers of lime. Once you're seated, slather everything with the house-made salsas stationed on each table (the bright red one is a fiery puree of chili and garlic).
COURTESY OF AVOCADERIA
274 36th Street
Take a grand tour of locally made, globally inspired foods at Industry City's gigantic food hall. Among the oodles of vendors, seek out Colson Patisserie (a French-style bakery serving up quiche, salads, and warm pastries) and Ends Meat (a whole-animal salumeria selling cured meats and sandwiches). Avocaderia, Brooklyn's first avocado bar, is a valentine to the creamy green fruit -- they smash it on toast, slice it in salads, and mix it in smoothies. Still hungry? There's also a gastropub, ramen, burgers, Berliner döner kebabs, Shanghainese street food, Blue Marble ice cream, and spots serving cookies and coffee.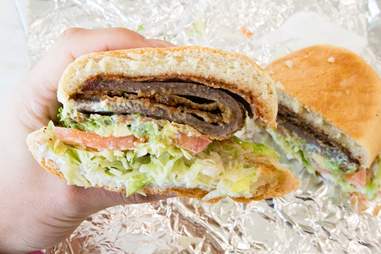 Cole Saladino/Thrillist
Best for Mexican sandwiches and sweets: Ines Bakery
948 Fourth Avenue
There's no such thing as a quiet period at the tiny Ines Bakery. Customers pack in, itching for signature sweets like conchas, frosted doughnuts, and elephant ears. There are savory items too, like sandwiches made on house-baked bread, quesadillas, and chilaquiles. Opt for one of the tortas (cheese, meat, jalapeños, and pureed beans layered on a soft telera roll), or the sopes (warm, hand-pounded masa pucks topped with meat, crumbled cheese, and herbs). 
 
Cole Saladino/Thrillist
Best for fried chicken: Chi Ken
5401 Eighth Avenue
Newcomer Chi Ken specializes in one thing: habit-forming popcorn chicken, served in a paper sack for easy snacking. The Taiwanese specialty uses succulent dark and white meat, and it's crispy rather than greasy on the outside. For a couple more dollars, you can make it a meal: Several bento box options arrive with corn, broccoli, a boiled egg, tempura vegetables and rice with meat sauce. Cutlets and fried squid are also available, but seriously, just get the popcorn chicken.
6301 Eighth Avenue
While it's not as famous as those in Flushing or Manhattan, there is a huge Chinatown in Brooklyn, stretching along lucky Eighth Avenue between 45th and 60th Streets. Stop by the food court attached to Fei Long Market and pick from around 10 stalls sizzling up excellent street food. At Shanghai Dumpling House, taste superlative xiao long bao and watch as the cooks systematically pleat, fold and stuff rounds of dough with a variety of fillings. Shall We Eat, Inc always displays spit-roasted meats which might have you thinking you've wandered into a market in China, while DM Tea delivers scorching-hot rice, meat, and vegetables baked in a clay pot dish.
Cole Saladino/Thrillist
Best for banh mi: Ba Xuyên
4222 Eighth Avenue
This no-frills Vietnamese restaurant doesn't look like much on the outside (or on the inside, for that matter), but it does make an authentically awesome banh mi. Thick, toasted baguettes are coated with mayonnaise and Maggi sauce, packed full of your choice of meat, and finished off with pickled daikon and carrots, jalapeños, cucumber, and ribbons of cilantro. The thit nuong is a neighborhood favorite, made with smoky pâté, ham, sweet sausage, head cheese, and pork; there are variants with shredded pork, meatballs, and grilled chicken too. 
Best for Malaysian: Nyonya
5323 Eighth Avenue
There aren't nearly enough Malaysian restaurants in New York, but Sunset Park is blessed with a good one. Nyonya is heavily influenced by Indian, Thai, and Vietnamese traditions, offering a meat-heavy menu which features nasi lemak (a rice dish doused in coconut milk and pandan leaf) and chow kueh teow (rice noodles studded with shrimp and squid). What keeps people coming back, though, is the roti canai: crisp, puffed pancakes served with a bowl of vibrant orange curry sauce. Nyonya is cash-only, so make sure you've got some on ya.
Cole Saladino/Thrillist
Best for bubble tea: T Baar
4823 Eighth Avenue
Quench your craving for bubble tea at this neon-green spot, where candy-colored varieties like jelly milk and honeydew milk come with a generous serving of tapioca at the bottom. The super-thick smoothies (try taro, coconut, or lychee), are best paired with a thinly layered crepe cake (matcha and coconut are two faves).
Best for Cantonese classics: Park Asia
6521 Eighth Avenue
It has the look of a cavernous Chinatown banquet hall, and while Park Asia is lower-key, a meal here is always a bit of a spectacle. Noodles slick with oil and seafood arrive haphazardly, and bamboo steamers are crowded on starched white tablecloths; peel off the cover to find delicate siu mai, har gau and chubby, meat-filled buns. Other house specialties are chicken feet, spare ribs, lobster in black bean sauce, and roast duck. A steady stream of hot tea is all but obligatory.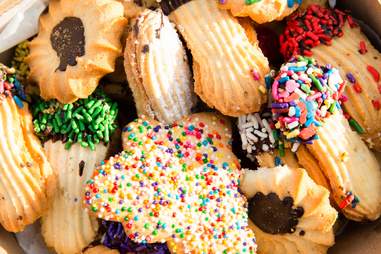 Cole Saladino/Thrillist
5812 Fifth Avenue
This tiny, unadorned Sicilian bakery -- one of the last survivors from when the neighborhood was predominantly Italian -- is straight out of a bygone era. It radiates of nostalgia for old-school Italian bakeries: The cookie sheets in the glass case are heaped with sprinkle-speckled jam cookies, chocolate-dipped butter cookies, napoleons, lobster tails, and Linzer tarts sold by the pound. The cannoli have crisp, house-made shells piped with smooth ricotta and mini chocolate chips; they're made to order, so make sure you order them. 
813 55th Street
Like Chinatown's bustling dim sum halls, Pacificana is always busy. The space is enormous -- able to fit hundreds of patrons, or more before they've eaten -- and waiting crowds stack up an hour deep on weekends. But once inside, your dim sum arrives as an unending ballet. Waiters wheel carts piled with stacked bamboo steamers, soups, and stir-fried vegetables, allowing you to pick and choose the dishes you like. Pleated har gow arrive pink in the middle, dumplings jiggle and burst with hot soup, and the turnip cakes are supple, soft, and flecked with pork. Finish the meal off with deep fried mantou -- plump pillows of fried dough, drizzled with condensed milk.
Sign up here for our daily Thrillist email and subscribe here for our YouTube channel to get your fix of the best in food/drink/fun.
Amy Schulman is an Editorial Assistant at Thrillist, who dreams of the tacos placeros at Puebla de Los Angeles. Follow her on Instagram.