After what felt like a period of interminable grey, New York has finally been blessed with warm (or, you know, extremely hot) weather -- meaning it's time to get outside. While drinking on rooftops is always an excellent decision, sometimes you need a little food to go along with your 15 margaritas. From tacos to steak to lobster rolls, there are plenty of reasons to luxuriate on one of the city's rooftop restaurants, drink in one hand and fork in the other. These are the best of the best.
Recommended Video
It's Worth Getting Sloppy For This Grilled Cheese Taco
Long Island City
Perched above the Ravel Hotel in Long Island City, Penthouse 808 has a vibe that's skewed slightly more Miami than the former industrial neighborhood where it's actually located (think DJs and late-night parties). But once you're brought back home by the sight of the Silvercup Studios sign and the Manhattan skyline, you'll see that the menu is full of great (if slightly over-the-top) bites like coconut curry bouillabaisse and Hawaiian skirt steak, and thematically timely dishes like the Game of Prawns -- a dish that includes jumbo shrimp and grilled seasonal vegetables served on a "genuine Japanese samurai sword." Be sure to go on the early side to fill up on savory bites before the party gets started.
Chelsea
Remember when "Sleep No More" was a limited-run production set to vanish into the mists whence it came? Probably not, since it's been several years since the city's most popular immersive show cracked its doors in Chelsea, and the empire at the McKittrick Hotel has only grown more vast since then. Gallow Green isn't just a rooftop, it's a true Secret Garden-esque enchanted forest where visitors can order things like grilled corn, charred octopus, and roasted porchetta while live jazz floats in and out of the background. It's also known for its brunches, where $45 gets you two hours of a buffet packed with things like fried chicken, roasted fingerling potatoes, and a smoked salmon station. You'd also be remiss not to try one of the rooftop's inventive punches, made with exotic ingredients like Delord Armagnac and raspberry oleo.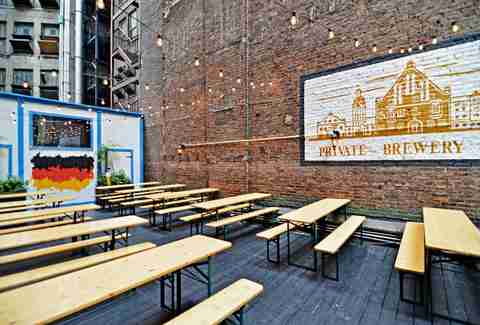 NoMad
Tavern 29 distinguishes itself in two ways: it has incredible $5 happy hours (in NoMad, this qualifies as something); and it's housed in an old, 19th-century townhouse. The barebones industrial rooftop is lined with Edison bulbs and communal tables, where you can post up and order a flight of craft beers to wash down dishes like a swordfish BLT and Maine lobster roll. And because this is NoMad, flatscreen TVs offer the sport du jour. The only downside? Since the roof is nestled between two taller buildings, it's not ideal in blisteringly hot August, but it's perfectly fine in early summer when the night air can still turn jacket-worthy.
Flatiron
The latest incarnation of Eataly's 14th-story rooftop is a beachy accompaniment to perennial favorite La Birreria. The breezy, seaside-themed Italian restaurant is suspended high above 5th Ave, allowing diners to step off the hot and smelly street and recline in a comfortable lounge chair with some chardonnay and some crispy fritto misto. If you close your eyes, you just might be able to convince yourself you're on the Mediterranean -- at least until a wailing police car jolts you back to reality.
Clinton Hill
Is there any pleasure more pure than working your way through a wood-fired pizza while catching a rooftop breeze in one of Brooklyn's most charming neighborhoods? Order a crispy meatball pie or the pasta of the day at this Clinton Hill Italian favorite, then take in the sights and sounds of Vanderbilt Ave in the summer. After dinner, be sure to stick around for a glass of port or a slice of pistachio cheesecake -- or both.
Murray Hill
You wouldn't expect a taco joint in Murray Hill to offer one of the best rooftop experiences in the city, but April Bloomfield's Salvation Taco does just that. Take the elevator as high as it will go and join a sea of well-groomed diners on the charming plant-filled, brick-lined terrace. While menu prices are a little high, the juicy al pastor tacos and enormous pig's head tostada are well worth it (and best enjoyed alongside a tart margarita).
Williamsburg
While a French bistro on top of a Williamsburg roof deck may sound like something out of the Bedford Stop, there's a reason this quaint brasserie has managed to maintain its hold in the ever-pricier neighborhood since 2006. Lounge under one of several red umbrellas and indulge in perfectly crispy duck confit or hand-cut steak tartare, taking care to leave room for the sticky date pudding for dessert. For lighter eaters, the salads are consistently excellent, though you can never go wrong with a spread of oysters.
Sign up here for our daily NYC email and be the first to get all the food/drink/fun New York has to offer.