Although you may think that the best sandwich of all time is the one you eat after a night out, which your roommate left in the fridge topped with Doritos, but it's fine cause you'll totally get him the next time... they aren't. Mainly because there are literally (maybe!) millions out there -- here are seven of the very best you can get right now.
Brisket Sandwich, Ducks Eatery
East Village
Available only on "brisket day" (Tuesday) after 7p, this delicious bastard features smoked ricotta-covered brisket that itself has been smoked for 18hrs over oak, then topped with a "whole mess" of pickled red cabbage and shoved between two slices of corn English muffin that've been toasted in their master fat -- a mix of duck, Benton's bacon, and smoked pastrami fat. At only $10, it also happens to be an immense deal.
Patty Melt, The Butterfly
Tribeca
So burgers aren't technically sandwiches, but patty melts kinda are, and this is the tastiest one around right now. It's got a beautifully simple ingredient roster with a somewhat novel American-on-top/Gruyere-on-the-bottom cheese situation, and a "white label" meat patty that delivers a steaky, dry-aged funk flavor.
Godfather, Graham Ave Deli
Williamsburg
This quintessential neighborhood Italian deli has a near-perfect Italian sub on hand: a hulking semolina roll filled with traditional Italian meats, their homemade roasted peppers, Parm, provolone, and either spicy or sweet vinegar peppers. This thing is a classic. 
Pulled Bacon, Animals at the Wayland
Alphabet City
This torta-style, destination-worthy (if you consider Avenue C a destination, and many do) sandwich features refried beans, pickled jalapeños, and chipotle sauce that's topped with pulled bacon -- which is just awesome as a concept in general -- that's been braised in bourbon and apple cider.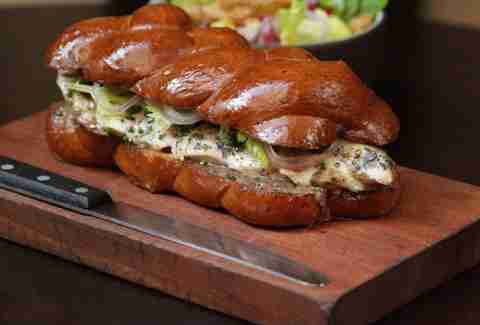 The Chicken Sandwich, The NoMad
Nomad
The sandwich version of their hugely popular and impressive roasted chicken at dinner, this brunch-only sando has foie gras-injected chicken breast in between truffle spread-coated loaves of brioche. It's not cheap, but neither is complete satisfaction.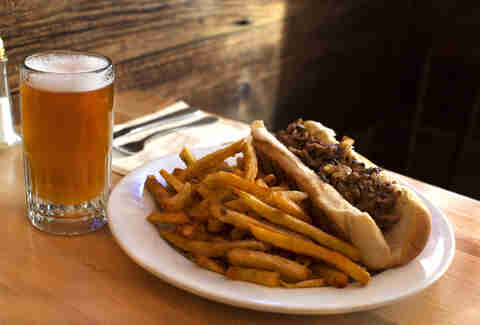 East Villy Cheesesteak, Whitmans
East Village
Held in higher esteem by some than even their Jucy Lucy burger, this take on the classic doesn't stray too far but delivers maximum deliciousness with Pat LaFrieda chipped beef covered in melty cheese and caramelized onions, all on a proper, just-soft-enough-yet-still-firm hoagie. Just get it, and you'll, well, get it. The included fries are outrageous too.
BLT, Mile End Noho
Noho
Although generally what makes a BLT excellent is tight execution on a simple sandwich, the Mile End meat-savants managed to kick it up beyond the others with the addition of a texture-changing flavor punch of chopped liver.