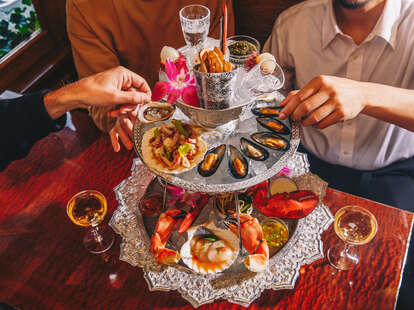 Suvannamaccha's Offering at Thai Diner

| Photo by Cole Saladino for Thrillist
Suvannamaccha's Offering at Thai Diner

| Photo by Cole Saladino for Thrillist
In the summer, diving hands-first into a feast of fresh seafood just feels right. And there's no better (or more Instagrammable) vessel for such decadent meals than via a seafood tower.
One or two (or three, if you're really flexing) tiers loaded up with everything from oysters and clams to crab and lobster are guaranteed to make heads turn as it arrives at your table. Whether you're hitting up the best seafood restaurants, dining al fresco at a waterside eatery, or seeking out the excitement of a recent debut, here's our recs on where to order the most show-stopping seafood towers in New York City.
As the latest venture from Jon Neidich of Golden Age Hospitality, this follow-up to recent hits like the swanky NoHo piano bar, The Nines, and LES wine bar, Le Dive, opened its doors last month. Styled in a late 1800s art nouveau design, the Parisian-inspired Deux Chats serves up chilled martinis, skin-contact wine, small plates like Wagyu Beef Tartare, plus an impressive range of raw bar offerings. In addition to á la carte offerings, go for either the Petit Plateau (oysters, shrimp cocktail, and clams served with Brioche Buttons and seaweed butter) or the larger Grand Plateau (which includes the aforementioned seafood plus a whole lobster and Alaskan king crab).
The Beekman, a Thompson Hotel
As a pioneer of French cuisine and NYC fine dining, the award-winning chef and restaurateur Daniel Boulud (DANIEL, Bar Boulud, Le Pavillion) recently added Le Gratin at The Beekman, a Thompson Hotel, to his portfolio. Focusing on Lyonnaise cuisine, the menu by executive chef Guillaume Ginther features classic dishes inspired by Boulud's upbringing with a seasonal approach. Among the offerings, on the brunch menu (served weekends from 11 am–3 pm), go for the extravagant seafood tower. Named Les Plateaux des Fruits de Mer, each order boasts a bountiful variety of oysters, shrimp, crab, mussels, and a whole lobster paired with a classic cocktail sauce, French cocktail sauce, and mignonette.
A collaborative project from brother-duo and restaurateurs Alex and Miles Pincus, since opening in May, Holywater has made waves as a spot that melds boats, drinking, and seafood culture. As part of their nautical-themed Crew Hospitality Group (Grand Banks, Island Oyster, Drift In, Pilot) and the Pincus' first landlocked venture, the food program is helmed by chefs Kerry Heffernan (Grand Banks) and Sam Gasner (Carbone, Momofuku). Alongside favorites like Caviar Tater Tots and BBQ Shrimp, the stars of the show are a choice of three seafood towers. Choose from The American (oysters and clams); La Tour (all of the Fruits de Mer, which currently includes oysters, clams, shrimp, lobster); or the chef-driven Omakase option, all of which served on ornate silver dinnerware.
With its origins dating back to 1879, Gage & Tollner in Downtown Brooklyn is a part of NYC's storied restaurant history. Making its debut last spring, veteran restaurateurs Sohui Kim and Ben Schneider (the wife-and-husband duo behind The Good Fork Pub and Insa), and St. John Frizell (Fort Defiance) are behind the legendary oyster and chop house's revival. Among steaks, classic sides like Creamed Spinach, and desserts by pastry chef Caroline Schiff, the G&T Chilled Seafood Platter Royale is a menu standout. Containing a whole Maine lobster, fluke crudo, dozens of oysters, clams, and shrimp cocktail, this seafood tower is certainly a picture magnet and can be followed by a few cocktails at the nautical-themed bar upstairs, Sunken Harbor Club.
Grand Banks is a seasonal oyster bar on a historic wooden schooner docked where oyster barges once sat in the 18th and 19th centuries. The deck of this one-of-a-kind experience overlooks the Hudson River and Manhattan skyline. Pair maritime-themed cocktails like the refreshing Skipper Key (rose, lemon, strawberry) with the spot's popular oyster-centric tower, The Grand Banks, which includes two dozen East and West coast oysters and is served with three mignonettes, cocktail sauce, and lemon.
Well-known for its selection of oysters and absinthe, Maison Premiere is a classic go-to for fresh seafood and stiff drinks in Brooklyn. On the New Orleans-inspired eatery's menu, there's a range of crudo; caviar service; and small plates such as the Oysters Rockefeller and Lobster Roll, in addition to two grand seafood towers named Plateaux. Based on your appetite and party size, choose between the smaller La Petite Maison and the larger La Maison, both of which include a combination of oysters, lobster, crab, shrimp, and clams.
This Rockefeller Center bar from the team behind hotspots like The Jane Hotel Ballroom and Ray's opened in February. Honoring the century-old legacy of its building, specifically its predecessor Hurley's, a famed hangout spot for NBC stars like Johnny Carson and the crew from Saturday Night Live, at the multi-story Pebble Bar, head to the third floor for its intimate 35-seat eatery. Here, executive chef Carlos Barrera's (The Lobster Club) menu includes a flex-worthy seafood tower named The Rock (East and West coast oysters, shrimp cocktail, crab salad, whole lobster), along with a concise list of seafood-centric entrees, bar snacks, and specialty cocktails.
A longtime standby for old-school chophouse vibes, since opening in 1977, Smith & Wollensky has gained a celebrated reputation for their dry-aged steaks, classic cocktails, and lengthy wine list. This Midtown East institution also lays claim to a swanky menu of raw bar offerings, namely, the Wollensky's Grand Bouquet. The opulent order includes a double-tier tower supplying guests with a generous amount of shrimp, lobster, and crab meat to complement an extra dirty martini and appetizers like the Traditional Caesar or Brooklyn Burrata. If your party is a bit smaller, opt for the Smith's Bouquet, which serves two.
Opened in February of 2020 by wife-and-husband team Ann Redding and Matt Danzer (Uncle Boon's), Thai Diner in Nolita specializes in diner-inspired interpretations of beloved Thai and Thai-American dishes. With reservations in high-demand since its debut, one of the most photogenic items of the food program is the Suvannamaccha's Offering. A three-tier presentation, the signature tower includes a wide variety of flavors and seafood like oysters; shrimp; mussels; crab legs; scallops; octopus salad; green mango salad; and crispy squid with sides of Tom Yum cocktail sauce, guava nam prik, and ginger aioli.