The world of South Asian cuisine is expansive and diverse, just like the countries that make up the region. After all, South Asian food is more than just butter chicken and naan, although those are undoubtedly excellent dishes. As a whole, it embodies the tastes, flavors, and intricacies of Afghanistan, Bangladesh, Bhutan, India, Maldives, Nepal, Pakistan, and Sri Lanka.
There is no better place in New York City to experience these diverse flavor profiles than Queens, a hub of the South Asian community and home to 10% of the borough's population. Naturally, it's the go-to borough to sample authentic dishes that feed some of the city's roughly 330,000 South Asian residents. Whether you're in the mood for some tandoori kebabs, Indian street snacks, or vegetarian and vegan fare, this list has you covered. Just bring your appetite and a MetroCard.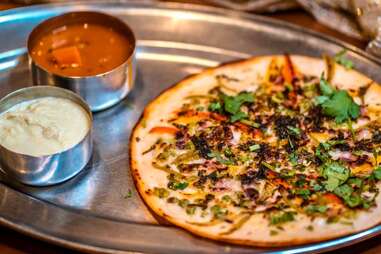 Jackson Heights
South India is known for its delectable dosas. Dosas are thin, crispy, crepe-like dishes made from a fermented batter of lentils and rice. They're often served alongside sambar, a spicy, lentil-based vegetable soup, and several sweet and tangy chutneys. The best thing about dosas? You can fill them with whatever your heart desires: from cheese, mushrooms, and onions to chicken and green chilies, or keep it simple sans filling. Popular among dosa lovers everywhere, Dosa Delight has over 30 dosa options (which are all vegetarian), including a chocolate dosa for those with a sweet tooth.
Woodside
Momos—bite-size dumplings stuffed with minced meat or vegetable filling—are classic street snacks in Nepal. At Momo Crave, you'll be presented with an assortment of momos ranging from traditional to decidedly inventive, like classic chicken and beef, or a tandoori momo filled with peppers and onions and sauteed in tandoori masala. If you fancy other Tibetan fare, try the Thukpa, a hand-pulled noodle soup with mixed vegetables and choice of meat, or a comforting bowl of Thenthuk, a similar hot soup that uses flattened wheat flour dough instead of noodles. These staples will instantly transport you to Bhutan and the northern Himalayan region of Nepal.
Jackson Heights
Parked outside 37th Avenue and 73rd Street in the heart of Jackson Heights lies Fuskahouse NYC, one of the first Bengali snack carts in the States. Specializing in its namesake, fuchka (also known as pani puri or gol gappa in parts of India) is a popular Bengali street snack sold on nearly every street corner in Bangladesh. Characterized by puffed spheres of semolina shells filled with potatoes, tamarind chutney, and spicy peas, it's a perfect marriage of flavors in a single bite. This no-fuss, no-utensil-required dish is under $10 and great as a dinner appetizer or late-night snack. After all, these bites are available until 2 am each night.
Astoria
Afghani food is rich, flavorful, and aromatic. Sami's Kabab House in Astoria brings a glimpse of Afghanistan to NYC through its wide range of kebab offerings marinated in traditional Afghani spices, like cumin, turmeric, black peppercorn, and cardamom seed. It's complemented by a hefty side of rice or, for a dollar more, opt for a portion of kabuli pulao (a rice pilaf with raisins and carrots). Whether you're in the mood for beef, chicken, or lamb, Sami's has you covered. Don't forget a helping of its classic white sauce, a creamy, cooling condiment that's the only seasoning you need to enjoy this meal.
Elmhurst
There are very few Indian-Chinese (or Indo-Chinese) eateries in New York, but Tangra Masala remains at the top of the list. The Elmhurst-based, cash-only outpost is the restaurant's original location, which has since expanded to Sunnyside and was once temporarily available in Manhattan. Tangra Masala is a popular destination for those craving Chinese-inspired fried rice, noodles, and chow mein with a deep infusion of Indian spices. The combination of Chinese flavors and Indian cooking techniques has been experimented with for ages in Kolkata, a city in West Bengal on the eastern side of India, but hungry New Yorkers are only a subway ride away from savoring dishes like deep-fried cauliflower drowning in a tangy gravy or chicken lollipop, chili-fried drumsticks in a ginger-garlic marinade.
More fun, more friends, more neighborhoods to explore. Meet the all-new Honda HR-V, now more fun to drive than ever before. With its stylish good looks and elevated finishing touches—like LED headlights and available 18-inch alloy wheels—the SUV seats up to five and features a 60/40 split second row that you can configure to accommodate your entire crew. Discover why the HR-V is just as smart as it looks.
Jackson Heights
One of the most popular dishes that Muslims eat during the holy month of Ramadan is haleem, a slow-cooked, lentil-based dish made with rice, spiced meat, coriander, lemon wedges, green chilies, and fried onion. Haat Bazaar is a family-owned staple in Jackson Heights known for its authentic Bangladeshi cuisine, including its must-try beef and goat haleems. The eatery is a word-of-mouth shop that's perfect for refueling after a long day of shopping or exploring the vibrant neighborhood.
Floral Park
NYC is unsurprisingly chock-full of quality spots to find Indian vegetarian dishes, like naans and curries. Good Indian street food typically found on the streets of North India, however, is harder to find without crossing the tunnel into Edison, New Jersey. Honest is an unpretentious, casual eatery in Floral Park that serves a full vegetarian menu, complete with spicy and tangy bhel puris, an assortment of chaats (including the crowd-favorite samosa chaat), a range of Indian street sandwiches made with Amul cheese, and plentiful Indian sweets and ice creams. These items are reminiscent of the smells and tastes of Mumbai and are honestly really tasty. You can also visit the eatery's newest Manhattan location.
Jackson Heights
Borrowing from Nepali, Tibetan, Indian, and Bhutanese cuisines, the chefs at Himalayan Yak specialize in creating sauteed beef-based entrees and goat curries—like the Goat Bhutan made from fried goat innards and traditional Himalayan herbs. For vegetarians, opt for the thali: a traditional Nepali platter served with rice, lentil soup, rayo ko saag (mustard greens), choice of curry, and kheer (sweet rice pudding). Wash it all down with a glass of Nepali spiced milk tea or a Taj Mahal lager. Most meals are served with a side of live entertainment to get a true taste of Nepali music and culture, so plan your visit accordingly.
Astoria
Let's be honest, sometimes the camera eats before you do. The Gully on Steinway Street prepares elevated and fusion takes on classic Indian dishes and street foods that are sure to be the stars of your next Instagram Story. The atmosphere has a vintage Bollywood feel, complete with fitting artwork and popular Bollywood musical numbers playing while you eat. Street vendors across South Asian countries often sell snacks and sweets in the gully (which means alley in Hindi). Consistent with its name, the eatery serves up delicacies like chicken tikka mac 'n cheese, rasmalai tres leches cake for dessert, and the pullover naan covering spicy biryani. Beverage-wise, there's a non-alcoholic masala chai and refreshing strawberry lassi, or opt for Indian soft drinks like Limca and Thums Up.
Jackson Heights
Chef Tahir Kamil, the mastermind behind Kababish, channels his Delhi-Punjabi background and coveted family recipes into an assortment of spiced kebabs (available in chicken, lamb, and beef and served with a yogurt sauce and a side of salad). The kebabs are certainly showstoppers, but don't miss out on the dishes prepared on the tawa, a versatile cooking pan made from cast iron or aluminum and closely resembles a wok. If you're craving a tawa keema or other minced meat delicacy, order ahead as these items take longer to prepare. Don't be fooled by this eatery's hole-in-the-wall aesthetic though—once you're here, there are endless flavors to experience.