The 7 spiciest dishes in NYC
Maybe it's pride, or maybe you're a spice junkie chasing the dragon, but there's a certain pleasure that comes with the pain of housing a plate of supremely spicy food. And because we love to pleasure ourselves (wait...), we put our palates to the test, scouring the five boroughs for the city's most volcanic, tongue-numbing, sinus-cleansing, but still-totally-delicious meals. These are those dishes. No question.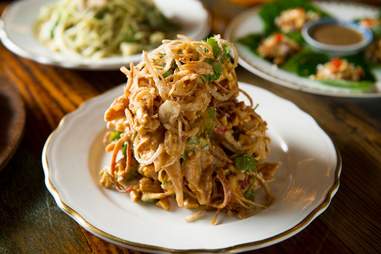 Evan Sung
Laab Neuh Gae
Uncle Boons (address and info)
Nolita
A chef at Nolita's Uncle Boons describes cooking the Laab Neuh Gae -- a spicy, chopped-lamb salad sprinkled with mint, shallot, and cucumber -- as "chemical warfare in the kitchen". No joke: you'll find them holding their breath until it's safe. The culprit is a roasted chili powder seasoning which features Thai bird's eye chilies, which clock in between 50,000 - 100,000 units on the Scoville scale, around 10 times that of a now suddenly unimpressive jalapeño (3,500 - 8,000). True masochists pair the plate with an order of the Yum Kai Hua Pli, a hotter-than-hot rotisserie chicken, and banana blossom salad piled high with cashews, crispy shallots, and slathered with a dangerous roasted chili jam and (surprise!) more dried Thai bird's eye chilies.
Duck Laab Salad
Kin Shop (address and info)
West Village
With a four-star spice rating (and the tagline, "They're hot and we mean it"), the menacing duck laab salad at this contemporary Thai hotspot will melt the mouth off your face. Loaded with dried Thai bird's eye chilies (remember: 50,000 - 100,000 Scoville nut-punches), the dish is served on romaine lettuce and dressed in lime juice, fish sauce, pickled red onions, and toasted rice powder -- all meant to cut the intense heat, even though they totally don't.

Jocelyn Jiang
Lamb Hand-Ripped Noodles
Xi'an Famous Foods (address and info)
Various Locations
These tear-jerking lamb hand-ripped noodles have been dowsed in dried red chili peppers (60,000 Scoville), jalapeños (3,500 - 8,000), or long horn peppers (depending on the season), house chili oil (60,000), and the literally tongue-numbing Sichuan peppercorns (50,000 - 100,000), all served on a styrofoam plate with onions, garlic, and scallions. And because you're clearly looking for punishment, go with the "extra spicy" order, which'll net an extra dose of the fiery hot chili oil. Warning: like a bad one-night stand, this one lingers.
Buka Sauce
Buka (address and info)
Clinton Hill
This Nigerian restaurant in Brooklyn offers the hot yoga-style, sweat-inducing Buka Sauce, a fried beef inferno of a stew served with white rice. Jamaican hot peppers -- which range from 100,000 - 350,000 on the Scoville scale -- are what set this mother off, plus it also packs in locust bean flavor, green bell peppers, onions, and beef stock. The dish is cooked for approximately four hours until it starts to burn the bottom of the pot, leaving a smoky flavor. If you can stand the heat, squirt on some of the smoldering hot sauce -- also made with Jamaican peppers and a secret ingredient, which is 90% totally not actual fire.
Pepper Shrimp
Maima's Liberian Bistro (address and info)
Jamaica, Queens
The pepper shrimp is the national dish in Liberia, and this authentic restaurant is worth the trek to Queens to get it. Chef/owner Maima Kamara brings the heat by coating the crustaceans in a thick gravy made with the hurt-so-good Scotch Bonnet peppers -- which clock in at 350,000 Scovilles -- and finishes it off with just a small sprinkle of black pepper, 'cause you know, they don't want to overdo it.

Nashville-Style Hot Fried Chicken
Peaches HotHouse (address and info)
Bedford Stuyvesant
Because if you're gonna ruin your tastebuds forever, you might as well do it with some fried chicken. Go for the Nashville-style hot fried chicken at Peaches HotHouse -- the major weapon of choice here is a mix of cayenne and ghost peppers, which hit over a million units on the Scoville scale, and have been smoked for additional flavor. The meat is marinated overnight and then dusted a second or third time before serving. Brace. Yourself.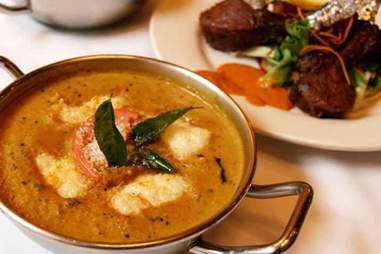 Brick Lane Curry House
Phaal Curry
Brick Lane Curry House (address and info)
East Village, Midtown
Though it's labeled as "excruciatingly hot curry; more pain and sweat than flavor", adventurous gastronomes will dig the bevy of spices -- white chili powder, green chilies (1,500 Scoville units), red chilies (60,000), ghost peppers (1,000,000!!!!!), jalapeños (3,500 - 8,000), habaneros (100,000 - 350,000), and black peppers -- in the mouth-singeing Phaal at this Indian restaurant. The fumes radiate so much spice that the chef has to wear a gas mask while preparing it. Customers are even required to recite a verbal disclaimer stating that they will not hold the restaurant liable for any physical or emotional damage. This is in fact one of the more famous eating challenges around the city. The reward for your crippling emotional damage? A certificate and your picture on the (P)hall of Fame, plus a nice cold beer. So... totally worth it.
Alisha Prakash is a contributing writer at Thrillist NYC. Her mission: make Sriracha a food group. You can find more of her musings on her website or follow her on Twitter.