The dump is long gone, some of us do have axcents, and yeah, you may see a few overly tan folks and a velour tracksuit or two while you're here.
But for the sake of your stomach, I ask you to push aside your stereotypes and fear of the unknown, and allow me, a lifelong Islander, to take you on a tour of the 11 best pizzerias on Staten Island. Consider this your delicious first step into the borough that has much more to offer you than you originally thought.
Rosebank
Why you're going: The sauce is different on each pizza, from the Neapolitan round slice to the Sicilian square and Margherita pan pies.
What you're getting: The pesto pizza with Roma tomatoes and fresh mozzarella. Or pick your own sauce/toppings and have the owner Angelo (the pizzeria is named after his son, Tony) put together your dream pie.
Islanders say: "Unless you're from Staten Island (or you just read the last two sentences), you probably don't know this place exists," says Charlotte Catania.
Tottenville
Why you're going: The sausage and soppressata are handmade at A&S Pork Store on the North Shore of the Island, and the mozzarella is made and delivered by "Joe Mozz", who's spinning balls of cheesy goodness over on Port Richmond Ave. Most importantly, though, Matt Ligotti, the guy who built Reggiano's oven, says it's made out of "brick… and love". Awwwwww.
What you're getting: Reggiano's pie, which is adorned with shaved Parmigiano-Reggiano, fresh basil, and extra-virgin olive oil.
Islanders say: "Reggiano's pizzeria is one of the best pizzerias on the Island," says John, a regular at Reggiano's, who shows me a candid shot of his two German Shepherds. "I'm born and raised here, but I moved to Jersey. I come all the way over the bridge just to eat their pizza. It's like a farmer in his field. Outstanding."
Dongan Hills
Why you're going: Lee Moresco opened the doors in 1940, and Dicky Palemine, Lee's friend, bought the business from him in 1969 for $1 (none of Lee's children wanted the tavern). Dicky's daughter and son, Michelle and Diego, orchestrate the top-notch pizza-making nowadays.
What you're getting: Clam pie or bust. If you're not a fan of that combination (even though you should be), go with the sausage (which is made for them at a local pork store) and pepperoni pie.
Islanders say: "We come here for the pizza and atmosphere. They have the best pizza on Staten Island," says Ray Greaves. He points to his friend Danny Cassella, "You know how some guys have porn on their phone? Well Danny has pizza porn instead of regular porn. He travels to Connecticut just to eat pizza, and we all still really love Lee's."
Castleton Corners
Why you're going: Although it's right down the block from Joe & Pats, another SI pizza institution, Goodfellas is a totally different experience (thanks to their outdoor seating and their wood-burning oven). There's no need to choose between the two.
What you're getting: A half-vodka (prosciutto, fresh mozzarella, marinated mushrooms, peas, and homemade vodka sauce) and half-smoking Goodfellas (smoked mozzarella, roasted pepper cream sauce, roasted peppers, sausage, and imported Pecorino Romano).
Islanders say: The wood-burning oven is essential to cranking out delicious pies, and keeping the doors open. "If we run out of wood," Jay Campbell, the manager says, "we run out of pizza."
Castleton Corners
Why you're going: This is thin pizza heaven, and things don't get more local. It's midday and Joe Pappalardo greets the mostly working class customers, whose names are also Joe. Or Anthony. Or Frankie. The three young guys making the pizza are locals as well. Joe doesn't let anyone take pictures behind the counter, because he wants to keep his thin crust recipe a secret. But the image of them pulling the dough way beyond the circumferential depth of the pan, adding cubes of mozzarella (soon to be melted half-moons), is a visual picture that'll be burned in your memory... and hopefully not the roof of your mouth.
What you're getting: Instead of grabbing two slices, bring some buddies and order a pie. Or don't, and still just order a pie. For dessert, go with the tiramisu.
Islanders Say: "This is the best thin slice I've ever had," says Stephen Biondo. "It's a neighborhood place where you grab a slice or two and be on your way."
Great Kills
Why you're going: This is another one of those "you probably only know it if you live/lived here", and that's a very good thing.
What you're getting: Bacon-Alfredo pizza. Because it's bacon-Alfredo pizza.
Islanders say: "I think this is the best pizza place on Staten Island, but I'm sure I'd get into numerous shouting arguments about that claim," says Julie Neely.
Port Richmond
Why you're going: Much like potholes, traffic on the SI Expressway, and people driving white Infiniti G35s unnecessarily fast, Denino's is a Staten Island staple. (They even named the street after Carlo Denino.)
What you're getting: It's all excellent; just make sure to get the pie well-done. For a side dish, order the 60/40 and ask for it Parmigiano. And Denino's is cash only, so bring the paper.
Islanders say: "If you're gonna come to the Island for pizza, this is the stop to make," says Neil Franco, who has a steamy cheese and sausage pie in front of him. "Be sure to go across the street to Ralph's Ices afterwards, and get a twister with raspberry ice and chocolate soft-serve."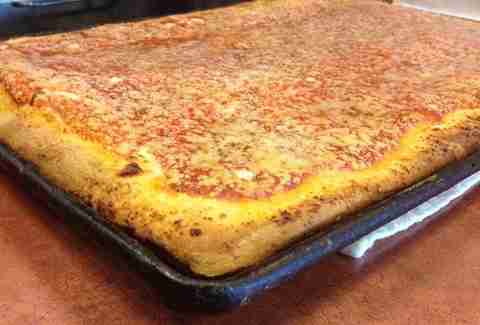 Midland Beach
Why you're going: It may not look like much on the outside, and to that we say: architecture, shmarchitecture. You're here for a Sicilian slice that's second only to L&B's.
What you're getting: The best plan of attack is as follows: indulge in a Sicilian slice, indulge in another, repeat as necessary, collapse into a food coma.
Islanders say: "There are a lot of places that do thin crust pizza really well. But if you're lookin' for something different, their Sicilian is great," says Michael Lucchesi.
Port Richmond
Why you're going: Pizza runs in the family here. The current owner of the 40-year-old establishment is Giorgio Giove, the son of one of the original owners. And Giorgio's cousins (Marco and Giorgio) own and operate Pizzeria Giove in New Dorp.
What you're getting: Although Giorgio will gladly throw on whatever topping you'd like, listen to the man, and let him make you a classic pie.
Islanders say: "We use consistently fresh ingredients. The pizza is not sitting there and getting old. We wait for a crowd to build up, and pump out a pie really fast," Giorgio says. "And we keep it simple. My cousin is there with his 99 toppings, and we're the total contradiction of what he does. Over here you come in, have two slices, and leave. Nothing beats seeing that pie come out of the oven, I slice it, and it goes right on your plate."
Manor Heights
Why you're going: This is one of the more under-the-radar places when it comes to pizza. Even some natives aren't aware of the quality pies being bred inside of its walls.
What you're getting: If you're not a fan of pizza with a lot of toppings (the garbage has sausage, pepperoni, meatballs, onions, peppers, and mushrooms), go with the bianca.
Islanders say: "A really, really satisfying garbage pie. I've been to Denino's, and they do it well also," Gianluca Ingravallo says. "But after eating one here, you just feel... complete."
New Dorp
Why you're going: Marco and his family lived in the Puglia region of Italy for 14 years, where they had their own restaurant. He and his brother Giorgio moved back to the States to open Pizzeria Giove, a pie-only joint.
What you're getting: Eat the Variopinta -- the pie that beat Bobby Flay -- topped with stracciatella, a checkerboard-pattern of pancetta, a layer of thinly sliced zucchini, and herb- and garlic-infused butter, which melts away all of your non-pizza related problems.
Islanders say: Marco says, "This is original, Southern Italian pizza. Our flour is imported from Italy, we use fresh mozzarella, San Marzano tomatoes, and imported olive oil."
Christopher DiScipio is theThread's Editorial Assistant, and he ate an alarmingly large quantity of pizza during the two days it took to visit these establishments. He regrets none of his gluttonous ways. Follow him on Twitter.