As Patrick Henry famously never said, "Give me liberty, or give me death, OR give me a power-ranked list of the eight best steakhouses in New York. Toooootally your call". Because we're out of liberty/death, here's the latter.
8. Sammy's Roumanian Steakhouse
Lower East Side
This is officially the only LES institution that serves its steaks with a container of chicken fat you can pour over them (or bet someone they won't drink), and its vodka in bottles encased in ice. In short, you must go here at least once.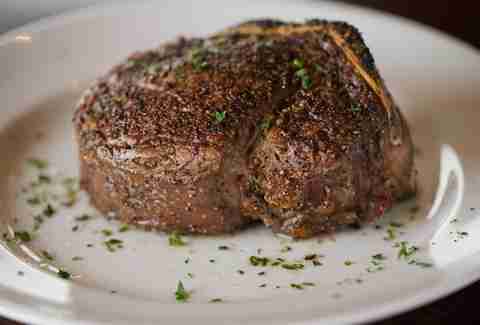 7. Del Frisco's
Midtown
This is the go-to spot for Midtown happy hour-ers and suit-wearing dudes who like top-notch beef cuts like the original Double Eagle and a 32oz Wagyu Longbone.
6. Wolfgang's
Murray Hill
Started by a former head waiter over at Luger's with decades of experience, Wolfgang's arched ceilings and bustling room provide a great New York-y experience, while the porterhouses for four provide enough steak for... um... four people.
5. Striphouse
Union Square and Midtown
Although deviating from the traditional steakhouse-vibe with a persistent, rich, red color scheme, and nude ladies basically all over the walls, this place seems more date-spot-clubhouse than steakhouse. But it isn't skimpy where it really matters: the meat is excellent and they do a killer selection of sides, a perhaps-underrated steakhouse necessity.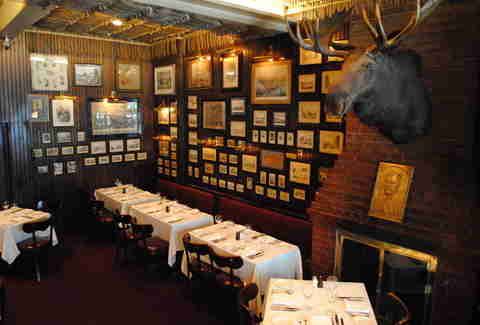 4. Keen's
Midtown
The oldest restaurant on this list and one of the oldest in the entire city, this classic is a "must check-off your list" kinda place. Not only are the steaks (and mutton) top-notch, but so is everything else -- from the waiters, to the storied pipes lining the walls, to the feel of the room, which oozes classic NY.
3. St Anselm
Williamsburg
Offering basically the opposite of the classic steakhouse vibe, this meth lab in an abandoned New Mexico warehouse wooded Williamsburg spot fires perfect steaks, other rotating meaty options, and even some craziness like bacon- or blue cheese-flavored ice cream.
2. Peter Luger
Williamsburg
The ultimate classic. You want to know what a NY steakhouse is and should strive to be? This is it.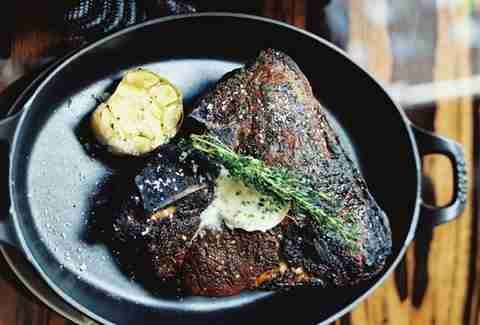 1. BLT Prime
Gramercy
Upping the game in almost all categories, BLTP's got a super-sexy modern space, a bunch of epic sides, scene-stealing bread (popovers!), and classic steakhouse cuts from some of the primest meat on the planet -- including actual Wagyu from Japan and the Italian excellence that is Chianina.