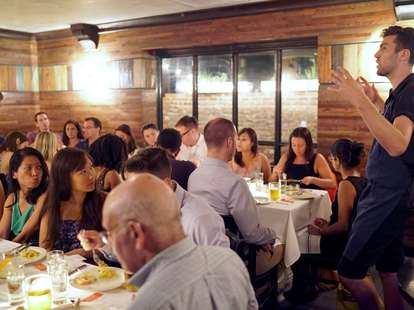 Courtesy of Tasting Collective
May 1st, 2011 may have been the day the New York City pop-up dining-club scene achieved self-parody -- that's when former supper club A Razor, A Shiny Knife took over an afternoon L train and served a six-course lunch for a dozen diners. After that, the organization got out of the underground dining world and grew into a global experiential-dining events company. Today, the local supper-club scene is far more accessible, focusing on traditional hospitality over guerilla-style culinary stunts. While some of the mystique may be gone, the good news is that if you're looking to branch out from the traditional dining circuit and meet other die-hard food fans, it's a whole lot easier to do so -- assuming you know which clubs to join and how. We've broken down the six best NYC supper clubs right now, as well as how to get into them.
Tasting Collective
When: Sporadically, usually on a weekday, three to four times per month
Where: Various restaurants around the city. Past events have been held at Huertas in the East Village, Win Son in Williamsburg, and Mile End in NoHo.
Cost: Currently, annual charter memberships are $99, which generally allows you to bring one guest. Additional $45 to $50 a person per meal, plus tax and tip.
Why you should join: Rather than taking diners to unexpected locations, Tasting Collective arranges private meals at restaurants that include a nine- to 12-course family-style meal. It works mainly with restaurants owned by the chefs, who will come out and talk about inspiration for opening their restaurant and how they created the feasts. "It's about creating meaningful connections between the chefs and diners," says founder Nat Gelb. Membership also gets you certain discounts, like $5 off Caviar deliveries and 30% off all orders from ONEHOPE Wine. You can also get complimentary appetizers, desserts, and/or drinks at certain restaurants, including Balaboosta, Wassail, and Chomp Chomp.
How to join: Request an invitation from the site.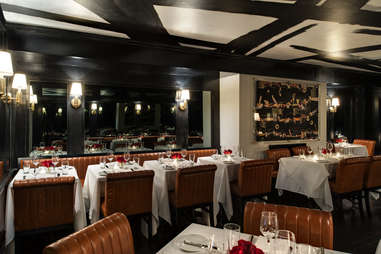 Omar's
When: Monday through Saturday from 6pm-2am
Where: 21 W. Ninth St, Greenwich Village
Cost: $1500 per year or $10,000 for a lifetime membership. Fees do not include food and drink.
Why you should join: Owned by Omar Hernandez, former director of ambience under Andre Balazs' hotel empire (The Mercer, Chateau Marmont), Omar's gets you VIP access through a discreet doorway to a secret, elegant lounge/bar adjacent to Hernandez's full-functioning neighborhood bistro (under the same name). You'll be guaranteed a table, without a reservation, no matter how many people you show up with -- even if it's a Friday at 9pm -- as well as access to private rooms for your own special dinners at no extra charge (food and drink is extra).
How to join: Apply at omar-nyc.com.
I Forgot It's Wednesday
When: Once a month, on a Saturday night. Pop-up dinners are held every three to four months.
Where: Monthly dinners are held at an artist's loft in Chelsea. The pop-ups happen in various locations around the city; the last one was hosted at the Old Bowery Station in LES.
Cost: Tickets are $85 for food, $30 for cocktail pairings.
Why you should join: Chef Jenny Dorsey, who cooks the high-end, seven-course dinners along with a four-course cocktail pairing by her mixologist husband Matt Dorsey, says the meals are prepared "in an environment that is warm and genuine, giving our guests the opportunity to connect with other like-minded people in a way that is difficult in our 'adulting' years." Dorsey adds that the meals are complemented by "intellectually stimulating prompts" to engage guests in a "potentially bizarre but tasty" experience. Events now include pre-dinner Tasting Salons that involve a 30-minute self-guided food and eccentric drink tour (think bugs and jello shots).
How to join: Sign up for the monthly mailing list to learn about upcoming events. Tickets are released two to three weeks before the dinners via Eventbrite.
The Tuscan Gun
When: Fridays and Saturday, every other week through the end of the year from 7pm-10pm
Where: 199 Windsor Place, Windsor Terrace
Cost: $100 to $150 per dinner, alcohol (prosecco, wine, beer, and digestifs) and tips not included
Why you should join: "My pleasure comes from having an intimate surrounding where people are not pushed in and out," say Chef Gabriele Corcos, who invites 26 lucky diners to join him at his 400sqft cafe, which closes at 6pm daily for an intimate three-hour dining experience. "Volume is not who I am." Corcos, who cooks a five-course meal while conversing with guests, particularly the ones who reserve the more expensive seats at the counter, is also known for the Cooking Channel's Extra Virgin, which he stars in with his wife actress Debi Mazar.
How to join: Sign up for the email newsletter, which announces new dinners up to 24 hours before they make an announcement on Instagram.
Victory Club
When: Sporadically, two to three times a month
Where: Museums (i.e., Mana Contemporary in Jersey City), galleries, artists' homes, and other art spaces mostly in New York City, but also London, Miami, and the Hamptons
Cost: Membership costs $100 per month, which includes access to dinners and occasional gratis events. Additionally, each dinner is about $70 per person. You can also cancel at will.
Why you should join: Enjoy meals with between eight to 70 guests, hosted by artists, historians, and designers who help spark conversations about art. Chef Stephanie Nass supplements the night's intellectual conversations with creative food and drink pairings, like layered cocktails and sous vide turkey. Caveat: Nass requests that guests be aged 22 to 40, though hosts have no age requirements.
How to join: Apply at victoryclubNY.com. You'll receive invitations to all the private events.
The Whisk & Ladle
When: Dinners typically begin at 8pm once a week
Where: A loft in a converted factory located on the Williamsburg waterfront
Cost: Depends on the meal, but it's always a suggested donation.
Why you should join: The antidote to the more exclusive dinner clubs, Whisk & Ladle has been hosting convivial dinners inside a loft in a converted factory since 2007. Made for extroverts, outgoing introverts, and adventurous eaters, it's a club full of a wide range of ages, from 13 year olds to 90 year olds, who sit at family-style tables. The idea is to enjoy yourself and get to know people you may not have otherwise ever met. "We welcome folks into our home and we want them to feel like family, not like random guests in a stranger's loft," says hostess Danielle, who starts the evening with a full hour of house-made craft cocktails and mingling, followed by a five-course meal.
How to join: Anyone can sign up for the mailing list. Simply press the 'contact us' button on their website, write an email requesting to attend a dinner.
Sign up here for our daily NYC email and be the first to get all the food/drink/fun New York has to offer.
While Claudine Ko abstains from eating on the subway, she might have been convinced to give it a try if offered a fancy six-course meal prepared and served by 84 volunteers. Follow her @lucidean or check out her other stories at www.claudineko.com.