Tacos in NYC often get derided, often by jerks from the West Coast who haven't had any "real" tacos since they left the worse side of the country. Well, shut them up by having them eat these: the 11 best tacos in NYC.
(Or, save yourself the headache, don't invite your California-transplant friends, and just go enjoy the hell out of some tacos, minus those loser assholes.)
Adobada
Los Tacos No. 1 (address and info)
Chelsea
This taqueria stand in Chelsea Market (opened by three friends from Southern California and Tijuana) makes all of its tortillas (corn and flour) in-house. The go-to, the adobada, fills the tortilla with pork coated with a BBQ-like sauce of pureed chiles and vinegar. It's sliced hot off of a rotating spit and paired with matchsticks of pineapple, and it's magnificent.

Suadero
Taqueria Izucar (address and info)
Bushwick
Technically, suadero is a cut from the drop loin of a cow, a flap of striated muscle that runs close to the navel, similar to brisket. Butcher jargon aside though, all you need to know is that it makes for an amazing, tiny taco at this Bushwick taqueria -- hot, iron-rich, and ready for salsa.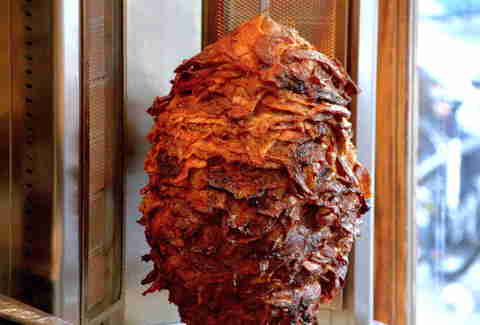 Al pastor
Empellón Al Pastor (address and info)
East Village
The eponymous focus at Alex Stupak's newest restaurant is al pastor -- marinated pork that twirls on a vertical rotisserie, splashed with red and green salsa and a sprinkling of cilantro and onion. The tripe, beef tongue, and bacon tacos are great, too, but the al pastor is the star. Bonus: an extensive menu of micheladas, margaritas, and mezcals for washing down the eats.

Campechano
New Mex Deli & Grocery (address and info)
Sunset Park
Culinarily speaking, "campechano" is just a mix of something: dark and light beers, a seafood ceviche of various fish, or a style of taco that combines multiple proteins. At this Sunset Park taqueria, the campechano taco is jumble of cecina, bistec, definitely crumbled chorizo, and probably anything else the grill master feels like throwing in. Pro tip: do some throwing in of your own, too, specifically of its totally top-notch salsas.

Duck carnitas
Cosme (address and info)
Gramercy
Cosme is about the furthest you'll get from a back-room bodega taqueria -- there aren't even tacos on the menu, but Enrique Olvera's first New York City venture does do an elegant duck, braised in the style of carnitas and served with achingly good house-made tortillas so you can make your own (hopefully, on someone else's dime).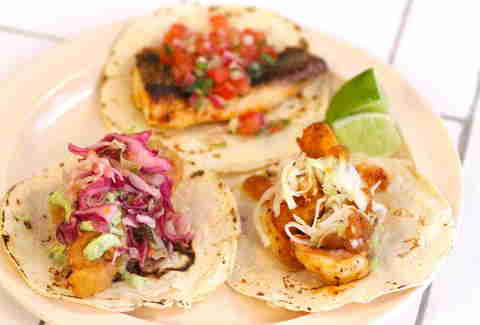 Any special taco
Cafe El Presidente (address and info)
Flatiron
While the al pastor may be pitch perfect, the fried fish taco, excellent, and the carnitas, resolute, some of the more unique tacos found at Cafe El Presidente shine light on rarely presented regional tacos of Mexico, like the Seared Fish Ixtapaleño with a tomato caper salsa or the green chorizo Toluca-style taco with cilantro and serrano chiles.

Al pastor
Taco Mix (address and info)
East Harlem
The beauty of the al pastor spit at Taco Mix -- a taqueria in East Harlem with a big window open to the street -- tends to halt New Yorkers in their paths. Here's what you do after you stop: order four, watch the taquero shave off the charred stack of marinated pork with a machete, then go proceed to walk and eat.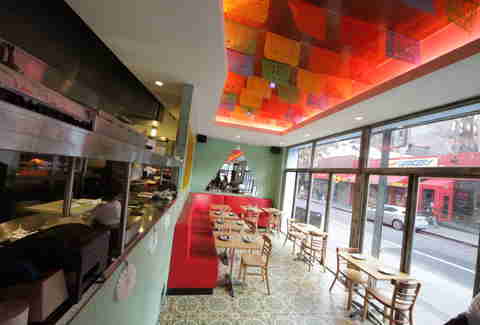 Lamb
Mission Cantina (address and info)
Lower East Side
Danny Bowien's Mexican outpost has a ton of interesting and inventive takes on tacos (plus some bangin' wings) but it's got a way with lamb tacos that is undeniable. It's braised, shredded, and left to blister on the flattop in ample lamb fat, so it retains all of its funky, gamey, lambiness. Translation: "fuuuuuuuck, that's good."

Barbacoa enchilada
Taqueria Cocoyoc (address and info)
Bushwick
Carne enchilada is meat given the chile treatment. Barbacoa is steam roasted lamb or goat. Marry the two and you get a barbacoa enchilada, goat flecked with chile, then braised until it gives up and collapses to feed you. Folded into tacos, it's the house special at this Bushwick taqueria.
Cecina
El Vagabundo (address and info)
Sunnyside
The El Vagabundo truck that often parks in Sunnyside in the evenings serves a salted dried beef taco unlike any other. What are usually desiccated chips of meat elsewhere are instead juicy and plump here, begging for a spritz of lime and a dribble of salsa inside of the double-wrapped cocoon of steaming tortillas.

Carnitas
El Atoradero (address and info)
East Harlem
After being shuttered just two weeks ago at its original home in the Bronx, it's thankfully found a new home at East Harlem's Vendy Plaza. The carnitas at El Atoradero are slowly simmered until tender in a cauldron of molten lard that is laced with orange, bay leaf, and Coke, then dredged up from the bottom and fashioned into lustrous tacos. Just a thimbleful of proprietress Denisse Lina Chavez's blistering molcajete salsa is needed to set it off.