West Coasters have long ridiculed NYC's taco scene, but we've come a long way as a taco town over the last few years. Here, upscale nouveau taco experiences coexist alongside venerable food trucks trading in tripe, tongue, and delicious al pastor dishes. And, in a blind taste test, you'd be hard pressed to separate the better from the best. Fortunately, we've road tested them for you. Here are all of the tacos you must try in New York City right now.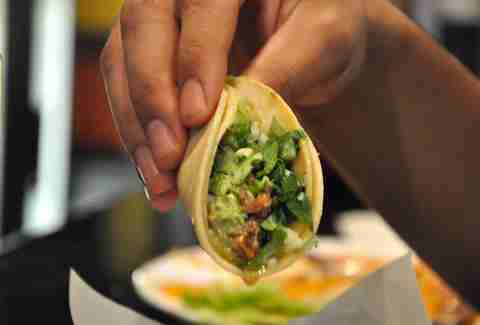 East Village
What to order: Lamb tacos
If you've never had a taco before, welcome to planet Earth, and please enjoy our world's finest fare at Taqueria. This is the platonic ideal taco spot for first taco timers and longtime fans. It offers all the classic fillings like ground beef, steak, pork and fish, and peddles a few entry-level adventure options like pork stomach and beef head. The best selection, however, is the barbacoa. Lean lamb drips in oil and disappears in three clean bites.
Gowanus
What to order: Breakfast tacos
This is your bacon, egg, and cheese sandwich reimagined in similar handheld fashion. For $6, you'll get two tacos filled with those same classic, NYC staple ingredients, prepared with the expertise you'd find at your favorite brunch spot. Although Reyes' grill turns out an impressive array of menu items, most of its square footage is dedicated to groceries, so be prepared to take your order to go if you can't nab one of its few counter seats.
Woodside
What to order: Chorizo tacos
This new addition to the Queens taco scene opened under the elevated 7 train tracks earlier this year. The full service Mexican restaurant has mains like mole poblano and barbacoa, a whole host of tortas and burritos, and 10 tacos under $4. The chorizo is an early standout: a vibrant heap of nicely spiced pork with a touch of heat heaped in a double-tortilla vehicle.
Long Island City
What to order: Lengua (beef tongue) tacos
There aren't many things that will get New Yorkers to trek out on the 7 train for an hour-long wait. Casa Enrique is one of the few. Chef Cosme Aguilar has garnered a cult-following for his simple and traditional Michelin-starred Mexican fare, like slightly sweet and nutty mole and zesty carne asada. But it's the lengua (beef tongue) tacos that stand out the most. The slow-cooked beef tongue is aromatic and almost creamy in texture, balanced by chewy corn tortillas garnished with contrasting cilantro and crisp onion.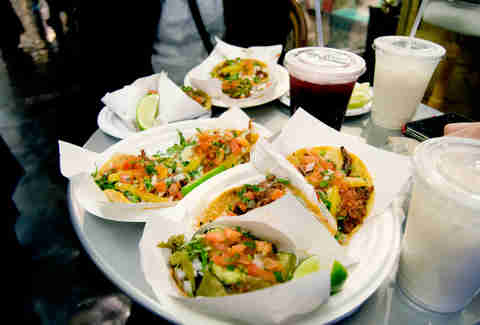 Chelsea
What to order: Adobada tacos
The line for this Chelsea Market taco stand tends to snake around the room on weekdays, when hordes of nearby office workers line up for house-made tortillas. Your choice of either the corn or flour variety is used to encase fillings like tender carne asada and well-seasoned pollo or nopal (grilled cactus). But the must-try meat is the adobada: The pork is steeped in a slightly sweet, chile-scented marinade before taking a long, slow turn on a rotating spit. Once it's ordered, the charred, crimson meat is sliced straight off and onto a warm tortilla bed, paired with slices of pineapple, salsa, and other traditional accoutrements.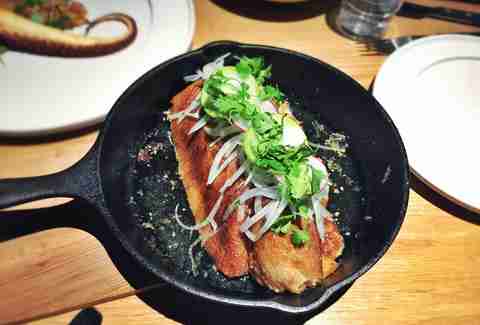 Flatiron
What to order: Duck carnitas tacos
Cosme is not your average taqueria, and its $98 duck carnitas certainly aren't your average tacos. But they're worth the special occasion splurge -- or anytime someone else is paying. Acclaimed chef Enrique Olvera and chef de cuisine Daniela Soto-Innes take nearly four days to prepare their birds for the shareable dish. At points it's cooked in evaporated and condensed milks as well as Mexican Coke. The result is flavorful, tender meat covered with crisp, browned skin, served as a whole hunk. Guests shred the block themselves, then place the slivers of fowl into warm house-made tortillas, DIY-style.
East Village
What to order: Al pastor tacos
The specialty at Alex Stupak's East Village taqueria is -- you guessed it -- al pastor. Thin strips of marinated pork shoulder pivot around a rotisserie like tourists on a subway pole. That crisp yet tender meat gets sliced off and placed on a house-made tortilla with slivers of pineapple, before getting topped with red and green salsa, cilantro, and onion. To wash it down, there's a broad list of beers and agave-based beverages including excellent micheladas and margaritas.
The Bronx
What to order: Carne enchilada tacos
La Morada isn't known for tacos; people trek to the Oaxacan restaurant in Mott Haven mainly for its rich and complex moles and other regional specialties. But the tacos deserve higher praise, mainly because of how beautifully simple they are in comparison to everything else on the menu. Two soft corn tortillas get stacked with options like chicken, skirt steak, carnitas, al pastor, chorizo, and bistec asado. The move is to go with the spicy pork, which is juicy and bursting with chile. Don't forget to layer on a generous serving of the smoky, spicy, house-made chipotle sauce.
Sunset Park
What to order: Campechanos tacos
This Sunset Park restaurant (and two corresponding food trucks) has developed a highly dedicated group of fanatics -- mainly for its tripe (which can often times feel like chewing through leather, but here it's nearly as soft as Cool Whip). But the tacos shouldn't be overlooked. In fact, it's hard to choose from the different varieties: The al pastor is sweet and tart; the chorizo is spicy with just the right amount of grease; the cabeza (veal head) is smooth and more flavorful than most other meats. Best of all, you don't have to choose. The campechanos tacos combine multiple meats in one tortilla, doled out according to the chef's whim.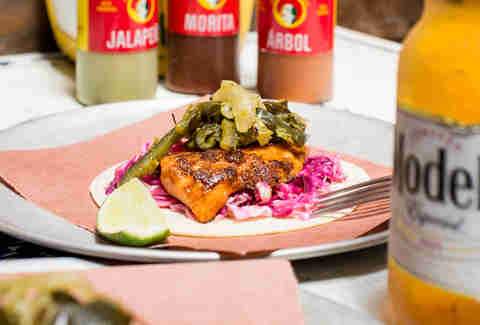 West Village
What to order: Mayan seared fish tacos, tikin xic-style
Chef Jason DeBriere (formerly of Peels) draws inspiration from the Gulf of Mexico, and crafts Yucatán specialties with aplomb. His kitchen also turns out some serious tacos. The Mayan seared fish tikin xic-style is a necessary pick. Briny fish (not your average Mahi Mahi) is marinated in achiote, chiles, and spices, and served sans-salsa -- which it doesn't need, anyway.
East Harlem
What to order: Al pastor tacos
The beauty of the enormous al pastor spit at Taco Mix -- an East Harlem taqueria with a big window open to the street -- tends to halt passersby in their paths. After you order, watch the taquero shave off the charred stack of marinated pork into a warm tortilla. Marinated in 10 different spices and roasted slowly on the spit, the al pastor tacos here are some of the city's most flavorful and traditional.
Bushwick
What to order: Suadero tacos
Technically, suadero is a cut from the drop loin of a cow, a flap of striated muscle that runs close to the navel, similar to brisket. Butcher jargon aside, all you need to know is that it's the must-order at this small Bushwick taqueria. The meat is extremely tender (with just the right amount of fat) and arrives inside a tiny, warm corn tortilla. You'll need to order multiple to feel full, but with many tacos hovering around $2, it's hardly an issue.
Upper West Side
What to order: Baja fish tacos
Next time your Angeleno friend complains about NYC's fish taco scene, shut him up with a visit to this place. Tom Wilson and Eugene Ashe, formerly of Mas (farmhouse) opened this Cali-Mex specialty shop with the goal of recreating the taco shacks found along the PCH. It appears that, aside from the view, they have succeeded. Their baja fish taco rivals those found in Malibu, with tempura-battered Mahi Mahi cradled in a soft corn tortilla with cabbage and avocado slaw, pico de gallo, and cotija cheese.
Sign up here for our daily NYC email and be the first to get all the food/drink/fun New York has to offer.