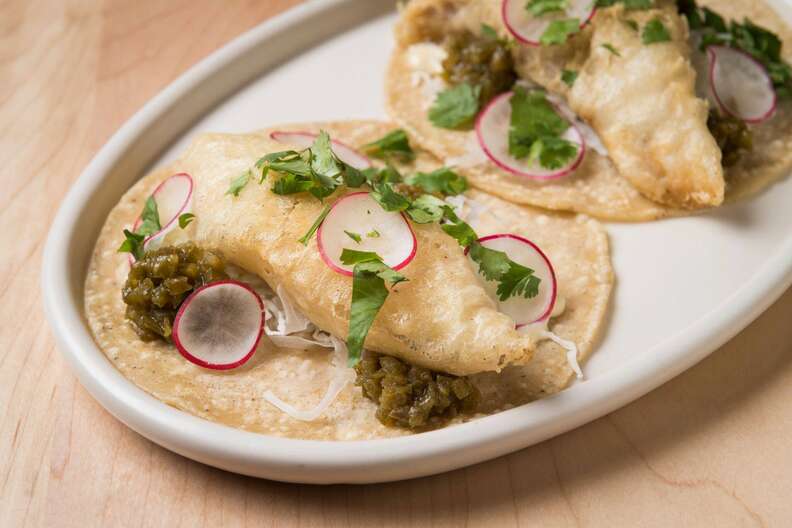 Predetermined, multi-course restaurant dinners can go by many names in New York City: prix fixe, chef's selection, omakase, dégustation. "Tasting menu" is by far the most popular moniker, and perhaps the most synonymous with "super expensive." But it doesn't have to be that way.
In fact, affordable tasting menus still outnumber their exorbitantly priced kin. Masa's $1,000-plus dinner-for-two price tag is shocking because it's an outlier. Paying less than $100, and sometimes even less than $50, is achievable, not to mention more economically sound. Nobody's trying to claim these restaurants are cheap, just cheaper. And they all offer some of the best tasting menus in NYC for under $100.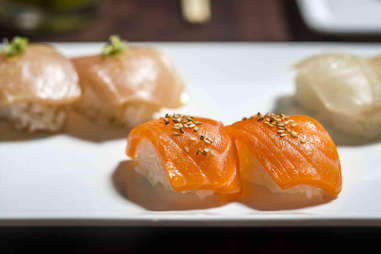 Flatiron
Price: $28
A lot of NYC omakase is aspirational. "I'll leave it up to you" menus can run hundreds of dollars. Add a sake pairing and BOOM -- you're a source in a trend piece about why millennials will never own homes. It's probably best not to ask how they do it, but Sugarfish's "Trust Me Lite" option includes edamame, tuna sashimi, albacore sushi, salmon sushi, yellowtail sushi, shrimp sushi, and a toro hand roll for $28 at dinner and $23 (minus the yellowtail) at lunch. With rules regarding how to sauce, salt, and eat your fish, you know this place means business.
Gravesend
Price: $50-$70/person
A restaurant older than your grandparents and perhaps better known for its outdoor pizza and ice cream counter service than fine dining may not be your go-to for a fancy dinner, but hear us out. Inside L&B's dining room, the Chef's Table allows for groups as small as two (and as large as 200) to fill up on a custom four-course tasting menu ($50-$70/person, depending on selections) with nonna-approved options including baked clams, "pasta-bilities" like penne alla vodka, daily meat specials, and a dessert platter piled with cannoli, spumoni, and more sugary treats that may make you wish you held back a little on the first, second, and third courses.
Midtown
Price: $38
The best time to visit fancy taco chef Alex Stupak's emporium of elevated tacos is during lunchtime on weekdays or Sunday nights, when $38 gets you a three-course prix fixe. Choose from starters, like the sticky rice tamal with spicy duck, a roster of greatest hits tacos (think fish tempura and thick-cut bacon versions) and Insta-friendly desserts that cut through the heat of all that salsa you loaded on the main course.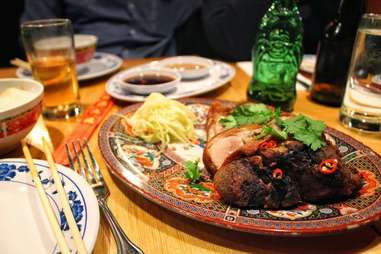 Lower East Side
Price: $59
Chef Leah Cohen offers a $55/person, five-course tasting menu at her Southeast Asian restaurant Sunday through Thursday. Expect a range of Thai and Filipino inspired dishes, like papaya salad with crispy taro, spicy slow-cooked meats and crispy Malaysian-style fried chicken. These are generous portions of excellent food without the typical prix fixe pretense.

Chinatown
Price: $45-$99
Deciding what to order at Mission Chinese can feel like Mission: Impossible, so leave the work to the kitchen with a tasting menu option. Twosomes (who love leftovers) can go for the $45/person "quick mission dinner" which includes Chongqing chicken wings, a noodle dish, salt cod fried rice, mapo tofu, and broccoli beef brisket (a vegetarian version of the tasting menu is also served). Larger groups can embark on the banquet-style "suggested" menu for $65/person, which includes a larger range of dishes. Don your stretchy pants for the "feast," which, at $99/person, adds country-fried lamb breast or a whole fish, and dessert to the equation.
Union Square
Price: $62
Instead of arguing with your tablemates over which curries, koftas, and tandoori chops you'll share, opt into Babu Ji's chef's selection. The colorful restaurant's capable kitchen will send out round after round of spicy, creamy dishes, best enjoyed with a $24 beer or $34 wine pairings. Plates are presented in a no-filter-friendly rainbow of delights, ending with homemade cardamom, honey, and pistachio kulfi -- a creamy popsicle-like sweet that could easily put Mister Softee out of business.
Flatiron
Price: $46
Expect excellent service in a relaxed environment at this "casual fine-dining restaurant," where three dishes of your choice, plus rice, will run you less than a Ulysses S. Grant. It isn't a tasting menu in the strictest sense, but it's affordable and lets you mix-and-match 15 varieties of Korean style tapas like yellowtail with kombucha, gim, and radish; octopus with mango, mojo verde, and fermented dubu; and pork belly with Gang doenjang, Enoki, and fennel.
Lower East Side
Price: $89
Years after its 2013 opening, reserving a coveted seat in Contra's dining room is still harder than scoring Hamilton tickets. The nightly rotating six-course menu of local, seasonal ingredients -- think scallop with radish and chestnut, cod with onion and potato, or veal with mushroom and spinach -- stays in demand as much for its price as its fare. An abbreviated bar menu runs $48, if you can nab one of just eight seats.
Sign up here for our daily NYC email and be the first to get all the food/drink/fun New York has to offer.
Melissa Kravitz is a writer based in NYC. She has tasted a lot of foods off of a lot of menus.