In New York City, "tasting menu" may as well be code for spending a lot of money. But in 2016, it's not just Goldman Sachs execs who can afford the chef's prix fixe. Plenty of restaurants have started realizing they don't need to charge obscene prices to give you a taste of the chef's best dishes. While going out for a tasting still may be a bit more than you'd spend on your average meal (or not, if you're the double-entree-ordering type), it's a worthwhile indulgence for those who suffer from serious menu indecisiveness. We've found New York's best tasting menus that will actually fill you up -- none of those three-bites-for-$75 scams -- without putting you into serious credit card debt.
Recommended Video
Spinach and Artichoke Dip Pizza, the Ultimate Party Appetizer
Williamsburg
Price: $58
Chef Patti Jackson's Michelin-starred, 38-seat Williamsburg haunt may offer the best tasting-menu deal in town. The locally sourced, seasonally changing American menu includes shareable apps, a first course (pasta!), a hearty main course (duck, sea bass, or braised beef cheeks), dessert, and an optional cheese course ($10 extra, do it) for just $58, which is less than you'd probably spend at a non-Michelin-starred restaurant on just an entree and app. The best part about this tasting menu -- other than the price? -- is that you're not stuck with the catch of the day or the perfectly (boring) seared duck that the chef really wants you to eat.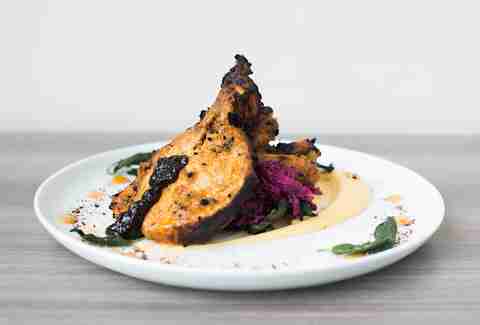 Alphabet City
Price: $62
Instead of arguing with your tablemates over which curries, koftas, and tandoori chops you'll share, opt into Babu Ji's $62 tasting menu that brings out all the best flavors of India on several rounds of spicy and creamy dishes unique to New York City's vast landscape of Indian restaurants. The small, colorful Alphabet City restaurant is anything but tranquil, with music bumping and the door to the customer-accessible beer fridge always swinging for the next craft brew to chase down that spicy cauliflower. Optional beer pairings are $22, but it's more fun to DIY. Dishes are presented in a no-filter-friendly rainbow of delights, but save room after the main tali tray for homemade cardamom, honey, and pistachio kulfi, a creamy popsicle-like sweet that could easily put Mister Softee out of business.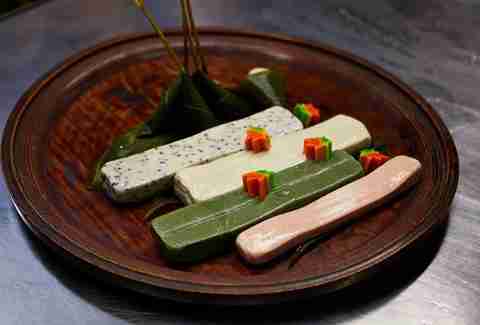 Murray Hill
Price: $55
Tasting menus are notoriously challenging for vegans, but the meat-free crowd can enjoy the deal and meal of a lifetime at this veg-friendly Japanese spot rooted in shojin cuisine, a method of vegetarian cooking stemming from Zen Buddhism. And yes, the atmosphere here is super-chill -- you can actually have a conversation, or just meditate over the best miso that's ever touched your mouth. A monthly rotating four-course dinner menu runs at $55 and includes courses like vegan sashimi, a delicate vegetable tempura that will kill your taste for cheap bento boxes, a seasonal hot pot, and a starchy rice dish. Everything you eat in the serene Kajitsu feels seriously healthy but still indulgent, the perfect wabi-sabi balance for a tasting menu meal.
NoHo
Price: $50
Last year, beloved sushi chef David Bouhadana was ousted from the East Village's Sushi Dojo for refusing to wear gloves while preparing tastings that New Yorkers would book weeks in advance. Now, you'll add your name to a clipboard at Sushi on Jones, co-owned by Bouhadana and business partner Derek Feldman, and wait for a $50, 12-piece sushi meal that stands to be NYC's best sushi bargain. And no, that doesn't mean fake tuna -- you can expect the likes of uni, hamachi, scallop, crab, and Bouhadana's signature truffle salt-sprinkled wagyu. You only have 30 minutes to eat (opt for fingers, not chopsticks) and drink it all, but it'll probably be the best $50 you've spent on sushi in forever.
Flatiron
Price: $36
New to the ever-growing, ever-obsessive scene of cool Korean fare in New York City is ATOBOY, a "casual fine-dining restaurant" -- wear your ripped jeans, expect excellent food and service -- where three dishes of your choice plus rice go for $36. It's not a tasting menu in the traditional sense, but it's affordable and lets you mix-and-match 20 varieties of mix-and-match Korean-style tapas, including French beans with smoked eel and grapes; corn with taleggio, bacon, and doenjang; a spicy peanut butter chicken; and lusciously juicy brisket with foie gras, ginger, and garlic.
West Village
Price: $98
Manhattan's most luxe new restaurant, run by the German chef of the same name, recently launched an abbreviated four-course tasting menu at $98, which, while still a splurge, is a small price to pay to dine like royalty for an evening. Seeger's menu changes daily, based on what produce is available and where his imagination leads him in the restaurant's hypnotic stainless-steel kitchen. Expect refined creations presented like works of art and listed off like salvation-inducing poetry as they're plated at your cozy table: foie gras confit with apple essence and lettuce bouquet; Scottish langoustine with preserved butternut squash, madras curry, and pistachio; roasted black bass in cardamom honey with vegetable nage. The place is so posh, you'll want to dress up for this one, but the food is worth the extra primping.
Lower East Side
Price: $67
Years after its October 2013 opening, Contra has made reserving a coveted seat in its dining room harder than scoring Hamilton tickets. The nightly rotating $67 seven-course menu -- think rye porridge with uni and sorana beans, culotte steak with charred fushimi peppers and raw matsutake mushrooms, and a refreshing elderflower granita with pistachio and pickled celery -- is greatly in demand not only for its price but for its majestic fare now worthy of urban legends. The "Contemporary New York Cuisine" is seriously less pretentious than it sounds, with whimsical dishes created from local, seasonal ingredients that are complex yet just simple enough to not make you feel bombarded with chef tropes you'd never understand. When room is available and cash is tighter, head to the bar for a $48 abbreviated menu (it's OK if you supplement with a dollar slice after).
Various locations
Price: $80
This irregularly scheduled, traveling pop-up restaurant, led by Restaurant Daniel and Mirazur alum chef Nico Russell, features an $80 set menu for a leisurely dinner that lasts about two hours. The seasonal dishes, announced at the meal, are accompanied by cocktails, wine, and beer, and the booze is pretty much ever-flowing (assuming you can both drink it all and keep up with the courses). At the intimate pop-up (most recently held at Williamsburg's Egg), you're getting the cooking skill you'd expect at Daniel, just with more laid-back, friendly service -- and most importantly, without the three-figure price tag. Think of Oxalis as a quasi-open bar paired with imaginatively composed and plated dishes. Check the website for upcoming dates.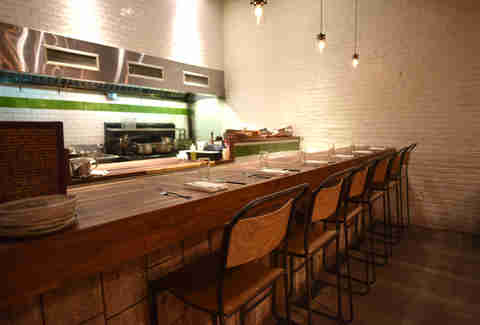 Bushwick
Price: $85
The smart way to approach your dinner at Faro's chef's counter is to reserve one (or all) of the six seats on Friday or Saturday nights, when a special five-pasta tasting menu along with amuse-bouches and dessert runs for $85. Chef and co-owner Kevin Adey, who boasts 100 pasta shapes in his repertoire, mills grains sourced from upstate on-site each day for the freshest pasta possible. While Faro's menu changes regularly, you can be sure you'll stuff your face with seriously fantastic pasta and regionally diverse Italian dishes including culingioni, a braided Sardinian ravioli; baked pasta rotolo filled with kale (it's Brooklyn!) and béchamel; and frascatelli, a handmade pasta similar to spaetzle.
Williamsburg
Price: $85
Even at $85, Semilla's vegetable-forward, 10-plus-course tasting menu is still a steal. Vegetables are the star of the show at the communal 18-seat bar where you're sure to make friends or at least score a few new Instagram followers with this undeniably likable plating. Those not quite ready to make the $85 commitment can stop by for less pricey "drinks and snacks" when space is available.
Sign up here for our daily NYC email and be the first to get all the food/drink/fun New York has to offer.