Every city has a TON of Thai spots, but very, very few cities have a Thrillist list that tells you exactly which ones are the good Thai spots. Congratulations, New York. You're one of the very, very few. From a kao soy specialist in Red Hook to a crowd-friendly import from Bangkok, here are the 13 best Thai spots in NYC.
Nolita
Best For: Beer slushie enthusiasts
Not only are the chefs behind this downtown hangout both alums of Per Se, but they're also the chefs behind a contraption that turns bottles of Singha into boozy slushies. Perfect for washing down plates of juicy rotisserie chicken, grilled sour sausages. and spicy lamb laab (essentially a minced meat salad).

Hell's Kitchen
Best For: Budget-conscious diners
Chefs David and Vanida Bank modeled this always-packed location after the street stands of their homeland. The namesake "Pure Thai" noodles (featuring house-made egg strands) are exceptional and so are snacks like bean paste-marinated pork ribs and vegetable (trust us) spring rolls. They're all also part of a killer lunch deal, when everything is $10 and under.
East Village
Best For: Thai enthusiasts looking for a bustling crowd
Near the front, you'll spot the Bangkok import's star dish -- green papaya salad -- being thrown together, then sent over to diners seated at long communal tables. There are eight varieties in all, each funkier than the one before, along with shareable soups, smoky grilled skewers, and sticky rice to sop up all the leftover sauce.
Columbia St Waterfront
Best For: Pad Thai devotees
If you're after next-level pad Thai, get the one at Andy Ricker's noodle-only spin-off. No sickly sweet stuff here -- just plate upon plate of wide rice noodles cooked in pork fat with your choice of prawns, ground pork, or both (so... both).

Red Hook
Best For: Noodle soup aficionados
True to the restaurant's name, the must-order item here is kao soy, the fragrant, coconut-scented curry native to Chiang Mai. Thai native Kanlaya Supachana doles out an impressive bowl that's brimming with tender chunks of chicken, springy egg noodles, and crunchy fried papaya sticks.
West Village
Best For: Top Chef worshippers
Not every one who's on Top Chef pans out, but this unassuming neighborhood spot that delivers bold, yet sophisticated Thai fare (like roasted maitake drunken noodles or a fried pork and crispy oyster salad) is just one of the reasons Harold Dieterle did.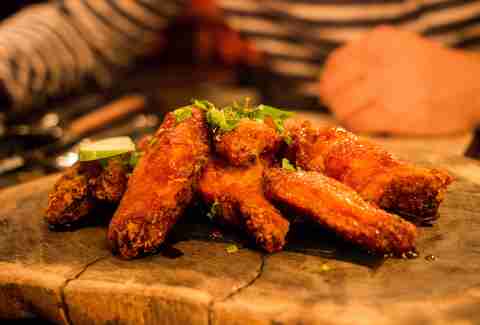 East Village
Best For: Farm-to-table disciples
Helmed by supermodel-turned-super-chef Hong Thaimee (what have you done for me lately, Kate Moss), this cozy charmer takes a more modern approach (locally sourced, hormone-free) to Thai cooking, offering up red curry with roasted Long Island duck, lamb massaman roti pot pie, and fries made from kabocha squash and sweet potato.
Hell's Kitchen
Best For: People who would rather not leave the house
Infinitely better than your average pad Thai slingers, this 9th Ave joint is actually a reliable takeout option. Queue up all nine seasons of One Tree Hill (!!!!) on Netflix and put in an order for Isaan specialties like som tum (available here in eight different forms) and moo krob kra prao (crispy pork wok-fried with holy basil).
Sunnyside
Best For: Vegetable pushers
Navigating this 7 train standby's 30-plus-page menu is no easy task. Luckily, all you need to do is remember three words: crispy. Watercress. Salad. Don't worry, the leafy greens are battered and deep-fried, then tossed with squid, chicken, and shrimp, plus a spicy fish sauce dressing to form New York City's most glorious "salad."

Park Slope
Best For: Sugar junkies
The Asian-inspired ice cream here -- done in creative flavors ranging from Thai tea to black sesame seaweed -- is one of the many draws of SkyIce in Brooklyn. Do get a ton of it, but don't overlook the savory things, including a standout kao soy, baked chicken curry puffs, and a "no-carb" pad Thai featuring papaya noodles.
Elmhurst
Best For: Outerborough advocates
Tucked away on a quiet Queens street, this pint-sized canteen is ironically home to loud, complex, in-your-face curries, from the rich coconut Panang duck to the tamarind-infused kang som -- a sour soup with shrimp. Oh right, and it's one of the reasons Queens might actually be the best borough.
East Village and Elmhurst
Best For: Hardcore heat-seekers
This no-frills favorite isn't afraid of anything, be it spiciness or ingredients... iness. Skip the usual carb-loaded fare, and opt for Northern Thai classics such as crispy marinated catfish and grilled chicken livers, gizzards, and kidneys, accompanied by a tamarind sauce.
Columbia St Waterfront District
Best For: Just the best. Period.
Andy Ricker's PDX transplant Pok Pok lives up to the hype hype. The fish sauce wings are as addictive as ever, but it's the terrific regional specialties that truly steal the show. There'll probably be a wait, but you can kill time at the neighboring Whiskey Bar. Just don't fill up too much -- there's whole-roasted poussin and grilled boar collar to be had.
Sign up here for our daily NYC email and be the first to get all the food/drink/fun New York has to offer.
Patty Lee is a reporter and editor who has written for Zagat, Time Out New York, New York Daily News, and Cooking Channel. At all other times: an eater of desserts, aspiring world traveler, and proud Brooklynite. Follow her on Twitter and Instagram.