It's actually pretty easy to find great Chinese food in New York, but if you've already tried the critical darlings, or you want to escape the crowds and the trendy favorites (see: Great NY Noodletown, Xi'an Famous Foods, RedFarm…), check out these hidden gems, all of which have a little less fanfare and fewer Instagram-happy fans.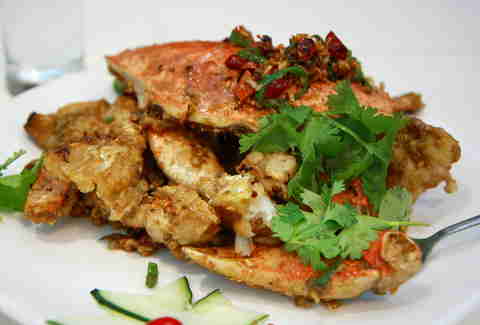 Chinatown
This place has been an industry favorite over the years, but it rarely gets much attention anymore. That's good for you, because you don't have to fight the crowds to get a late-night whole fish feast or a seafood lunch special that's one of the best (and tastiest) deals in Chinatown.
Lower East Side
Not all authentic Chinese food has to be served from a total hole-in-the-wall, and this Lower East Side restaurant proves the point. Here, you get to experience both a comfortable and cool dining room alongside unique cuisine based on recipes from the Yunnan province. That includes things you can't find at your run-of-the-mill spots like Spicy Pulled Pork Cold Noodles with chrysanthemum and chili oil, lamb meatballs, and Ma La Chicken Wings with the tingly numbing Sichuan peppercorns. Also: house cocktails! like a Chrysanthemum Daiquiri and Chinese Michelada with Tsingtao, ginger beer, fresh lemon juice, soy, and Sichuan peppercorn.
Williamsburg
Smack dab in the middle of hipster fantasyland, this delicious(-despite-being-vegan) restaurant comes through with a sprawling pan-Asian menu. Go with the black pepper seitan with Chinese broccoli, plus the pineapple fried rice and bowls of soba.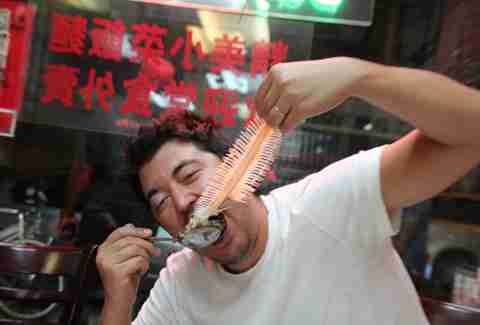 Chinatown
While longtime Chinatown dens like Wo Hop, Peking Duck House, and Hop Kee (a Bourdain favorite) grab a lot of the attention, this divey dining room lined with signed dollar bills keeps it just as real. Old-school Chinese-American plates like shrimp chow mein bring back childhood memories and pack all the flavors you're expecting -- especially at 3am. And definitely don't sleep (get it?) on the snails with black bean sauce or the whole fried fish, which are favorites of Nick Anderer (pictured), the chef behind hot pizza spot of the moment Marta.
Upper East Side
It might not have the elegant atmosphere of other Peking duck restaurants in town like the buzzier (and excellent in its own right) Decoy under RedFarm, but the price is right. You can choose between a whole or half a bird and both come with the standard cucumbers, scallions, and Chinese pancakes. It also has some interesting specials, but you're best bet is going with the namesake dish.
Midtown
It's fitting that Phoenix Garden has a very unhip location in Midtown, because there's no flash here. It is just taking care of business with a crazy-long and occasionally exotic menu of filling Cantonese eats like fried and stuffed crab claws, lobster in pepper and black bean sauce, Salty Backed Pork Chop, and sliced conch with young chives. And with a BYOB policy, it's worth braving the rush hour madness.

East Village
While Han Dynasty continues to draw huge lines ever since the New York Times gave it a thumbs up, there's another spicy joint just a few blocks away where you won't have to wait or contend with Padma Lakshmi lingering at her table for three hours before you can sit (true story). Hot Kitchen delivers all your Szechuan favorites without the huge packs of hungry diners fighting to get in.
Fresh Meadows
With a vintage Tiki bar throwback interior that's all bamboo and kitsch, plus well-done Chinese-American comfort food like pu pu platters "on the fire" and Yuen Young Hip Steak (chicken breast and steak with Chinese vegetables), if this place was in hipster Brooklyn and new, the lines would be down the block. But here, it's just families and neighborhood locals out for a Friday feast. Take full advantage of the Tiki drinks like the Tabu For Two that has the amazing description of "a frosty froth of fine rums, lemon, and lime w. liquors".

Bensonhurst
We respect the s**t out of a place whose name gets right to the damn point. So if you've tried all the trendy favorites for dumplings and hand-pulled noodles, maybe it's time for a trip to Bensonhurst for HPN&DH's noodles loaded with everything from spare rib, to lamb, to beef tendon.
Flushing
It's a known fact that Flushing is an eating paradise with shiny malls, dim sum palaces, and everything in between. One place, though, stands out just based on the fact that it doesn't always get the big press. Fu Run is serving up delicious Northern Chinese specialties that you probably haven't tasted ever before, but should. Great example? Muslim Lamb Chops. Boosh.

Chinatown
Way down past the Manhattan Bridge is a tofu factory (always a good sign of an under-the-radar joint) that also dishes up freshly made rice noodle rolls out of a tiny window. It might not be everyone's idea of a sophisticated lunch, but for a buck and a half, we dare you to do better when it comes to flavor-versus-price ratio.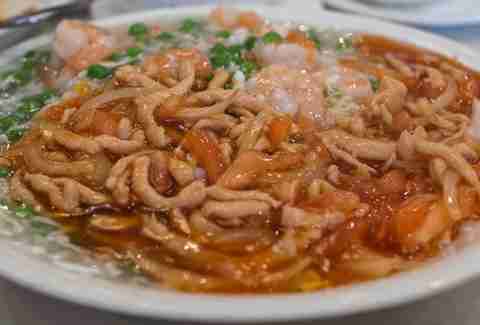 Forest Hills
You could go to Flushing every time you're headed for Chinese food in Queens, but then you'd totally miss out on East Ocean Palace -- a Forest Hills joint where they're rolling out classic dim sum on the weekends and plates like yin yang fried rice and country-style salt-baked half chicken. The tables are huge, and the more people you bring, the more dishes you can try.
Sign up here for our daily NYC email and be the first to get all the food/drink/fun New York has to offer.
Craig Nelson is a writer who enjoys pizza and the tropical vibes on that famously laid-back island of Manhattan -- the place he calls home. Follow along on Twitter and his blog Across 106th Street.