New York City has entered a golden age of meatless treats. The techy Beyond and Impossible Burgers have made plant-based patties more enjoyable than ever, and good old veggie burgers have improved a lot since the days of black bean hockey pucks being pawned off as adequate alternatives.

Even fast food joints like Burger King and White Castle have jumped on the craze and started offering meat-free burger options, which is great for veg heads and fast food lovers alike. For something a little more unique, these are the best veggie, seitan, and grain-based burgers on NYC's meat-free scene.
East Village
True to its bold name, this "Shake Shack for vegetarians" is still among the best of the best. The Superiority burger ($6) is made of mashed chickpeas, crushed walnuts, and quinoa, topped with muenster cheese, iceberg lettuce, roasted tomatoes, and dill pickles, and sandwiched between a familiar toasted bun. It can be made vegan upon request and, like the space, it's on the small side. Order a couple for maximum satisfaction.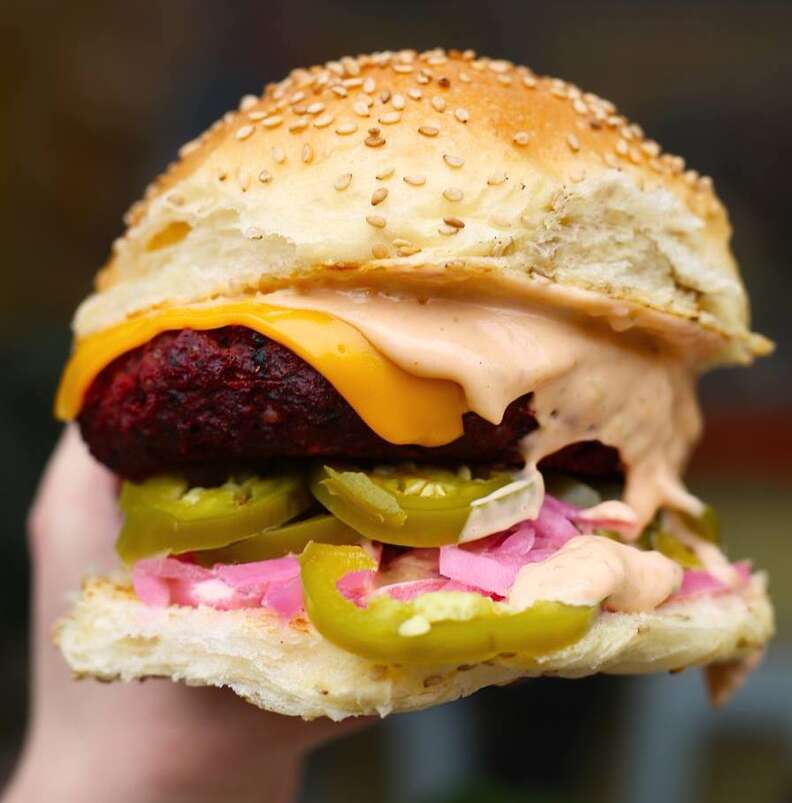 Bushwick
This '70s-inspired vegan spot evokes cool aunt vibes, making it a kitschy destination for the Instagram set. Hartbreakers' pink-hued Rah Rah burger ($13) is just as photogenic -- and pleasing to the palate. The beet-based patty is topped with jalapeños, pickled red onion, cheddar, and a house-made, Thousand Island-like sauce, all piled on a sesame seed bun to entice even the most carnivorous among us.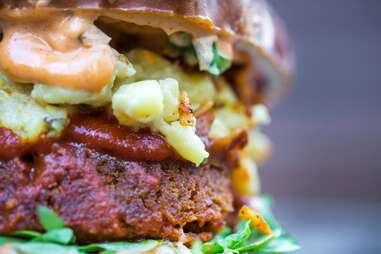 Midtown West
Cinnamon Snail (which also has a spot at The Pennsy food hall) turns the notion that veggie burgers are a healthy alternative to their beef kin on its head. This vegan kosher food truck's Beastmode Burger Deluxe ($12.75) combines a bourbon BBQ grilled ancho chili seitan patty, a heaping helping of jalapeño mac n cheese, smoked chili coconut "bacon," arugula, and a chipotle mayo slathered grilled pretzel bun to 10-napkin effect.
Fort Greene
The Portland, Oregon, based Next Level Burger promises "burgers for a better world." That might be a stretch, but the All-American burger ($10.95) at the joint's Ashland Place Whole Foods location will make your day, at least, a little better. A thin patty is topped with organic tempeh bacon lettuce, tomato and your choice of cheese and sauce on a seven-grain bun. Order it Animal Style ($15.95) and they'll pile on two patties and a layer of crinkle cut fries.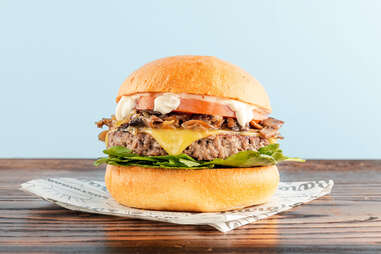 Multiple locations
This NYC-based chain gets increasingly plant friendly with every passing year. Half of Bareburger's menu includes vegan black bean or quinoa options, as well as dressed up Beyond and Impossible burger choices. The Duchess ($14.95) squeezes a quarter pound Impossible patty smothered with gouda "cheese," caramelized onions, wild mushrooms, baby kale, tomatoes, and aioli into a "viroche" (vegan brioche) bun.
Sign up here for our daily NYC email and be the first to get all the food/drink/fun New York has to offer.