The Everyman's Guide to the Best Vietnamese Food in NYC
While we love a good bowl of pho, there's so much more to Vietnamese food than just the noodle soup. To help you navigate through the growing number of Vietnamese eateries in town, we've put together a guide on where to find the very best options, broken down by dish. From a superior bánh mì shop in Sunset Park to two restaurants run by Slanted Door alums, here's where to go to get your fix.
Bo luc lac (shaking beef)
Ridgewood
Located on the industrial border between Brooklyn and Queens, this bamboo-thatched spot turns out some of the city's finest Vietnamese cooking, courtesy of brothers Jimmy and Jacky Tu. A must-order is their take on bo luc lac, featuring seared beef cubes punched up with toasted peanuts and fried garlic.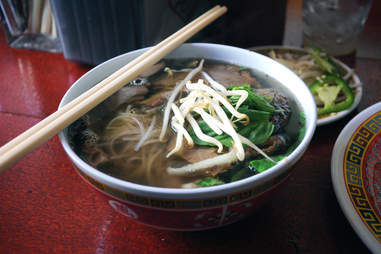 Patty Lee/Thrillist
Pho
Bushwick
Believe it or not, one of the city's best bowls of pho is… vegetarian. That's right. Instead of the usual meats and marrow, Chef Johnny Huynh uses mushrooms, star anise, cinnamon, charred shallots, and ginger to tease out a broth that's both hearty and light, brimming with fresh rice noodles, shiitakes, and bok choy. Hardcore carnivores, fear not. You have the option to add tender slabs of smoked beef brisket, which add yet another layer of flavor to this already complex noodle soup.
Chả giò (spring rolls)
Greenwich Village
If good spring rolls are your jam, then add this NYU favorite to your rotation. With minced pork, shrimp, and rice noodles encased in a golden-brown shell, the crunchy cigars are certifiably addictive.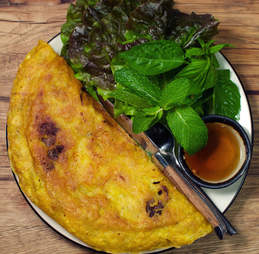 Courtesy of Bricolage
Bánh xèo
Park Slope
From the open kitchen, you can easily spy SF's Slanted Door vets Edward and Lien Lin at work, dropping their house-made rice flour batter -- flavored with mung bean paste, turmeric, and a hint of beer -- into a sizzling cast-iron pan, along with bits of pork, shrimp, onions, and bean sprouts. Once the proteins are tender and the exterior is crisp, the pancake arrives teetering on a plate with lettuce, mint, basil, and nước chấm for wrapping and dipping to your heart's content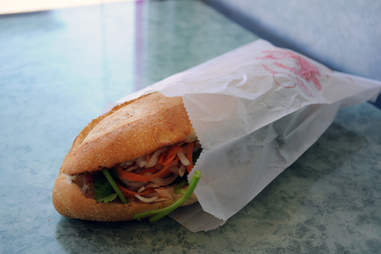 Patty Lee/Thrillist
Bánh mì
Sunset Park
Everything about the bánh mì at this barebones sandwich shop is top-notch, from the crusty baguettes to the assortment of meats. While all eight options are excellent, it's the No. 1 -- smeared with a luscious layer of pâté and crammed full of Vietnamese cold cuts and crunchy pickled vegetables -- that keeps us coming back again and again.
Patty Lee/Thrillist
Bún chả
East Village
The house special Bun Sao Mai comes with a bit of everything: chopped spring rolls, grilled shrimp, pork, and vermicelli, all for you to douse in the house nước chấm. It's a satisfyingly good meal, whether you eat in or take out.
Courtesy of Falansai
Ca kho to (clay pot catfish)
Bushwick
Chef Henry Trieu -- another alum of Slanted Door -- gave a childhood favorite a modern update when he opened this cozy French-Vietnamese eatery. Tweaking a family recipe, Trieu braises catfish fillets with tomatillos, scallions, onions, and bell peppers in a clay pot until succulent. Coated in a sweet-savory fish sauce that's been caramelized during the cooking process, the pot's bubbling hot contents are best when spooned over a big bowl of rice.
Courtesy of Le Colonial
Gỏi cuốn (summer roll)
Midtown East
Unlike the stiff summer rolls we've all gotten as part of a takeout dinner, the ones at this fancy Midtown restaurant are as fresh as they come -- the supple, see-through wrappers bursting with whole poached prawns, shredded lettuce, vermicelli, and mint. They come with a peanut hoisin dipping sauce that needs to be bottled, ASAP.
Patty Lee/Thrillist
Bún bò Huế
Sunset Park
The fiery red color is an obvious clue that this noodle soup comes with a serious kick. Native to Vietnam's central city of Huế, the bowl is a true belly-warmer, chock-full of beef, bones, and slippery, spaghetti-like noodles. One slurp and you'll see why it deserves more time in the spotlight.
Coffee
Elmhurst
The cup of joe at this Queens bánh mì shop is as classic as they come: New Orleans' Café du Monde grind gets filtered slowly through a Vietnamese coffee filter and sweetened with condensed milk. But like the creative menu (bánh mì fries, anyone?!), you can go a little less traditional with variations like a chocolate-infused mocha or a Frappuccino-like drink topped with whipped cream.
Sign up here for our daily NYC email and be the first to get all the food/drink/fun New York has to offer.
Patty Lee is a reporter and editor who has written for Zagat, Time Out New York, New York Daily News, and Cooking Channel. She will happily live on a diet of pho and bánh mì. Follow her on Twitter and Instagram.