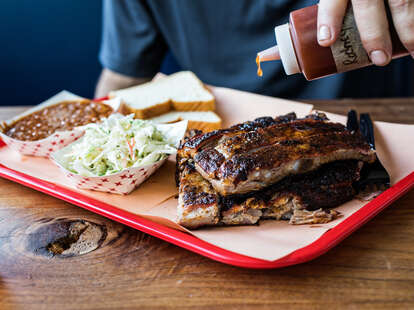 Andrew Celbulka
Andrew Celbulka
Before the too-humid-to-handle summer sweats set in, warm up with some meat sweats at Madison Square Park's annual Big Apple Barbecue Block Party, taking place this Saturday, June 10 and Sunday, June 11 from 11am-6pm.
Back for its 15th year, the free BBQ event will bring in 15 barbecue joints from across the country to serve their most famous dishes (alongside live music and two pop-up beer gardens). Keep in mind that while entry won't cost you anything, you'll have to purchase the food at the stands. If you want to join the BBQ elite, consider purchasing a $150 FastPass, which gets you access to express lines for two people and includes $125 redeemable for food, beverage, and merch.
Before you load your plate up with the first meat you see, plan your eating with our top food picks at this year's Big Apple Barbecue.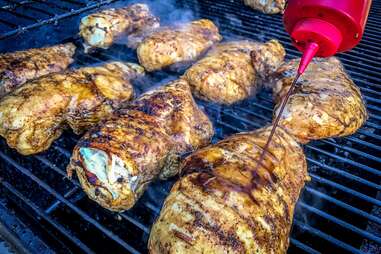 Pitmasters Garry Roark and Leslie Roark Scott (called the Princess of the Pit by Mississippians) of Yazoo City, Mississippi will be the only poultry servers at the event. On the menu you'll find traditional smoked BBQ chicken wings, sausage cut from a 30-pound rope, and Bloody Mary cucumber salad to wash it all down.
Brothers Jonathan and Justin Fox of Atlanta will be making their Big Apple Barbecue debut with brisket, jalapeño-Cheddar sausage and potato salad. The duo is the first to ever serve potato salad at the event -- help make history by eating their sides.
<h2>Pimento cheese from <a href="https://www.jimnnicks.com/&quot; target="_blank">Jim 'N Nicks Bar-B-Q</a>&nbsp;(Alabama, Colorado, North Carolina, and more)</h2>
After a hiatus from the event last year, Pitmaster Nick Pihakis of Birmingham will be serving smoked pork hot links with fan-favorite pimento cheese, in case you wanted that chili cheese Coney Island dog to be replaced with a new favorite.
Pitmaster Rodney Scott of Charleston is locally known for his slow-cooked whole hog, but for NYC crowds, he'll be serving up his slightly more cosmopolitan St. Louis-style ribs with coleslaw.
Chef Jean-Paul Bourgeois will be representing Danny Meyer's Manhattan barbecue joint, which will be serving its famed brisket burnt ends with chipotle barbecue sauce and a summer corn salad.
This East Village restaurant will be serving up sides at Big Apple Barbecue's first-ever Sides Stand. Expect corn three ways -- corn on the cob, hot butter cornbread purée, popcorn -- and watermelon salad.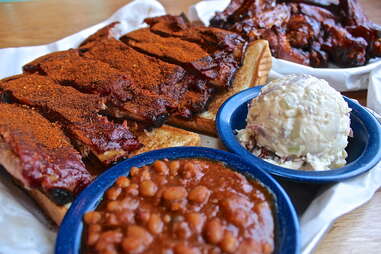 Pitmaster Pat Martin of Nashville will be going all-in with his West Tennessee-style whole hog served with coleslaw -- in case you needed to break up all that meat.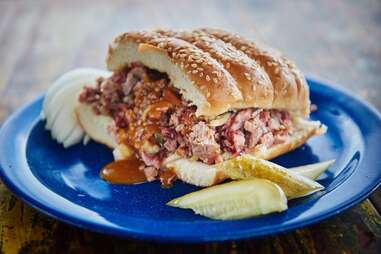 Pitmaster Scott Roberts of Driftwood, Texas will be serving up some of the Austin-area's favorite barbecue, with meaty options including brisket and sausage, to be drenched in The Salt Lick's signature orange sauce, and sesame coleslaw to refresh your meat-coated mouth.
See how Texas-style New York barbecue stacks up to the Southern plates with New York pitmaster Ash Fulk's brisket and house pickles.
The sister bakery to Texas' Baker's Ribs will be serving sweets to compliment your meat platters. Apple, peach, blackberry, apricot, and cherry fried pies are all on deck.
Sign up here for our daily NYC email and be the first to get all the food/drink/fun New York has to offer.