Big Gay Ice Cream has been an NYC dessert staple ever since owners Doug Quint and Bryan Petroff had the bright idea to start driving an ice cream truck in the summer of 2009. "Big Gay Ice Cream" was the first name that sprang to mind, and New Yorkers responded in droves, driving the pair to eventually swap the truck for a shop and earn rave reviews for treats like the Salty Pimp, Bea Arthur, and American Globs. But there's more to BGIC than just great ice cream and even better naming skills. Here are 10 things you didn't know about the phenomenally popular soft-serve outlet.
They've worked with the Secret Service... on multiple occasions
Twice, to be exact. The first time was when Quint and Petroff catered a prominent city official's wedding. (They wouldn't elaborate, but it seems likely it was former Council Speaker Christine Quinn, who married her partner Kim Catullo in 2012.) The second time was last October, when Larry Wilmore used the East Village location to interview Nancy Pelosi for the Nightly Show. Louis CK also filmed in the shop during the fifth season of Louie, though the Secret Service was uninvolved.
Big Gay Ice Cream was almost Big Gay Rat Patrol
Big Gay Ice Cream almost didn't happen. Quint, a concert bassoonist just a dissertation away from finishing his doctorate in musical arts, wanted a summer project -- something fun, but also something distinctly New York. The ice cream truck presented itself in the form of a Facebook post from a friend, who was looking for people to help commandeer one for the summer. It was perfect. "If not this, he wanted to be an exterminator's apprentice -- that was number two," Petroff said. "We could have been Big Gay Rat Patrol." Count your blessings, New York.
They never actually owned that truck
Business was quick to take off, but Quint and Petroff never committed to buying their own truck, instead opting to rent daily from a depot in Greenpoint. "We brought all our stuff on in the morning, and took everything off every day," Petroff said. "We never knew whether we'd have the same truck two days in a row." When they first started, Quint didn't have a car, so he'd commute via three trains from Washington Heights, where he lived, hauling all the toppings and signage in both directions. The second year, they bought a car.
And P.S.: driving an ice cream truck is actually hell
Turns out that driving an ice cream truck isn't nearly as lighthearted an endeavor as the Smashing Pumpkins make it appear. In the first place, they're not very roomy, so anyone over around 6ft-tall has to crouch for the entire day. And? "It's really hard to stand on something that vibrates all the time," Petroff said, adding that the movement is caused by the truck's generator. The trucks that BGIC tended to use had the added disadvantage of being pretty beaten up, so they usually couldn't run both the vanilla and chocolate refrigerators AND the air conditioning at the same time -- an especially miserable choice to make on a hot summer day. What had to give? "It alternated between the chocolate ice cream and A/C," he said.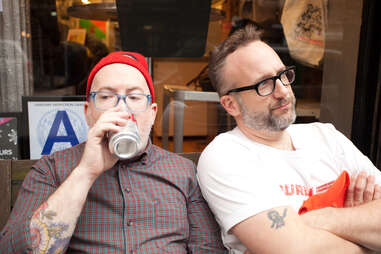 Neither of the owners likes chocolate ice cream
For two guys who own one of the most popular ice creameries in the city, it seems ironic that neither Quint nor Petroff cares for one of the most popular flavors. But it's true. "We realize we skew away from chocolate, so we make sure we don't overlook it," Petroff said. "It's a conscious decision to have to use it. It doesn't come naturally."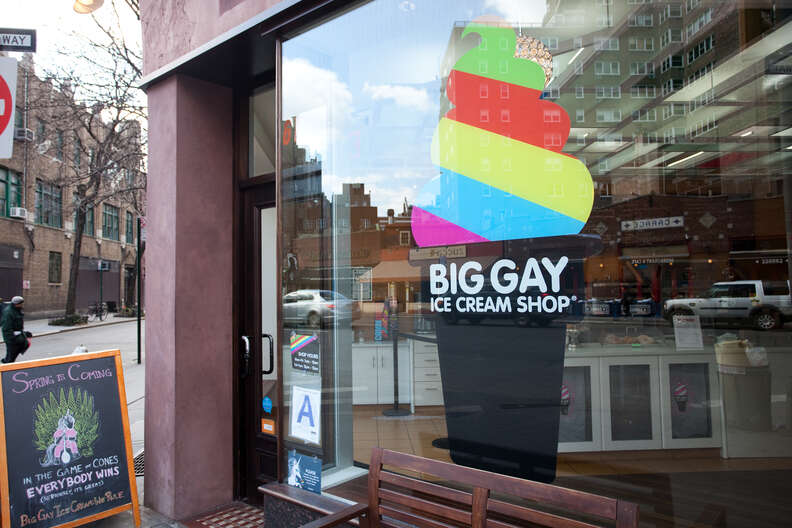 There's an ex-factor
The success of Big Gay Ice Cream has largely been a collaborative effort, and both owners drew upon the expertise of many people to help them get their start. Two such people, though, once held a much larger role in Petroff's life in particular: They were, at varying points, his boyfriends. One, the artist Jason O'Malley, designed the Big Gay logo. Another, Devin Grosz, designed the website. "We like to keep it in the family," he joked.
One of their top sellers was invented on the fly
American Globs, a delightful concoction of vanilla ice cream, pretzels, sea salt, and chocolate dip, is consistently one of Big Gay's top sellers. But its existence is a total accident, and it involves the author Neil Gaiman. Intrigued? Read on.
"We'd been going back and forth with [Gaiman] on Twitter about the idea of homosexual dairy products, as he called them," Petroff said. One day, when the truck was parked in Union Square, the two owners noticed the author waiting in their ever-lengthy line. "We were like, shit, he's in line, we need to come up with something now, just for him!"
Fast thinking led to the purchase of some crushed-up pretzels, and a few minutes later, the treat was born. More impressive than the concoction itself, however, is the name. Knowing that Gaiman had written a book called American Gods, they whipped up the pun and added it to the menu, all while still serving other customers.
"That was our quickest non-thinking thing," Petroff said. "The others usually have more thought."
They once shut down SF's Golden Gate Park
It was during Chipotle's Cultivate Festival, and the lines were insane, even for BGIC. At one point, a parks officer approached the truck. "We clocked your line, and it's three hours long," Petroff recalls the officer saying. "Three quarters of the people in Golden Gate Park are in your line." The park was forced to adopt a "one in, one out" policy, since the truck had edged it over capacity.
A third NYC location will be opening later this year, and plans for a fourth are on the horizon
BGIC already has an outpost in Philly, but instead of nationwide expansion, Quint and Petroff have decided to focus their efforts on New York. They won't divulge any additional details on the location of the new store, but did say it will open sometime this year. Another is slated to open next year.
Their next pursuit? Maybe a dive bar!
"We both miss what we thought was one of the best bars in New York, which was Dick's in the East Village," Petroff said. "It was a tiny hole-in-the-wall gay bar that had the best jukebox." The two have a name picked out, though its existence remains a distant dream, at least for now. Still, if it comes to fruition, Quint knows exactly what sort of vibe they'd be going for. "The best kind of bar is the kind where after they have last call and turn the lights on, they discover someone's been dead at the bar the entire night," he said.

Sign up here for our daily NYC email and be the first to get all the food/drink/fun New York has to offer.
Lauren Evans is a freelance writer based in NYC. Follow her on Twitter at @laurenfaceevans.