A guide to Arthur Ave, NYC's better Little Italy
Even as Italians slowly continue to move out, the famous Arthur Avenue in the Bronx remains the destination for red sauce, for New Yorkers in the know. Like, for example... us! And luckily, we're in a sharing mood: here's literally everything you need to eat/drink on Arthur Ave.
(Editor's note: only do everything on this list if you're a total boss, ready for a tremendously filling day, and have nothing planned for, like, the next week. Otherwise, feel free to break this up into several smaller trips.)
What you're getting: The Big Mike Combo
2344 Arthur Ave
Hit the Arthur Avenue Retail Market (built during La Guardia's reign), and mosey on over to Greco's (née Mike's Deli) of Throwdown fame. There, you'll want to gorge yourself on an overstuffed hero. But outsmart Bobby Flay and skip the eggplant parmigiana in favor of the borough's most delicious Italian combo, packed with meats and provolone. Mike Greco and his counterman are brusque and impatient, but the sandwich is worth it.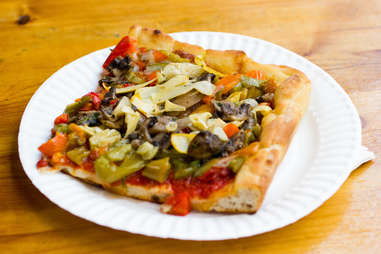 What you're getting: Pizza by the slice
2344 Arthur Ave
Full Moon is often billed as the hood's top slice shop, but, don't (don't don't don't... don't) believe the hype. The pan-baked, Sicilian-style slices at this Retail Market café are the neighborhood's best. The selection rotates on a daily basis (you get what you see), but it's best to follow our advice no matter what's available. Go big or go home with one of their over-the-top specialty pies, like the mushroom, roasted red pepper, and artichoke salad slice.

What you're getting: All the local beers
2344 Arthur Ave
If you're thirsty (hahahahaha "if"), hit The Bronx Beer Hall. It's got an excellent selection of beers, with an emphasis on local brews and Bronx producers like the award-winning Gun Hill.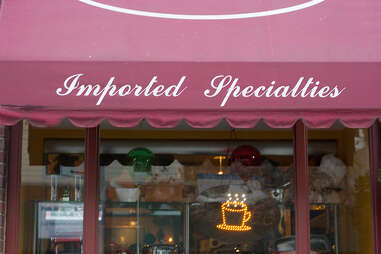 What you're getting: Real deal imported goods
2410 Arthur Ave
Don't let the signed photos of politicians and the dim lights dissuade you. This deli is a favorite among Fordham students for its belly-hugging heroes, but that's not what you're here for. Skip the meat case and head straight for the shelves. Owner Gianluca Paciullo stocks his store with real deal balsamic vinegar, Nettuno anchovies imported by the Bronx's Gustiamo, and pastas you won't find at Eataly. Yes, the prices are more expensive than Teitel's (where you'll find good quality pine nuts and very low prices), but no one else stocks as many products like this up here.

What you're getting: Fresh mozzarella and burrata
604 E 187th St
This sardine can of a store -- overflowing with imports, meats, and antipasti -- gets packed real quick on weekends and holidays. You'll know why after you sneak a peek through the window behind the cashier, where you'll catch owner Orazio Carciotto and his son Carlo stretching curds by hand. Yeah, everybody and their grandmother makes mozzarella around here, but no one's can compare to the sweet, creamy, springy nirvana of Casa's. Fresh, salted, or smoked, it's some of the best in town, and so is their made-to-order burrata. Grab some bocconcini to snack on while you're heading to your next stop.
What you're getting: Homemade cured meats and imported culatello
2338 Arthur Ave
Stepping into Calabria is like booking a ticket back to the Old World. The storefront doubles as a meat cave, with sausages hanging from the ceiling like salty, delicious stalactites. The musty, meaty soppressata (get the extra hot!) is the store's hallmark, plus there's the a pound or two of imported culatello -- a cured meat that puts prosciutto to shame and is always a great move. But their secret weapon? The spreadable, chili-packed 'nduja.

609 E 187th St
What you're getting: Lots and lots of Italian wines
This 187th St wine store has dozens of bottles from all over Italy and ends up being a great place to learn about Frascati, a dry and clean wine created two millennia ago, plus Italian reds like Aglianico, Corvina, and Gaglioppo.
What you're getting: Street side oysters
2327 Arthur Ave
The third-generation owners here are as knowledgeable and passionate as ever, bringing in goods like California sea urchin when it's in season and an Adriatic bounty throughout the year. Plus you can stock up on scorfano (a spiny fish preferred for stews), fresh anchovies, and vongole. Just don't forget to slurp down a couple oysters street-side, first.
What you're getting: Ricotta and burrino
2314 Arthur Ave
Calandra is the kind of cheese store that every neighborhood deserves, and many once had, but is now unfortunately a rarity. Run by a jovial, kind Argentine with a passion for Pecorino, the selection of Italian cheeses is smart and affordable. Expect standbys like four-year Parmigiano and, during the holidays, specials like sheep's milk ricotta and imported burrata. As is standard around these parts, they also make several fresh cheeses. Skip the mozzarella in favor of their pillowy ricotta and burrino, a shell of provolone stuffed with fresh butter. Mmm... pasta stuffed with butter...
What you're getting: Fresh noodles, ravioli, and gnocchi
632 E 187th St
Eight decades in, the Borgatti family is practically Bronx royalty. Currently helmed by the stern and devoted Chris Borgatti, grandson of the shop's founders, they sell ravioli, manicotti, spinach pasta, and egg noodles. Everything is cut by hand, and when you finally make it the counter, you'll get to designate your noodle thickness.
What you're getting: Pane di Casa and olive bread
691 E 187th St
Locals and Saturday Italians alike fight over who makes the best loaf on Arthur Ave. Well, the answer is Terranova, where they bake a crusty Pane di Casa that will haunt your dreams. But that's not all. You'll also find top notch loafs like tangy sourdough, focaccia, and a very, very good olive bread.
What you're getting: Sesame loaf
2372 Hughes Ave
Terranova is the best bread generalist, yes, but come sandwich time, it's best to do as Casa Della Mozzarella does and put this bakery's sesame seed loaf to work. Crusty, nutty, and chewy, it's the vehicle for the hero of your dreams.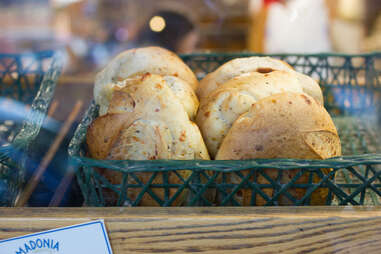 What you're getting: Provolone bread and a cannoli
2348 Arthur Ave
Unless you prefer soggy and leaden shells (dude, you don't), never accept anything but a cannoli filled to order. Madonia does it right, piping ricotta into their flaky shells to order. They also draw a crowd thanks to their specialty loafs, the best of which is the cheese bread, adorned with chunks of provolone spun into the dough and flecked with black pepper.
What you're getting: Fresh sausages
2374 Arthur Ave
Butchers have disappeared from many New York neighborhoods, but not on Arthur Ave, where they are blessed with, three, count 'em, THREE that would make any neighborhood a destination. Each sells a wide selection of reasonably priced, high quality meats. We're not just talking about pork, chicken, and beef, here. We're also talking about Cornish hen, duck, baby goat, rabbit, lamb, off cuts galore, and much more. For the warm service, quality, and fresh sausages, Vincent's is the move. Their cotechino (a sausage made with warm spices, off cuts, fat, and skin) is worth the trip alone.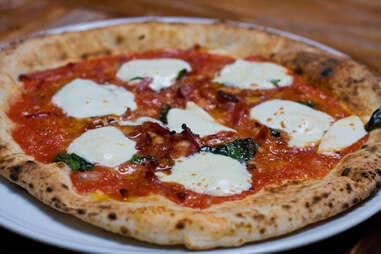 What you're getting: A Salerno-style pie
2357 Arthur Ave
At his second restaurant, Roberto Paciullo is serving the pies of his native Salerno, which means a crisper Neapolitan without the soupy center. The dining room is cavernous and the kitschy trattoria décor is borderline Epcot. After you dig into the Riccardo, topped with butternut squash puree, smoked mozzarella, and spicy pancetta, though, you won't care.

What you're getting: Lasagna Bolognese and as many other red sauce Italian plates as possible
622 E 187th St
For classic red sauce, you'll want to skip the old timers (we love Mario and Dominick's, but…) for a relative (and relatively under-appreciated) newcomer. Better cooking is the only secret at Tra Di Noi, which is, currently, the best restaurant on Arthur Ave. The dining room, with its red-checkered linens, looks like it was inspired by Louis' Italian American Restaurant. But the killer lasagna Bolognese is everything you wished mom's could be. It's substantial and hearty without being too rich, with tender sheets of pasta and just enough of that meaty, tomato-y sauce. Don't sleep on the seafood, either.
Sign up here for our daily NYC email and be the first to get all the food/drink/fun New York has to offer.
Chris Crowley is a freelance journalist with an overzealous appetite. His work has appeared on Grub Street, Serious Eats (where he wrote a column about the Bronx's restaurants for over two years), Punch, Narratively, and more. Follow him on Twitter.