Belmont has always held down the Bronx's culinary scene with generations of family-owned Italian restaurants and shops, but rapid changes in the borough's landscape are now drawing attention to all four corners. An influx of excellent new dining destinations has brought more eyes and stomachs to the Bronx, while simultaneously casting a brighter spotlight on neighborhood fixtures that have been around for decades. From Latin-Asian fusion to home-style Italian like "Nonna's," here are 11 restaurants to get you up to the Boogie Down.
<em>2900 Southern Blvd</em><br />
It's hard to compete with 250 acres of lush garden, which is now the backdrop to the historical institute's first full-service restaurant, introduced last spring. The menu features light, New American fare, like lobster clubs and braised veal &amp; grits. But while the food is great, you're here for the full view of the oldest trees in the garden's collection (part of the 40-acre Arthur and Janet Ross Conifer Arboretum). You can't miss them through the dining room's grand arched windows.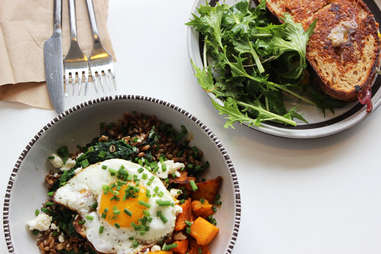 <em>3260 Johnson Ave</em><br />
What started as a coffee shop quickly blossomed into a full-service restaurant offering beer and wine before it even turned one year old. The menu at Moss Café&nbsp;changes regularly, with healthy and inspiring dishes to complement locally sourced, farm-fresh ingredients. Pop in for dinner to see the décor occasionally transformed into a low-key, white tablecloth-esque dining experience with nightly specials.
<em>3834 E Tremont Ave</em><br />
The atmosphere of a city lounge meets the quaint vibe of a neighborhood hangout at this Tremont Ave restaurant. The mood here is as unique as its Latin-Asian menu, which comes together in the form of creative dishes like To' Chimi Sliders -- the slider version of a Dominican burger, made with seasoned black Angus topped with a cabbage slaw and special sauce between tostones (fried plantain) buns.
<em>151 W Sandford Blvd, Mt Vernon</em><br />
Located right on the border of the Bronx and Mount Vernon, Ripe Kitchen &amp; Bar resembles an off-road Jamaican rum bar with its reclaimed wooden interior, low lighting, and colorful paint job. The food is slightly more upscale, but still infused with authentic flavors from the island, seen in dishes like the "Big Ass" Jerk Rib-Eye Steak, which is marinated in an original jerk rub made from Scotch bonnet peppers, grilled to your liking, and topped with an Argentinian-style chimichurri sauce. Be sure to request a seat in the backyard, which is decorated with tropical flora and Tiki torches when the weather is warm.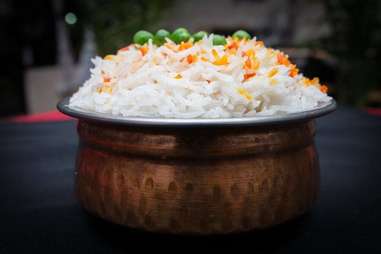 <em>980 Morris Ave</em><br />
Hungry Bird seems like an unassuming takeout restaurant at first glance -- that is, until you notice the dressed-up dine-in seating complete with tablecloths and cloth napkins. This newer Morris Ave spot is serving traditional Indian food like lamb vindaloo, butter chicken, and mixed tandoori grill in extremely generous portions. Drop in after a visit to the Bronx Museum since it's only a 10-15 minute walk away, and be prepared to take home leftovers for the week.
<em>2103 Starling Ave</em><br />
Everything about Taqueria Tlaxcalli is no-fuss and no-frills, from the playful wall art and open kitchen to the menu of authentic Mexican food like tostadas, molcajetes, and burritos, all offering flavors that are just as vibrant as the interior. Order the enchiladas and opt for coating it in the green chili sauce, which has just a slight kick to it.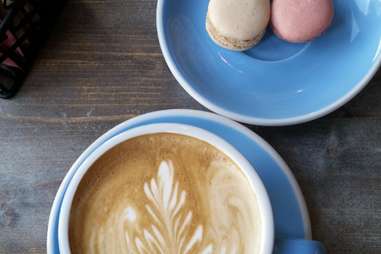 <em>234 W 238th St</em><br />
Less than a year old, this French-themed café has gotten everyone's attention with its industrial, minimalist decor -- think repurposed wood tables, metal chairs, exposed brick, pendant lights, and decorative wall frames -- the likes of which you don't often find Uptown. Mon Amour's quaint interiors pair well with its fresh-baked muffins, macarons, and croissants. But while the pastries can't be missed, the flatbreads are the go-to item here, layered with toppings like tomatoes, basil, and mozzarella or arugula, prosciutto, fig, and Gruyere.
<em>170 W 231 St</em><br />
P&amp;K's is the Kingsbridge counterpart to Inwood's Piper's Kilt. The exterior is completely nondescript, while the interior has the personality and charm of any neighborhood bar (with just a little more polish). The burgers here are named after famed athletes, and the Eli Manning bacon cheeseburger is the fan favorite. The beef is juicy and smoky, with just the right amount of crispy thick-cut bacon on top, and while the the other ingredients are fairly standard, they come together to make for a bar burger that's way better than it needs to be.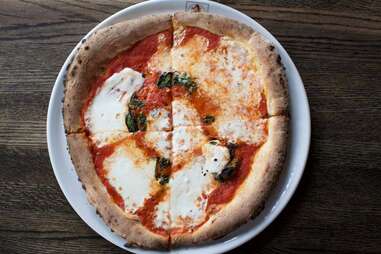 <em>2357 Arthur Ave</em><br />
One visit to 089 will confirm you've been eating pizza all wrong. The pies here are light, with a thin crust, and only three to four ingredients to maintain the perfect balance of flavor. The idea is that pizza shouldn't be heavy and packed with every ingredient in the kitchen. The crust is crisp but doughy, thanks to the 900-degree wood-burning oven; the San Marzano tomatoes aren't too acidic; and the thick, spicy soppressata puts standard cuts of limp pepperoni to shame. Do yourself a favor and skip the margherita pizza -- as good as it might be, the standout is the sweet and surprising butternut squash, truffle, and mushroom-topped La Cirilo.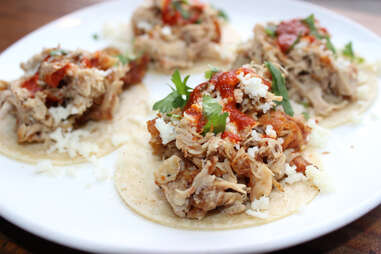 <em>112 Lincoln Ave</em><br />
Charlies has called the historic, landmark Clock Tower building in Mott Haven home since 2012. While food is predominantly modern American with Southern flair, plenty of other cultural twists are sampled throughout the menu (see the jerk chicken or spaghetti pomodoro). And the cocktail menu has just as many interesting options, like Rumble In The Bronx, made with rum, passion fruit, lime juice, agave, and mint -- which goes perfectly with the punchy, sweet CBK wings.
<em>2370 Belmont Ave</em><br />
Although Antonio's is situated off Arthur Ave, that doesn't hurt business one bit. Loyal customers and New Yorkers who care about Italian flock to the trattoria for its red sauce, pastas, and chicken Parm. A meal at Antonio's starts with fresh-baked bread from the brick oven, which you can enjoy while poring over the very extensive wine list. Nearly every dish is made with ingredients sourced from local artisan shops like Borgatti's Ravioli &amp; Egg Noodles, when not made in-house (like the handmade gnocchi, which is as pillowy as it should be). Eating here just feels like home -- not just because the food is made to taste like "Nonna's," but also because of the friendly staff and familiar faces of the regular clientele.<br />
<br />
<em><a class="vortex-open" data-campaign="2842" href="https://signup.thrillist.com/&quot; target="_blank">Sign up here</a> for our daily NYC email and be the first to get all the food/drink/fun New York has to offer.</em>
Tameika Lawrence is a Bronxite, foodie, and the creator behind the Bronx Food Blog. When she's not eating locally, she's just eating in general. Follow her on Twitter.