It basically means "naked" in Peruvian, but you should probably put on at least a tank top before heading to Williamsburg to enjoy the much larger offshoot of Desnuda, the East Village ceviche fave from the team behind Gin Palace, Amor y Amargo, and Death & Co, whose BK outpost gets a cocktail bar in the back, walls plastered with vintage maps, and the giant leaf fans that still don't like Ryan. The marine explorer vibe is supported by porthole-esque holes in the wall and globe-like lights. While the East Village joint is basically just a bar, this one boasts a raised dining area that's still within eyeshot of the bar so you can see the "show", which involves bongs and flames. And bongs. More on those later. It's also got a mirror-topped, semi-private table for large parties/people curious about the tops of their friends' heads. Here's that flame totally brulee-ing the crap out of a sweet potato... ... for the Ceviche de Salmon, which's topped with shaved almonds, Thai chili oil, and orange slices. It's ok to break the "tobacco only" rule on gravity bongs when you're using tea -- here they light it up, then use it to smoke oysters bar-side. That's how it's done Somehow, this is NOT the baked oyster -- that one's done up with a tarragon-shallot compound butter. The Wild Striped Bass with yuzu, ponzu, and shichimi togarashi is seared slightly by pouring hot chili oil over it. It's actually a special, but if you ask for one of the former one-nighters and they've got the ingredients on-hand, they'll generally make it for you. If you're after cocktails, just head right to the back and pull up a stool at the hottest bar around... ... because it's stocked with crazy-ass peppers grown by their hookup at Nobska Farms on Cape Cod, including the Devil's Tongue, the Pasilla, and the Moruga Scorpion. That last one was the hottest pepper in the world a couple years ago, "but just like weed, they keep coming up with stronger and stronger versions". They also make all their juices and tinctures in-house, then throw 'em on this spice rack. Those are employed in a tight selection of cocktails like this Repent & Drink (even though that's usually reversed) with pisco, kiwi/jalapeno shrub, and Lagunitas IPA. And here's the Fruit Matter loaded with akvavit, cantaloupe syrup, orange bitters, and yerba mate, lending it a nice "earthiness", likely because too many will put you on the ground.
Recommended Video
Where to Get the Best Waffle Fries You'll Ever Eat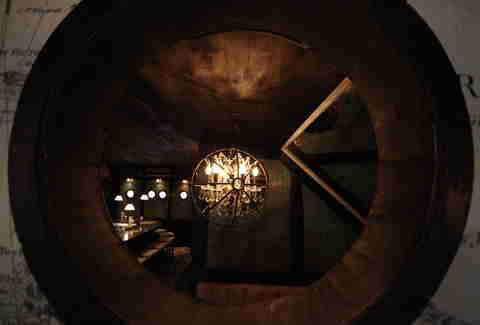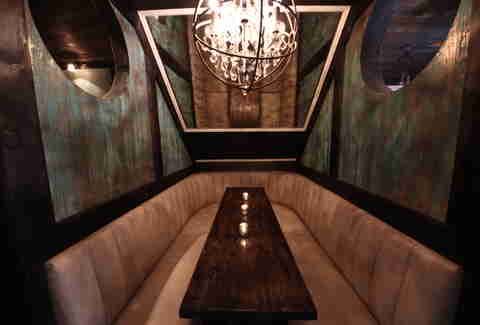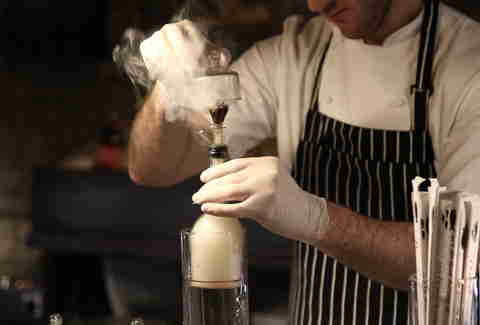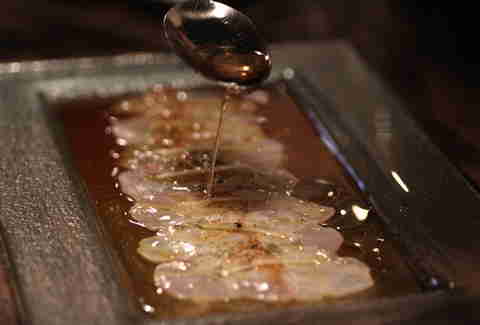 Previous Venue
Next Venue
Venue Description
1. Desnuda
221 S 1st St, Williamsburg, NY 11211
This Williamsburg outpost serves up traditional Peruvian ceviche, creative pisco cocktails, and signature gravity-bong smoked oysters. The main focuses at this date spot, however, are the daily oyster happy hours and extensive South American wine selection.