Obviously, BBQ rocks, but never so much as when it's cooked in a rock 'n roll-themed beer and whiskey bar, injected with bourbon, and followed up by a game of pool. That's just the way it goes atthe impressively named Bed-Stuy BBQ spot Beast of Bourbon, a sprawling, sometimes-intimidating new addition to the NYC BBQboom and possible creator of "Drunken BBQ"-style smoked meats.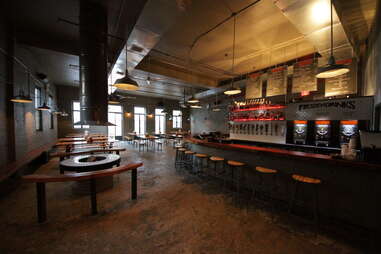 What you get from the massive main dining room: tons of communal tables, a back alley for outdoor eating, and a fire pit, which hopefully someday will actually be turned on.
It's all counter service here, so roll up and ask for the brisket. It's cooked for 20hrs with bourbon and apple cider, as well as some secret spices pitmaster Frank opted not to share, then -- get this -- injected with bourbon. In their quest to sneak booze into as many things as possible, they even spray down your tray with a bit of the good stuff before sending you on your way.
Yeah, you know what this is? It's hand-carved bacon, which has also been injected with bourbon (so has the pulled pork, fyi), and it's very, very amazing. You can get it on its own, but it also bolsters many of their sandwiches...
Here's the PBR, which is their pulled pork, bourbon bacon, and relish on bread so perfect that, again, pitmaster Frank declined to say where he got it from. Others include the Hanoi Rocks with pulled pork and kimchi collard greens, and the Gobble Gobble Hey! made with BBQ turkey and that oh-so-blessed bourbon bacon.
They don't force it on you, but if you want a little something extra they've got four sauces: tangy mustard-based (duh!) Mean Mr. Mustard, Straight Edge vinegar-style, Ruby Soho loaded with a ton of local dried peppers, and the Whiskey A Go Go, which has the most expected flavor profile save for the fact that it's made with three bottles of Evan Williams Green whiskey for every five gallons of sauce.
Little Mason jars of pie for dessert: it's cute, but you'll still want to do it.
The massive horseshoe bar is front and center, as is the steer skull lording over it. With over 100 options, the focus is on bourbon, as well as craft beer. You can get all 45 taps (three nitros) by the gallon, including Singlecut Dark Lyric, Ommegang Scythe & Sickle, and Boulder Sweaty Betty.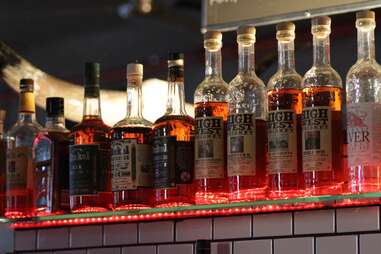 Flights with familiar rock names are also available, like the Dr. Feelgood rye lineup, or the Bad Medicine series of clears.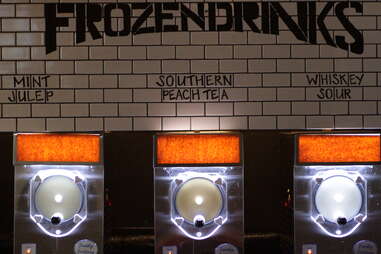 And although they'll make you whatever cocktail you want, the only house cocktails they're rolling with are a rotating group of frozen whiskey drinks in Slurpee machines, like mint julep, peach tea, and whiskey sour.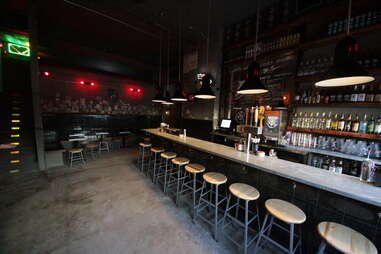 They've also got an adjoining dive bar called "The Fyling V" that does cheap drinks and cheap food. "Most everything is under $5", and the hot dogs are even done-up with things like pimiento cheese or that collard green kimchi.
There's an 80% chance you end up in the pool loft... or a 100% chance, if you can actually find it.