Now, you may be saying to yourself, "Italian ramen? What'd they do, just pour some broth over linguine?" And the answer, technically, is "yes", but there's so much more to it. The frankenfusion masterminds at Cobble Hill's Brucie are throwing their hat in the crazy-awesomeramenring making the broth with bacon and Parmesan and pairing it with a perfectly textured home-made linguini fini that actually tastes remarkably like ramen.It's also got a ton of other next-level accoutrements, and just so you don't get TOO weirded out, it's served with a Sapporo. The rundown:
The meatball is bursting with flavor thanks to smoked short rib that's waiting to put a little more meat on your ribs.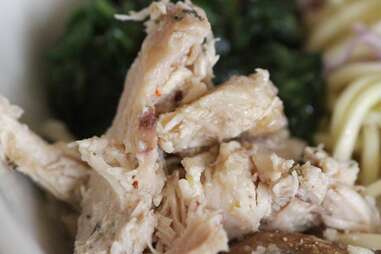 The chicken brings a little more of a typical ramen flavor to the mix, as it's been marinated in chili flake, red vinegar, and sesame oil.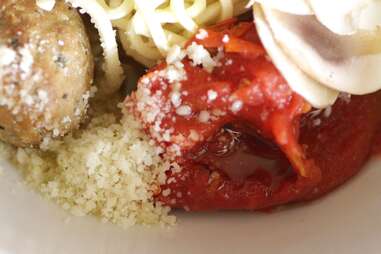 They've also confited a tomato in olive oil and plopped it in there. Pro tip: mix it in for maximum affect.
The soft-boiled egg, like your friend after a few too many, is a boundary crosser, common to traditional ramen as well as a familiar flavor for many Italian sauces.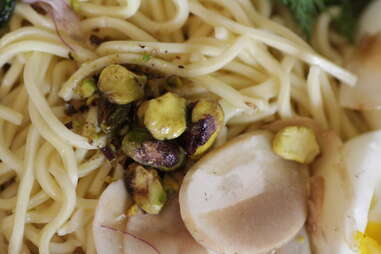 There's also a significant Sicilian influence in the offers you can't refuse flavor profile, courtesy of these pistachios, as well as sauteed radish greens...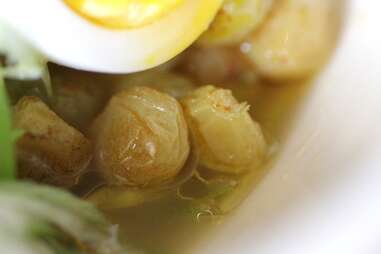 ... and pickled raisins, which add a tangy sweetness that really ties the bowl together.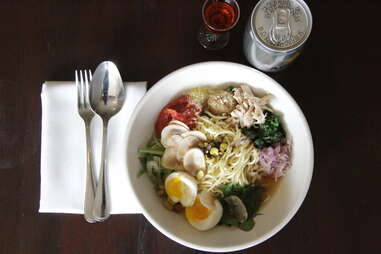 Oh, did we mention it also comes with a Negroni shot? Because it totally comes with a Negroni shot. That's a move the Japanese might actually want to copy.