Grindhaus

| Cole Saladino/Thrillist
Grindhaus

| Cole Saladino/Thrillist
When I posed the idea of combining Manhattan and Brooklyn's burger quests into one story, my editor freaked out. "YOU CAN'T DO THAT," he said, as spittle flew everywhere. "THERE ARE TOO MANY DELICIOUS BURGERS IN BOTH PLACES! WHY DO YOU TEST ME LIKE THIS?" I think during that last sentence he actually might've been talking to God.
Anyway, in an effort to not get fired, I planned an entirely separate trip to Brooklyn to eat burgers to compile this companion list to my Manhattan ranking. This time, I stayed in Brooklyn. I wore slightly tighter jeans and contemplated beanies. And I ate lots of delicious burgers, in places that ranged from posh hotel bars and seafood joints, to debauchery-laden old steakhouses.
In case you're new to my rankings, here are some guidelines: If the restaurant had multiple burgers, I tried to order its signature burger, or if that was too outlandish and stunt-y, the closest to a classic cheeseburger. If it came with options, I always picked American cheese and grilled onions. If you think I missed a place, please write out your complaint on an old-timey scroll and have it delivered by penny-farthing to my reconstituted artist loft. But until then, here are the nine best burgers in Brooklyn.
9. Billy Burger
Cobble Hill
Names like this confuse and infuriate me, so I was already in a mood when I got to the bar. But then the burger came and the pain went away. This is a solid, consistent bar burger. The bun was squishy and soft, but well-buttered and griddled. The meat, from local butcher Los Paisanos, is loosely packed together and gives off none of that snap you often get in lower-quality situations. I actually liked almost everything about this, with two minor quibbles: 1) The grilled onions were undercooked and lacked that true caramelization that brings out the flavor, and 2) the meat was slightly overcooked, so by the third and fourth bites, it had tightened up slightly and dried out. Still, this is a damn good burger. Brooklyn's just tough competition.
8. Reynard Burger
Williamsburg
Amidst many men with fashionably long hair wearing cowl neck sweaters and expensive non-prescription eyeglasses, I sat at the bar at this Pete Wells-reviewed restaurant in the Wythe Hotel, looked down at my clothes, and realized I was still wearing my go-to "cool" clothes from 2011. But enough about personal insecurities, let's talk about the burger.

The Reynard Burger comes with extremely intense caramelized onions, the type that feel at home in French onion soup, as well as Gruyère (another onion soup favorite!), which I rate as the second best melting cheese on burgers, in case you were wondering. The meat had some serious funk, but a nice loose grind and good texture. The challah bun was well buttered and griddled, but still flaked. The main issue with the Reynard Burger is one of balance. Everything about it, from the funky meat to the onion soup accoutrement, all shout butter and cream and meatiness, but there is not a ton of acid to tilt the scale evenly. Putting the aioli and the house-made ketchup on the burger is a start, but some intense pickles would go pretty far.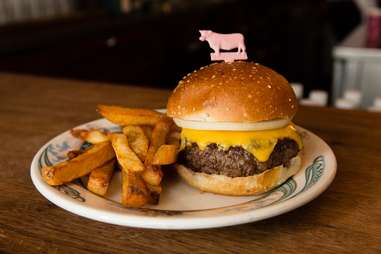 7. Luger Burger with cheese
Williamsburg
When my brother and I walked into Lugers for lunch, Ed Burns was walking out. "Of course that was Ed Burns," my brother said, eyeing the restaurant. We opted for spots at the bar, surrounded by firemen on their day off getting plastered. The bartender had the most fantastic Brooklyn accent I'd ever heard. It was a good start.

It got better. The burger at Peter Luger -- which is only served at lunch -- is a meat masterpiece of sorts. As much as I love American cheese, I felt like it was doing the meat a disservice by being melted on top. Like at Reynard (and to some extent, The Long Island Bar), there is some funk and age to the Luger burger from the dry-aged porterhouse trimmings mixed in with the chuck. The burger was cooked perfectly, pink in the middle, and seared and salty on the outside. The sesame bun held up to the mass of liquid that poured out as I bit in. It's a great burger, and certainly one to seek out, but it almost feels beside the point, given the quality of the steaks.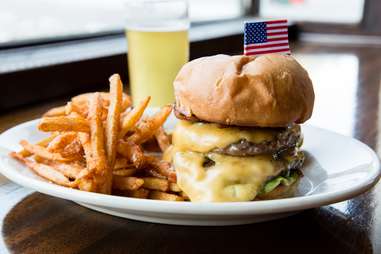 6. The LI Burger
Cobble Hill
If you had to give a superlative for the handsomest fancy version of a poor man's Double-Double, the LI Burger would take that crown. It is an aesthetically pleasing burger that looks somewhat simple, but alas, is not. The cheese, you see, is actually house-made American, those double patties are dry-aged to offer up some true funk, and the "fancy sauce" is indeed fancy and tomato-y, with sour pickles in the mix to balance all of that funk and cream. Also, if you don't get the fried cheese curds and wash it all down with a Long Island Gimlet, you will regret it forever.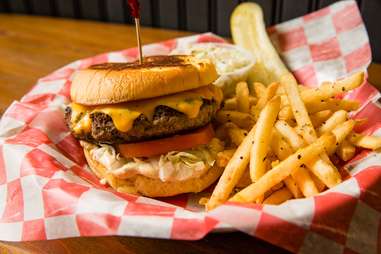 5. Hook Burger
Red Hook
Who knew that a lobster roll joint would have one of the best burgers in Brooklyn? Well, apparently everyone the day I rolled in, because it was so damn crowded. But eventually, after a good number of minutes pretending to read a book I bought 18 months ago on my phone, I got my chance to eat it, and I nearly got back in line to re-up. Yet another member of the Brooklyn dry-age mafia, this burger has short rib, chuck, and brisket, and is a relatively thick patty with a formidable loose grind, and enough funk to make you run your tongue over your teeth.

The Martin's potato bun is griddled and buttered on BOTH SIDES, which was almost like eating a burger within a grilled cheese, or some very delicious toast. My main criticism of the burger is just that the richness of the meat lacked a ton of balance -- the lettuce and tomato offered some fight, as did the slightly sweet special sauce, but really, that's a small pothole in the Hook Burger's boulevard of greatness.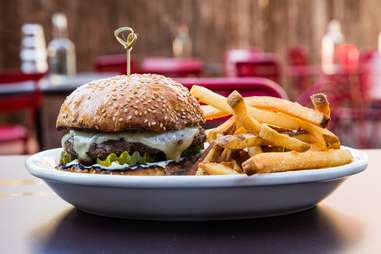 4. Hamburger with Gruyère
Prospect Heights
Imagine the best backyard cookout you'd ever had, with a wood-fired grill and handsome guests and cocktails and all of that. Imagine you are manning the grill, and you pull off a burger at just the right time, so it's salty and juicy but pink in the middle. Imagine you top that with just a quick smear of mayo and some Gruyère, pack it in a perfectly toasted sesame seed bun, and go about your business. That is what Rose's burger tastes like. The best backyard burger you could never make. Be warned.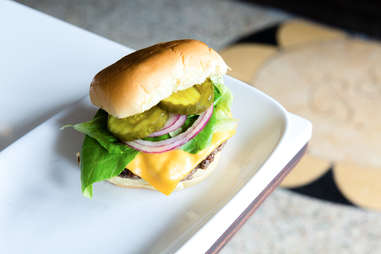 3. Single Burger with American
Gowanus
When I arrived at Wilma Jean on a cold, sunny day, nearly everyone in the restaurant was eating chicken sandwiches. And I get it -- chicken sandwiches are delicious. But after biting into the Wilma Jean burger, I wanted to shout into everyone's faces, "WHY ARE YOU FORSAKING THIS BEAUTIFUL BURGER?!?!"

There are no fancy elements to the Wilma Jean burger. The patty is medium-thick with great char on either side. It's salty and buttery and has a clean beefy element. The American cheese melds with the beef, and there are the side accoutrements, of which you should merely add the pickles and a few onions to give it some acid and tang. It really needs nothing else.
2. Le Big Matt
Williamsburg
Has there ever been a more Instagrammed restaurant than Emmy Squared? Before I got there, I felt like I knew every item on the menu, thanks to the thousands and thousands of people sending out "Chad was here" stamps of internet approval via social media. My naturally cynical brain is designed to resent and/or openly dislike places that've reached this sort of status, so I went to Emmy Squared with something of a chip on my shoulder and an inkling to dislike the burger. As with most judgments in my life, I was wrong.

The burger at Emmy Squared is fantastic. The pretzel bun seems like it would be too big and cloying but it was actually light and airy and manageable (except right in the middle where the dough was thickest). The patties were each cooked to a perfect medium, with a nice sear and laid-back grind. The spicy Thousand Island and the pickles gave it substantial doses of both acid and heat, and I realized how much I love just a little bit of fiery spice to push flavors over the top. Other than the minor issue with the bun, the burger was unassailable. I might've even taken a picture.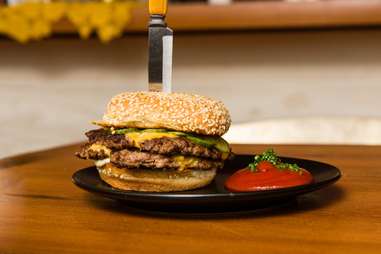 1. Haus Burger
Red Hook
Fleishers Craft Butchery in Red Hook is well-known for fantastic meats, so when I read on Grindhaus' website that it grinds said Fleishers' cow in-"haus" several times a week, I teared up. And when I bit into the burger, I think I actually started crying a little bit. Both of the patties were perfectly cooked, with a Maillard reaction so intense you could see the elements of crispy beef flaking off the ends. The cheese, house-made pickles, and special sauce all teamed up to attack my taste buds Captain Planet-style, melding together in beefy, salty, (porky, maybe?), creamy glory with just enough acid to keep balance. And that sesame seed bun somehow miraculously managed to hold everything together. Go get this burger now, friends. Run. Bike. Take one of those dangerous hoverboard Segway things. It's worth the risk. It's the best burger in Brooklyn.
Sign up here for our daily NYC email and be the first to get all the food/drink/fun New York has to offer.
Kevin Alexander is Thrillist's national writer-at-large, chief burger critic, and soon to be biggest fan of cowl neck sweaters. Follow him to freedom/Twitter @KAlexander03.