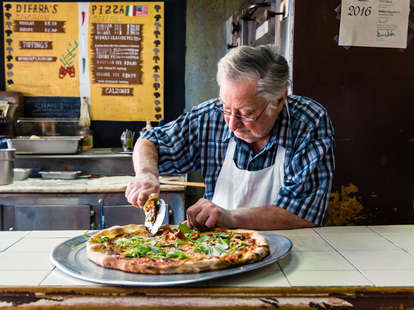 Cole Saladino/Thrillist
Cole Saladino/Thrillist
Peer through the window of the unassuming storefront on Avenue J and E 15th St in Brooklyn and most days you'll see the same sight: Dom DeMarco, the 80-year-old owner of Di Fara Pizza, massaging pizza dough into a thick base, spooning chunky tomato sauce on top, then adding hunks of mozzarella, a dusting of Parmesan, and a glug of olive oil from an old brass kettle. After giving the pizzas a quick bake in the oven, he'll chop fresh basil atop each pie with a pair of scissors that, at this point, have molded to the grooves of his fingers.
In a city that's overflowing with pizza joints, it is precisely this scene -- a lifelong pizza maker crafting each pie by hand, day by day -- that has made Di Fara New York's most fabled slice destination. But now, for the first time in the restaurant's 51 year history, things are starting to change: The Di Fara experience is no longer one that always centers around DeMarco.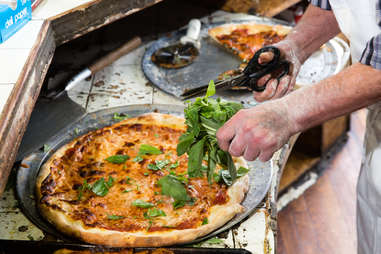 Resistance to change has paid off
Dom DeMarco opened Di Fara in 1959 after immigrating to New York from Caserta, Italy (just north of Naples, the country's pizza-making capital). He chose a corner space near the Avenue J subway station in the undeveloped neighborhood of Midwood, which, in the '80s, became a predominantly orthodox Jewish community, prompting almost all of the non-kosher restaurants in the area to close. "My dad didn't want to leave," says Dom DeMarco, Jr. "Everyone was telling him, 'You've got to go.' But he didn't see that. He just wanted to make the best pizza he could make with the best ingredients. He figured people would come here if the pizza was good, kosher or not." His resistance to change paid off: "It was one of the best decisions I have ever made," Dom DeMarco Sr. tells me as he stretches out a big piece of dough for one of the hundreds of customers that'll come to the restaurant that day. "I'm the only one who has lasted for 50 years."
It's not just the location that has gone unchanged all these years. The pizza recipe, the exact ingredients (he sources almost everything from Italy) and the process is the same as it was several decades ago. And, with the exception of a forced redecoration in the '70s ("The landlord made him add paneling and paint the walls because everyone else on the block was changing their look," says Dom DeMarco, Jr. "My father was crying when it happened."), the space has remained nondescript: no outside lighting; wrinkled, whitish-beige walls; a couple framed photos of old press clippings; five or so rickety tables; and Dom DeMarco Sr., in his usual post next to the pizza oven, as the center of attention.
It was all about Dom... until now
On any given day, you can ask anyone standing in the one to three hour line at Di Fara why the pizza is so special, and the answer will have to do with the fact that it's still Dom DeMarco Sr. making each pie. "The process is the same, the pizza is the same, the ambiance is the same, the crowd is the same, and the fact that it's that same guy doing the pizza is what makes it phenomenal," says Shane Banks, a Tulsa, OK native who always stops at Di Fara when he visits New York. "They aren't trying to fix issues that don't exist."

During the restaurant's first few decades, Dom DeMarco Sr. worked seven days a week, establishing himself as the face behind the pies. At first, it wasn't necessarily a policy for Dom to make every single pizza -- but according to Dom DeMarco Jr., "My father did an interview where someone asked if he made every pie, and he mistakenly said yes. When he saw that statement printed in the article, he said, 'I said I made every pie, so now I have to make every pie.'" He didn't take his first day off until 48 years in the business. "He's someone who was always determined," says Margaret Mieles, Dom DeMarco Sr.'s daughter. "It takes a brilliant man to stand in one spot making pizza after pizza for so many years."
"I SAID I MADE EVERY PIE, SO NOW I HAVE TO MAKE EVERY PIE." -- Dom DeMarco Sr.
But at 80-years-old, his children tell me, Dom DeMarco Sr. doesn't have the energy he once did -- and the restaurant has had to adjust accordingly. "He has slowed down a lot," Mieles says. "My dad is a very proud man, he pushes himself to do the best, but he can't produce as many pizzas in an hour as he could when he was younger and stronger." As a result, he's taken a pretty significant step back from the business. All but one of his seven children now manage most of the day-to-day operations, and while he still makes pizzas, he now takes Mondays and Tuesdays off; and on the days that he works, his sons will occasionally sub in to work the pizza station so he can rest. "I feel OK about it," Dom DeMarco Sr. says, quietly, about the recent changes. "It's still my recipe. People still come. I just don't want to sit around and do nothing."
Still, that does mean that on certain days, customers don't get to experience the defining attraction of the restaurant -- watching Dom craft the pizzas behind the counter -- and for some guests, that's a deal breaker. "I'm sure his kids are well trained... but we would be disappointed if he wasn't making them," says April Banks, a regular visitor from Oklahoma.
Jessica Begley, who has been trekking to Di Fara from the Upper West Side for several years now, compared the recent changes at the restaurant to what befell another one of her favorite pizza spots, Sal & Carmine's, whose owner, Sal Malanga, died in 2009, leaving ownership in the hands of his grandson. "After Sal passed away, I can't lie, there was a difference," she says. She's been to the restaurant once when Dom DeMarco Sr. wasn't working the pizza oven, and says that although the taste was consistent, "there's something amazing about seeing Dom when you walk in the door. You know the quality you are going to get, you know how much of his heart goes into the business."
"CHANGE IS GREAT, BUT FOR THE PIZZAS, I BELIEVE IN DOING THINGS THE OLD WAY" - Dom DeMarco Jr.
Though Dom DeMarco Jr. acknowledges that most people come to Di Fara to see his father in action, he's confident in his and his siblings' ability to win over customers even without his dad so frequently in the picture. "I've been here since I was 7," he says. "We have never strayed from what my father showed us. Change is great, but for the pizzas, I believe in doing things the old way. Anything I do is always what he taught me."
Di Fara: now delivered to your door
Another sign that Di Fara is shifting its focus away from the Dom-centric experience: The restaurant started delivering via UberEATS this past November. This is Di Fara's first major foray into delivery; Dom DeMarco Sr. says he tried delivery a long time back, but quickly gave up because it was too much of a hassle. The turning point came when Mieles took over the business side of the restaurant and got a call from UberEATS about being a launch partner. "We received all these awards -- best in Brooklyn, best in New York, then best in America, and I was like, where do we go from here?" Mieles says. " I loved the idea of getting our pizza to people sitting in an office." And while for most restaurants, delivery ends up being a separate revenue stream, the choice to put Di Fara on UberEATS had nothing to do with money. "We're only capable of making a certain number of pizzas, so it's not actually increasing sales," she says. "It's just about making things more accessible."
The transition to UberEATS has gone relatively smoothly. Dom DeMarco Jr. will come in early to make a few extra pizzas that are ready to be popped in the oven for delivery orders, but most of the time, Mieles explains, the restaurant is too busy to enable delivery (meaning you won't always find it available on the app). The most important piece for her during the transition has been making sure her father doesn't have to do anything different when the orders come in: "He doesn't really complain, as he still gets to do his job," she says. Getting on UberEATS might seem like the beginning of a push toward technology for the still-cash-only restaurant, but Mieles stresses that she feels no compulsion to modernize: "This is the only trend we will ever latch onto." Case in point: Di Fara doesn't even have a website, its Twitter and Facebook presence is extremely minimal, and its Instagram contains only three posts, the last one of which was posted three years ago (in contrast, the Di Fara Pizza geo-tag counts thousands of posts).
"I see places like Carnegie Deli close down that have been in business for so long." -- Margaret Mieles, DeMarco Sr.'s daughter
What's next?
Although UberEATS isn't a profit-motivated move, Di Fara still faces the financial stresses of being a restaurant in New York. "I see places like Carnegie Deli close down that have been in business for so long, and it makes me very sad," Mieles says. "Just because we are popular doesn't mean we don't struggle to stay in business. We have a new landlord this year. Our rent is extra heavy. My dad is getting older, and he's not moving any faster." It's not easy to make change at a place that's anchored by uniformity, though. The restaurant tried adding Monday service at the end of last year, to provide an extra day of revenue, but "everyone was so used to having Mondays off, so no one wanted to work." Mieles also says she doesn't want to modify anything in a way that would affect the customer experience or compromise on the quality of the ingredients: "Our family has dedicated our lives to this place. I just feel like, as long as we have our health, all the other stuff, we can figure it out. But we can't change our product."
In an effort to evolve and also, in part, to avoid becoming the next Carnegie Deli, Mieles continues to get creative with how Di Fara can serve more customers. She's considering launching on Amazon's new restaurant delivery platform, and hiring more pizza cooks (who typically just prep and assist) to allow for higher production -- a somewhat big step, considering Di Fara has only been working with these non-family cooks for about two years. She's also looking into turning the unused space her father owns next-door into a late-night operation to bring in additional revenue (Di Fara is currently only open until 8pm). Both of these adjustments mean that Dom DeMarco Sr. will be even less of a permanent fixture. "The waits are becoming longer not because there are more people, but because of how long it takes my dad to get out a certain number of pizzas," she says. "I'll never pressure him to move faster, so we have to find ways to expand our hours and hire new people to make pizza without hurting my father."
Thankfully, Dom DeMarco Sr. has no plans to stop churning out pizzas anytime soon, so long as he continues to get to do it his way. "The way I start is the way I keep going," he tells me. "People come from all over for my pizza. I like what I do. You no change something that is already good."
Sign up here for our daily NYC email and be the first to get all the food/drink/fun New York has to offer.
Priya Krishna is a New York-based food writer and the proud owner of a pizza-shaped trophy that reads "Winner 2014: PIZZA-EST." Follow her for both pizza and trophy pics at @PKgourmet.