Dinosaur BBQ now has two NYC locations, and this one serves "Breakfast All Day"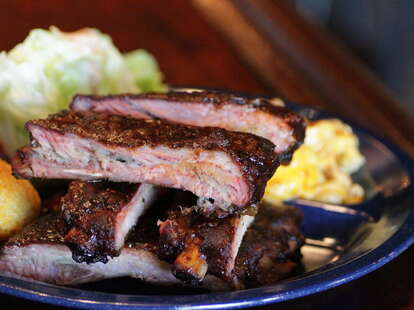 In a move that thankfully ensures it's the opposite of going extinct, Dinosaur BBQ just opened a second NYC outpost in Brooklyn. This one's set up like a massive barn full of brick, wood, and pig art (if a pigs drinking beer are art to you, and they should be), and pumps out so much of that glorious BBQ smell that you can smell it the second you step off the R train.
Their new ridiculous sandwich is the Pork Chow-Chow crammed in a Portuguese roll. The pig is topped with hoisin sauce and a green tomato chow-chow, which is essentially a chunky relish, and it gives the dish a nice sweet & sour flavor.
Breakfast All Day. That's both an ethos and the name of the dish. The chef is a total "hash freak" (heady, bro), so he's been dying to get this BAD boy on the menu for a while. It's brisket, 'tatoes, poblano peppers, and caramelized onions, all pan fried until super crispy, then topped with a sunny side-up egg. Congrats, now you're a hash freak, too.
Here comes the Dino Poutine: beef gravy on pulled pork on fries on pimiento cheese.
Perhaps you're looking for something a bit less earthy? Grab the sweet tea-brined catfish. That brining takes 4hrs, then they cold smoke it over smoldering hickory before finally grilling it.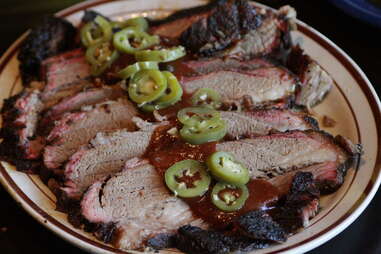 The brisket is not new, but it is delicious.
You wish, little piggies. You wish.