Melissa Kravitz/Thrillist
Melissa Kravitz/Thrillist
Osakana isn't your typical fish market. First off, it doesn't smell fishy, an excellent indicator that all the seafood is seriously fresh. Second, the daily selection is presented with a higher level of elegance: each variety is displayed in its own ceramic serving bowl, treated more like fine jewelry than the usual catch of the day piled atop ice.
Even more striking: none of the fish are labeled. Surveying the merchandise -- silver-skinned, pink, and ruby-red fillets, and bone-on fish collars, all hand-selected earlier in the morning from Fulton Fish Market -- is tantalizing, but also leaves you wondering: what is this stuff? Salmon? Tuna? Something more exotic?
The mystery is the whole point. In Japanese, osakana means "honor your fish." And that's what proprietor Yuji Haraguchi is hoping to instill in his customers: a greater appreciation and understanding of the ocean's bounty. He wants you to ask questions and start a conversation. More than just shopping for a healthy, high-protein dinner, it's an educational experience.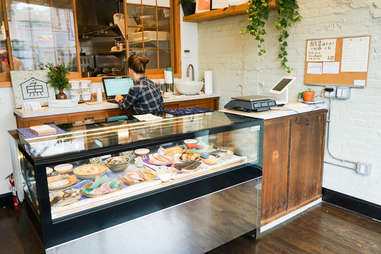 "People have no idea what they're expecting when they come here," Haraguchi said. "Whatever looks good, they should ask more about it, we can always help. Our staff always explains about each fish option, how it [tastes] and how it is prepared, what the best instructions are for cooking… Through the conversations, you'll learn more about the fish options."
Haraguchi came up with the innovative idea after fielding questions from curious customers at his sushi restaurant, Okonomi, in Williamsburg. Patrons wanted to know where to buy fish and how to prepare it at home, so he decided to open a second business that would cater to their needs.
A Kickstarter launched in early 2016 to develop the concept. After generating more than $57,000 in pledges, Haraguchi and his team opened the Japanese-style fish store, located just a short walk from his existing restaurant.
"There is really no place like this," Haraguchi said inside the tranquil new shop on Graham Ave. "I feel like this country is very heavy on the meat. Fish is becoming more and more available, but more at restaurants and when dining out. At home, there are not a lot of options for buying fish, so we wanted to offer that option."
With a tightly curated selection of a dozen or so varieties, each helpfully divided between fish to cook and fish to eat raw, the purchasing process feels less daunting than at a seafood market with deal-hawking fishmongers, or even at a supermarket where the tilapia comes from who knows where. Heck, who knows if it's even real tilapia? The calm, super-chill staff at Osakana is here for you. "We provide enough information so no one feels left alone," Haraguchi reassured this fish-cooking novice.
Those who feel ill-equipped to take home a piece of fluke and indulge in homemade sashimi (even though Osakana will cut it for you) can enroll in a daily class, held behind the small store space at a sushi counter. Hour-long classes, priced at $35 each, range from "Fifty Shades of Tuna" (no bondage, we think) to "Sashimi at Home" and "Ramen at Home," and yes, you get to eat in class.
The market also makes a ramen stock out of the seafood bones and scraps, to be purchased at the counter and heated at home. It makes a really great liquid substitute for the seasoning packet that comes with your Top Ramen.
Those ready to supplement or skip your weekly CSA box of veggies (or delivery bento box, honestly) can also pick up Osakana's increasingly popular omakase box, a $50 set which comes packed with sashimi, ready-to-cook seasoned fish, and two portions of fresh fish to be prepared as you like.
"We want people to see the passion we have," said Haraguchi.
And once you taste the fresh fish, it's easy to get hooked.
Sign up here for our daily NYC email and be the first to get all the food/drink/fun New York has to offer.
Melissa Kravitz is a writer based in NYC who used to look forward to eating free fish heads when she worked in restaurants. She considers writing about local fish fillets a major upgrade.