Now You Can Get Smorgasburg Delivered to Your Apartment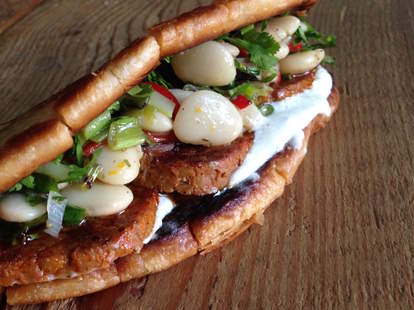 Forget about the crowds. Forget about the L train. Soon, you'll be able to chow down on Smorgasburg's most popular eats -- from the comfort of right in front of your air conditioner.
For one day only this Saturday, July 18th, Brooklyn Flea has teamed up with Seamless to offer delivery from Smorgasburg Williamsburg and the all-new Smorgasburg Queens for the first time. In other words, get ready to experience spaghetti burgers and more, minus the long lines.
Here's how it works: Delivery will mirror the simultaneous open-air feeding frenzies in Williamsburg and Long Island City from 11am to 6pm on Saturday, and just like the actual markets, you're free to eat around by mixing and matching orders from multiple vendors. Here's a look at what you can get, according to Seamless:
Williamsburg
Goa Taco - Slow-roasted Pork Belly Paratha Tacos
Chickpea and Olive - Calexico Burger
Good Stock - Jambalaya
Imperial Egg - Scotch Egg
Antica Pesa - Spaghetti Burger 
Long Island City
Kim Chi Smoke - Korean Redneck Tacos
Patacon Pisao - Crispy Plantain Sandwich 
Arepa Lady - Arepas 
Celebes Bakar Grill - Beef Rib
There's just a slight catch. Seamless tells us the service is only available in parts of its Brooklyn and Queens delivery zones for the respective markets, including most of Williamsburg and Greenpoint in Brooklyn and most of Astoria, Long Island City, and part of Sunnyside in Queens. So, you'll have to live pretty close to qualify for delivery, and um, sorry Manhattan. We're also told there's a delivery fee.
While we recommend getting out and experiencing the full-fledged Smorgasburg mass chow down at least once, now you can get a taste without getting off your ass. 
Follow us on Facebook for a steady stream of daily NYC stories, and be the first to get all the food/drink/fun/news New York has to offer.
Tony Merevick is Cities News Editor at Thrillist and, personally, thinks the Manhattan views from across the East River are worth the trip, heat, and crowds. Send news tips to news@thrillist.com and follow him on Twitter @tonymerevick.