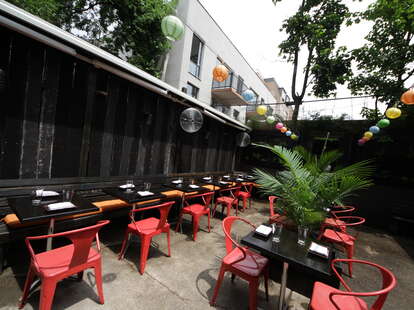 Some people go to Southeast Asia, sleep with Bai Ling, yell at her until she gives them a tattoo, and get the crap beat out of them on the beach. Others go there and decide they want to revamp the Sunburnt Calf into a street-food-slinging, black and white Kung Fu movie-playing, Sunday pig roast-having bar inspired by the bazaar stalls throughout Singapore, Indonesia, Malaysia, Vietnam, and Thailand. The guys behind Hawker Bar are the second type.
The most immediate thing you need to know about is their bun program (just $2/ piece during happy hour). They pack them with things like this grilled pork sausage (use bun to remove stick, then eat) that's got a hint of lemongrass and a little heat, in addition to pork belly, or shrimp wrapped around a lemongrass cane.
Next up? Their "stix", which get grilled over traditional binchotan charcoal and're also only $2 each during HH. The skewered goodness includes this fresh Montauk squid marinated with chilis, chili cumin lamb, and snails in black bean sauce, which joins chicken hearts, duck tongues, and fish "tofu" on the list of things they're lancing to keep you on your toes.
You're meant to take these already deliciously fried rolls and wrap them in their accompanying lettuce and herbs, which're grown right out in that garden. These are the pork and mushroom jobs.
You've probably had shrimp toast in your pupu platter or something, but chances are it wasn't as good as this shrimp toast, in which the crustaceans get spread over banh mi bread, baked, and topped with hoisin sauce. Moist, crunchy, delicious. And shrimpy.
Not only is the chicken clay pot beautiful (and colorful!), it will also sate your larger-than-things-on-sticks needs with braised chicken, bamboo, coconut, a soft-boiled egg, and "caramel sauce", which has nothing to do with your favorite candy bar (Caramello, probably) and everything to do with being a delicious, savory, yet slightly sweet, Asian sauce.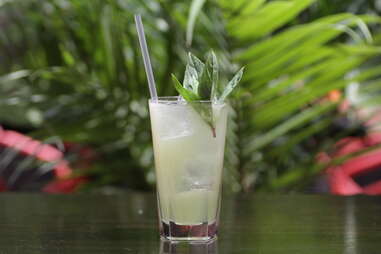 'Tails are A) named by number, B) refreshing as crap, and C) created by Greg Seider of Summit Bar, including this No. 1 with Thai basil-infused agave, vodka, house-made rhubarb bitters, and fresh lemon.
The No. 3 will cool you off thanks to Bison Grass vodka, lychee puree, angostura bitters, and Maine Root ginger beer.
If you MUST go inside, things are still pretty sweet -- the front doors are open, and it looks like you're in some jungle hanger that's way too small for any kind of plane. And as mentioned above, they play black and white kung fu movies, and even the new ones get transferred over to black and white, because this is Brooklyn.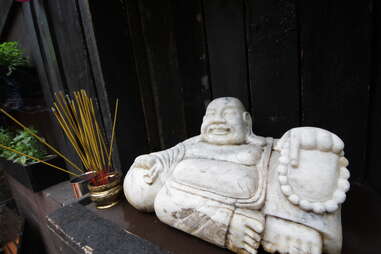 Before you leave though, definitely go back out and rub the Buddha.