Exactly how to woo a date at Atrium
Date spots: everybody needs them, and nobody wants to ask their buddy Truck if he knows a good one. So we'll tell you right now: head out to Atrium in DUMBO, which has the built-in romance of up-close bridge views and nearby strolling options and is helmed by Chef Laurent Kalkotour, who's bringing his French influences and upbringing to American cuisine. The space took over the spot where Governor was formerly housed, and it utilizes the same giant windows and bi-level setup with an interior balcony overlooking a lush live wall and an open kitchen on the ground floor. That's exactly where you'll want to stake out a table when you bring your date here, and since you'll want to act like you know what's up, here's a handy primer on the must-eats, as well as some conversation points in case you run out of hilarious Bieber anecdotes.
Your Starter: Start things off with with this smoked ricotta gnudi (bonus points for the suggestive name) topped with squash, nasturtium, and a tomato sauce poured tableside that's a lot like gazpacho.

Your Conversation Starter: "Nasturtium is an edible flower -- other edible flowers include chrysanthemums, lilacs, and pansies. Chrysanthemums pair excellently with Hot Pockets."
One of You Should Get This Main: The Atlantic cod. It's got a nice, light sauce, marble potatoes, olives with a little kick, and a nest of potato strings that're resting on top and are meant to be smashed and mixed in.

Conversation Starter: "Have you read the book Cod? It's a wondrous dissection of how cod changed the world, and it won a James Beard Award in 1999."
The Other One Should Get This Main: Pork belly! It's crispy, melty, and fruity all at once, and it's adorned with a peach roasted with brown sugar, a sauce of its natural jus, and roasted baby corn with mint.

Conversation Starter: "Did you know that baby corn is actually baby corn, as in it's just picked much earlier? Well, it is."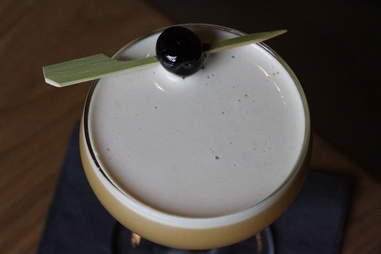 You Both Should Get This Cocktail: The move during dinner is the affordable yet well-crafted wine list, but before and after it's all about market-driven cocktails. This is the Cognac and Pumpernickel, which's made with (surprise!) cognac that's been "soaked with pumpernickel" (actually, that is pretty surprising), plus tea, marmalade, and orange bitters.

Conversation Starter: "Marmalade is a vaguely British thing, and speaking of that, isn't the royal baby just AMAZING?!?" Deal sealed.