From partners Sue Walsh, the first mate, and Kelli Farwell, who's a master captain with a serious culinary resume (Gramercy Tavern, Craft, Rye, DuMont Restaurant), comes The Water Table, Brooklyn's first-ever restaurant on a boat. This water-bound, double-decker is built inside an old WWII midshipmen training boat that leaves from Greenpoint and ferries you around NY's waterways in an environment that's "more casual-tavern than ballroom-dancing-and-platters-of-cantaloupe". Naturally.

Recommended Video
There's A 'Mean Girls'-Themed Brunch, and It's So Fetch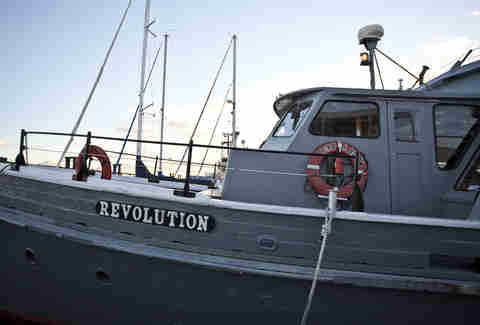 If you've never seen a boat restaurant before, this must be a real revolution... err... revelation.
The interior is filled with just a few tables, nautical art, old photos of the owners families who were all in the Navy, and delicious booze (oh thank god), which's used to make classic tipples like hot-buttered rum, Negronis, and Sazeracs.
The food is always a prix fixe and New England-inspired, with ever-changing seasonal options consisting of coastally-tinged goods like lobster rolls, bouillabaisse stew, and the surprisingly-has-nothing-to-do-with-Jean-Claude-Van-Damme hot mussel salad.
And, as is customary on pretty much any boat we've ever been on, sometimes the desserts get served with a shot of rum, including these homemade butterscotch cookies from their December menu.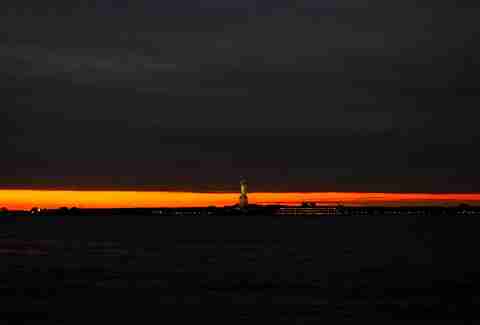 Go ahead, just try getting this view from a non-boatstaurant.
Previous Venue
Next Venue
Venue Description
1. The Water Table
INDIA ST. PIER, Greenpoint, NY 11222
The Water Table is one of the few New York booze cruises that sets sail from Brooklyn. An ode to New England food, the historic WWII ship specializes in weekend sunset cruises from Greenpoint to Lady Liberty, on which you'll be treated to a three-course dinner featuring New England classics, nautical-inspired cocktails, craft beer, wine, and a decent selection of rum. The prix-fixe dinners require reservations.