From partners Sue Walsh, the first mate, and Kelli Farwell, who's a master captain with a serious culinary resume (Gramercy Tavern, Craft, Rye, DuMont Restaurant), comes The Water Table, Brooklyn's first-ever restaurant on a boat. This water-bound, double-decker is built inside an old WWII midshipmen training boat that leaves from Greenpoint and ferries you around NY's waterways in an environment that's "more casual-tavern than ballroom-dancing-and-platters-of-cantaloupe". Naturally.

If you've never seen a boat restaurant before, this must be a real revolution... err... revelation.
The interior is filled with just a few tables, nautical art, old photos of the owners families who were all in the Navy, and delicious booze (oh thank god), which's used to make classic tipples like hot-buttered rum, Negronis, and Sazeracs.
The food is always a prix fixe and New England-inspired, with ever-changing seasonal options consisting of coastally-tinged goods like lobster rolls, bouillabaisse stew, and the surprisingly-has-nothing-to-do-with-Jean-Claude-Van-Damme hot mussel salad.
And, as is customary on pretty much any boat we've ever been on, sometimes the desserts get served with a shot of rum, including these homemade butterscotch cookies from their December menu.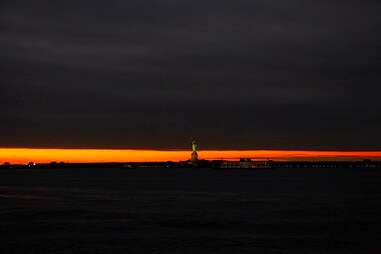 Go ahead, just try getting this view from a non-boatstaurant.