The 22 Brooklynest things in the new Brooklyn Whole Foods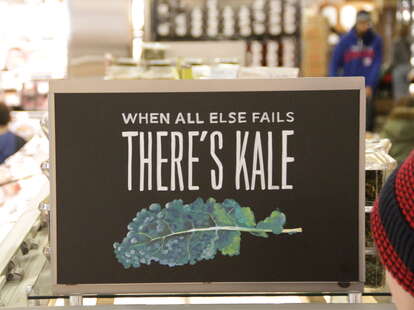 Like bottomless drinks and brunch, Brooklyn and Whole Foods just kinda go together. So much so, they both now actually do... go together, as in, there's a brand new location in Gowanus. To prove our point even further, here're the 22 Brooklynest things in the Brooklyn Whole Foods.
The wind and solar power towers in the parking lot
Which totally negate the global warming effects of... driving your car to Whole Foods.
These "Greenpoint"-inspired Brooklyn Spices
They're exclusive to this shop, and totally ensure you no longer need to go to Greenpoint to have some authentic "lemon- and butter-flavored" Eastern European cuisine. Phew!
The Go Brooklyn Munchies section
Lemon flavor trumps Flatbush flavor, any day of the week.
These local, whole wheat pastas made from bronze dies cast in Brooklyn
Which you might recognize from the walls of every rustic Italian restaurant in the borough.
Racks-on-racks of bitters, tinctures, infusing kits, and all other types of mixological goodness
There's no better way to Brooklynize your cocktail game...
... except for maybe this separate extract section.
Ok yeah, they've got this record store within a grocery store, that is very Brooklyn...
... but it sells Taylor Swift records, so let's call this one a wash.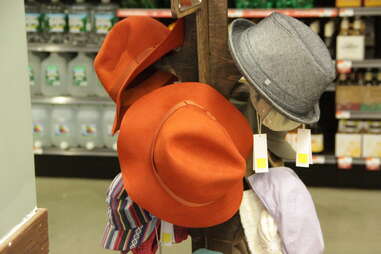 These great hats
Though, if you don't already have one, you can get right the hell out of Brooklyn.
They have branded coolers you can attach to your bike
But only if you fill them with fair-trade, gluten-free craft beers! Which they probably also have!
Yoga mats
Even though they probably also sell these things at Safeway by now. And by Safeway, we mean "Brooklyn Safeway".
They've got assorted foot lotions and body rubs made from local companies
And, naturally, they're made with hemp. And peppermint.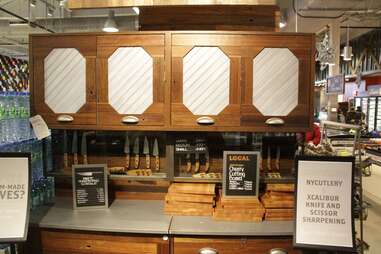 Does your supermarket have a knife-sharpening station?
How 'bout a local knife-sharpening station?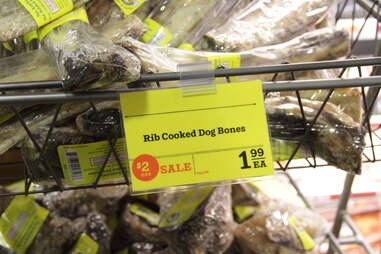 Rib cooked dog bones
What, do you expect Brooklyn dogs to eat milkbones?!?
This magical elixir's perfect for everything from smoothies, to baby food, to raw soups, to cocktails, to post-workout hydration...
... to layup mustache-related Brooklyn jokes.
Kelp...
... you know, just in case you have guests.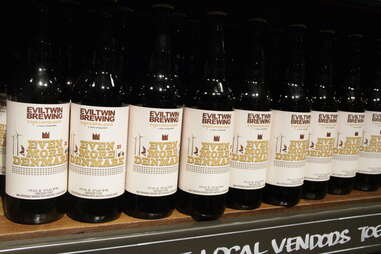 They have an exclusive beer collab from Evil Twin and Chocopologie
Because if you open a grocery store and don't have an exclusive beer collab, you're nobody.
A super-legit rooftop beer bar with eats like maple-Sriracha wings, Sweet Action ribs, and beers including Captain Lawrence's Coffee IPA, the previously shown Even More Denmark, and Brooklyn Brewery Blast
Nothing snarky here; this is actually awesome.
This amazing sale...
... that has surely already sold out.
The influential, Bushwick, culinary scene-starter, now vacu-sealed and frozen
THANK GOD.
Local donuts. So Brooklyn...
... and so awesome.
This would be more Brooklyn if there were people lining up for them.
This sign for their house-band...
... JK, it's for like, Tofurkey, or something.