Even if your hometown has, like, three Wawas, it's got nothing on this Hometown, the newest player in the NYC barbecue game, which has set up in a Brooklyn waterfront warehouse to serve you piles upon piles of Texas-style brisket, St. Louis-style ribs, and more.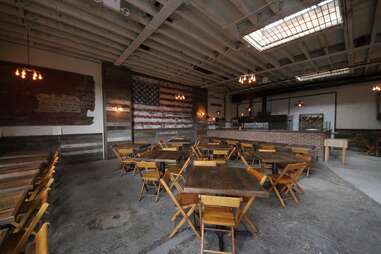 This here is the main BBQ hall: massive American flag painting on one side, huge wooden bar on the other, and stacks upon stacks of wood lining the wall by their smoker.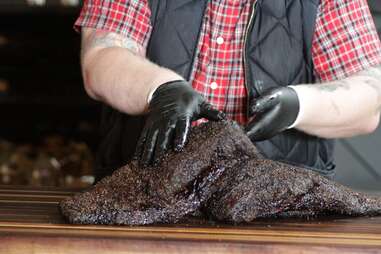 Pitmaster (although he shies away from using that word, but apparently we don't!!) Billy Durney has taken some pointers from BBQ spots all over the country and settled on a super, beautifully simple recipe for the brisket. It's straight Texas-style, which means the Niman Ranch beef gets seasoned strictly with salt and pepper, then gets occasionally sprayed with some Worcestershire while being cooked over a nice, clean oak fire, which they claim is one of the keys.
It looks even better sliced and sided with what some early customers have taken to calling "cornbread crack" according to Billy; it's more a corn cake than pure cornbread, and it's loaded with all the honey butter you can handle, and then a little more.
If you noticed a most excellent smell wafting through the air upon your approach, this was likely it: their sidewalk cherry-wood-burning smoker.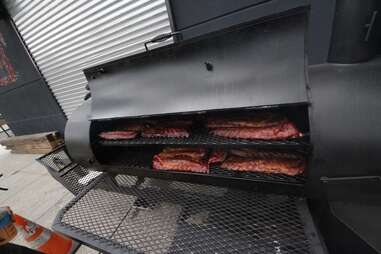 It's not just for show, as they're working on racks upon racks of St. Louis-style baby-back ribs in there.
Billy created a proprietary rub they're using for these, and, every so often, he'll spray them down with a little apple juice. Beyond these classics, they're also doing things like a jerk chicken they're really proud of, lamb belly (and a lunchtime lamb belly banh mi), and are generally smoking anything they can get their hands on -- Billy especially can't wait to do some game, once he's got game.
Oh, and there's a whole different, giant, ridiculous area strewn with neon, more American flags, and a billion little lights that houses a Big Buck Hunter machine, a bar, and a stage for all-day live music sessions.
Though the meat is obviously the focus, they've got a highly respectable beer list with choices like Shiner Bock, Lagunitas New Dogtown Pale, and $3 'Gansett cans, as well as an ever-growing bourbon list they're totally proud of, though probably not as proud as you are of that Jo-Ann Fabrics that just opened in your hometown.